Cape Town Housing Guide
Our Expat Cape Town Housing Guide will show you where to start when looking for a new home or property in Cape Town. Here we will tell you about the current housing market, the housing prices and of course,  the many suburbs in and around Cape Town that will offer everything you will expect from expat living in Cape Town: from stunning views across the Table Bay to practical amenities such as good schools, a wide range of shopping facilities or nearby medical care centres.
On this page we show you some of our favourite Cape Town housing areas, where you will find good health centers and private hospitals, private schools and shopping centers that also cater for expat needs.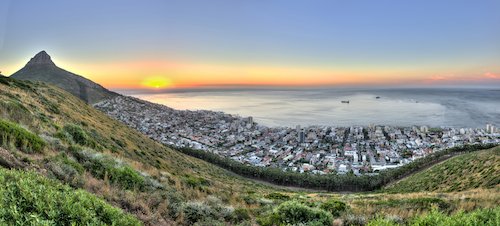 Sunset over Cape Town
Numerous activity centres for children and sports facilities for the whole family are usually located in these suburbs too. These suburbs have got lovely communities and you will easily meet other expatriate residents too. 

Cape Town Housing Market Overview: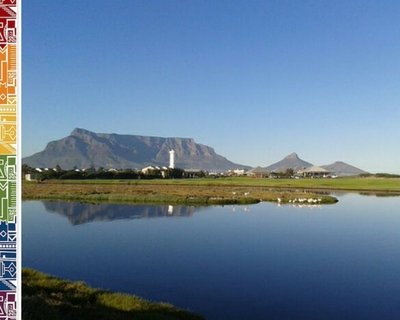 Read here our house hunting tips
Cape Town is one of the most sought-after property investment destinations in the world and among the most popular with investors on the African continent. The property prices grow continuously and in 2016 the housing market grew over 16% ranking Cape Town after only Shanghai and Vancouver according to the latest statistics cited here. Rental prices in Cape Town's city centre or along the stunning Atlantic seaboard grew tremendously over the last decade, which makes entrance into the housing market a serious challenge for locals and even immigrants from overseas who are posted here with local salaries or without housing subsidies. The average property prices for a 3 bedroom house are between 3 and 6 million ZAR, depending on location and facilities the prices can be substantially higher. Read more. Rentals for 3 bedroom houses are in the region of ZAR15,000 to 25,000, again depending on location and property specifications.
Make sure to read through our housing tips to learn more how house hunting works in Cape Town and how to find the best rentals or properties for sale in Cape Town. Continue here.
Expat Cape Town Housing: Suburbs Guide
City Bowl:
Central Cape Town, Tamboerskloof, Oranjezicht, Higgovale, Gardens and Vredehook, are the most central locations in Cape Town. There are many properties with splendid views across the city and over Table Mountain. Usually there are active neighborhood watches in these suburbs. The historic Malay Quarter is very popular not only with Muslims but now more and more with young professionals who prefer living centrally in these many renovated colourful houses in BoKaap, close to the City Centre. Up and coming are Observatory and Upper Woodstock, especially with students as the university is nearby, but there you will have to look closer at the security of the home and get insights from locals in these areas. The high-end Waterfront developments and Granger Bay have some lovely central housing areas which are connected by the Mycity bus service, however they come with a hefty price tag due to their stunning location in the Cape Town Table Bay's harbour basin.
Atlantic Seabord:
Mouille Point, Green Point, Sea Point, Bantry Bay, Clifton, Camps Bay and Bakoven, which are all located at the foot of Lion's Head are famous for the views over the Atlantic Ocean and the white sandy beaches. Camps Bay and Clifton rank among the most picturesque spots along the Atlantic coastline and have prices to match the views. Stunning Llandudno with its sheltered cosy half-moon bay is probably the most expensive suburb along the entire Cape coastline. Hout Bay is ever so popular due to the many lovely housing estates and the fact that Hout Bay International, one of the city's international schools, is also located here. Across awe-inspiring Chapman's Peak Drive, there are the quaint villages of Kommetjie and Noordhoek which both have lovely communities and a relaxed beach lifestyle.
Southern Suburbs:
Rondebosch, which is close to the University of Cape Town, Claremont, Newlands, Wynberg, Tokai as well as Constantia and Bishopscourt with some of the most luxurious homes of the Cape Peninsula are lovely suburbs on the 'back' of Table Mountain. These leafy green suburbs are close to the some of the best private schools in Cape Town and thus popular with families. Here you will often find huge mansions, well hidden estate houses and big plots. But the prices are correspondingly high. Amenities range from exclusive shopping centres to private medical facilities. Being located on the eastern side of Table Mountain, means the clouds often rest over these parts of the city, but on the other hand you have amazing nature and parks on your doorstep. These areas are often thought of first when considering Cape Town housing areas, but make sure to read through the following areas, where prices are much lower, but you will receive high value for your investment.
Northern Suburbs:
Panorama and Plattekloof lie on the south western side of the Tygerberg while Durbanville and the upmarket D'Urbanvale are located across the small mountain range to the north. With the beautiful well-established suburbs Eversdal, Kenridge and the newer housing areas around Tygerberg, the Northern Suburbs are popular with many families especially if you do not have to commute into central Cape Town but work in the nearer industrial estate such as Bellville or Parow. Here are some beautiful suburbs such as Welgemoed, Oude Westhof or the newer Van Riebeeckshof housing estates where you will have georgeous views either over the Cape Towns sprawling suburbs or Table Mountain or you will get the stunning view looking over the Stellenbosch and Paarl Mountain ranges and all the open fields and wine estates. And the scenic Durbanville wine valley is just on your doorstep.
West Coast:
Milnerton, Woodbridge Island, Royal Ascot, Century City, Sunset Beach and Sunset Links Golf Estate are the first suburbs along the main artery into Cape Town from the north. Plenty of shopping facilities, not only due to the Canal Walk Shopping Centre, the biggest shopping centre in Cape Town and second biggest in South Africa. Entertaining options galore with some of the best wild beaches along the whole coast and various excellent private educational and medical facilities in the area. Blouberg (often referred to as Blaauwberg), Tableview, Flamingo Vlei, Sunningdale and the sprawling suburb of Parklands offer a wide variety of housing options for singles and families and all those who prefer a relaxed beach lifestyle. Along the coast, there are also the new housing upmarket developments Big Bay, just north of Blouberg and further on Melkbosstrand with the luxurious Atlantic Beach Golf Estate. There you will find also various good schools and amenities.
False Bay:
Muizenberg, St. James, Kalk Bay, Fishhoek, and Simonstown along the Indian Ocean Coast offer a great out-of-town-feeling. Only an hours drive from Cape Town, these suburbs feel a world apart with more village-like atmosphere and lovely views from most housing areas as the homes are often build on the slopes of the mountain ranges overlooking the Indian Ocean. Muizenberg is a firm favorite with surfers and beach lovers as it offers the best beginner's surf on the peninsula, with sharkspotters watching out over the swimmers and surfers. In St. James there are many well renovated Victorian homes with that special flair. 
Helderberg:
Gordon's Bay, Strand and Somerset West. Here you will find many gated estates: beach estates, golf estates like the famous Erinvale Golf Estate and naturally also the wine estates. But there are also lovely Cape Town housing areas outside these estates. The many new housing developments are very popular with many expatriates who can work from home or have their offices close by, as the daily commute to Cape Town does take its toll if you have to travel into town daily, which can take up to two hours during rush hour. Strand especially offers many upmarket lock-and-go rentals in apartments and gated estates, and many homes have stunning views over the Indian Ocean. The Cape winelands and Cape Town International airport are only a short drive away so the area is very popular with holiday makers as well.

Cape Town Housing: How to find a property to buy or to rent in Cape Town?
Consider various locations for Cape Town housing... and do not forget your budget: Do you want to live by the mountain or the sea? Do you prefer living in the city or in the countryside? Do you want to live in a gated estate or have a lock-and-go lifestyle? And last but not least, which budget do you have available and how much rent/mortgage can you afford to pay?

Get acquainted with the different suburbs and check out the areas where you would like to live, i.e which are close to your work, as traffic jams are quite nerve-racking, like anywhere else in the world.

Check the Cape Town housing and property pages in the 

Cape Town newspapers

. Buy either the Cape Times (Wednesday edition) with the Cape Town Housing section or the Cape Argus/Cape Times weekend papers to get the Cape Property supplements. Check out the prices and the areas. The Wednesday paper usually also has got a page or two of rental property in and around Cape Town.

If you are interested in buying property in Cape Town: Sunday means show house day for the Cape Town estate agents. Usually between 14h00 and 17h00, show houses (houses for sale) are open for any interested buyers to visit. You will have to leave your details with the agent on duty. This is always a good idea to spread the word as these agents then will keep you posted about any new property in their portfolio.

Give estate agents in your preferred Cape Town housing suburb a call and ask them to take you around to some properties. Rental agents as well as property agents from renowned companies, such as Pam Golding or Remax, will be happy to show you around your preferred Cape Town housing area.

Rent a place for the first months of your expat posting. For the initial time of house hunting, we recommend you stay in a serviced apartment, of which many are on offer in town. Go to my article about serviced 

Apartments in Cape Town 
Looking for more insider tips on housing in South Africa?