Travel in South Africa
Great Places to visit in South Africa
In my Travel in South Africa Section you will find great tips for outings to the beautiful countryside around Cape Town, great places for a short weekend away as well as trips to places further along the Garden Route, the Cederberg, the Kruger Park and many more. Please feel free to share some of your experiences. Simply contact me here and I will upload your pics and travel stories too. Wishing you a great time in South Africa and enjoy your stay!
Great South African places to visit
Travel in South Africa | Winelands
For leisurely day trips around Cape Town, why not just start with exploring the many Wine Estates in the Cape Region. There is in fact not only wine region but several excellent wine growing towns and villages in close vicinity to Cape Town. From the Constantia wine valley and Durbanville Hills wine estates to the Stellenbosch wine region, the Paarl and Worcester wine lands and the Franschhoek wine region, all these are only a short trip from the Mother City.
If you want to head out of town for a weekend, we highly recommend exposing Robertson, McGregor and Ashton and make sure not to miss the Overberg wine estates neither. So many stunning locations too choose from... There are plenty of things to see and do in the Cape Winelands, so the decision which Wine Estate to visit is not an easy one: Info on the Cape Winelands
Travel in South Africa | Scenic Drives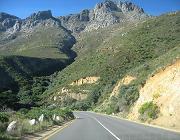 If you have not driven over Chapman's Peak Drive, you have not seen the Cape! One of Cape Town's best attractions is the short but fabulously scenic drive leading from Hout Bay to Noordhoek. It is highly to do this trip especially when the weather is nice or it is too windy to go up Table Mountain. There are several look out spots along the drive and if you take the drive in the afternoon you will be amazed at all the beautiful warm colours that are reflected and invites you to take a deep breath and be thankful for having to opportunity to experience this special trip. Day tickets can be bought at either side of Chapman's Peak, make sure to keep your ticket until the exit. Info on Chapman's Peak Drive.
Other scenic drives include the trips from Scarborough to Kommetjie via Misty Cliffs, from Muizenberg to Fishhook along False Bay and the costal road R44 from Gordons Bay to Kleinmond in the Overberg.
Travel in South Africa | Overberg
The Overberg Region is a wonderful place to visit either for a daytrip or a short holiday to get away from the city life. The town of Hermanus is known for its unique whale-watching spots, while Betty's Bay has a penguin colony and is worth at least a short stop at the Nature Reserve to see the cute little African penguins up close - and without the crowds of Simon's Town. The Elgin valley is  known for its fruit harvest, so do not miss to stop at any of the fruit stalls along the N2 highway. And if u like driving over mountain passes, a trip to the Overberg will be for you. Driving over one of the three passes is a highlight for all who enjoy vast views over the Western Cape.
The Cape Country Meander Route gives you lots of options for either a relaxed gourmet weekend or a activity filled day out. Info on the Cape Country Meander
Travel in South Africa | Cederberg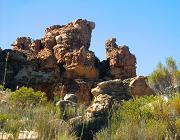 If you are planning a weekend away, how about the Cederberg Mountains? Especially if you like hiking in solitude, marvel at unique rock formations and ancient rock paintings, this is the place to go. There are only a few spots to overnight near the national park, so make sure to book your place well in advance. The hot springs at Citrusdal are very popular especially during weekends and holidays, but so worth a visit. How about taking a bath in warm water in the evening, gazing at the starry skies above? 
In the Cederberg Wilderness Area you will not only find dramatic rock formations and San rock art, but also stunning flower displays in the spring. There are numerous day hikes and overnight hikes. The Wolfsberg Cracks and Maltese Cross can be accessed also by fit families with children. Don't forget to visit the Cederberg observatory in Dwarsrivier. Info on the Cederberg
Travel in South Africa | Going on Safari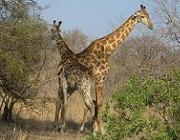 If you ever wanted to go on safari, a trip up north to the Kruger Park really is a must visit when you travel in South Africa. Kruger is not a day trip away and driving up is not really an option from Cape Town - if you do not have at least a two-week-long holiday planned, but when you are posted in Cape Town, it's easy to book flights to Hoedspruit or Johannesburg and then explore the park in Mpumalanga for a long weekend.  
Should you drive up the Garden Route, do not miss to visit the Knysna elephant sanctuary or the monkey park in Plettenberg, and of course, if you plan a trip to Port Elizabeth, Addo Elephant Park is not far out of town and a great day trip as well. Also here near Cape Town, there are some safari parks in the Cape which are well worth a visit. Read our guide to the game reserves in the Western Cape here.  
Travel in South Africa | Northern Cape
If you are looking for a calming and serene holiday in pure nature? Look no further than driving up to the stunning Northern Cape province, which can be reached in about five to ten hours from Cape Town, depending on your destination. Even the eight-hour drive up to Upington over the scenic Vanrhyns Pass and across the dried out salt pans along the R27 between Calvinia and Brandvlei is such a pleasure to drive. 
The Northern Cape always mesmerises with vast open areas, rough desert landscapes, lush green wine valleys, Namaqualand wildflowers in Spring and pretty much always dark blue starry skies at night. More info on the Northern Cape here.
Popular pages
Need more info on great places to explore in South Africa?