Best Expat Sites
Where to find useful tips and resources when relocating
The expat sites listed here will offer lots of tips and useful advice about various expat destination and provide a wide variety of information and insights regarding expat relocation. Moving to foreign shores, living and working as expat abroad is always an adventure. We always recommend to prepare well to make your move abroad a successful experience. So have a look at our recommended sites and enjoy the journey!
On the websites below you will find many valuable tips and links to help with your expat assignment. Let's start with some great sites for South Africa.
South Africa Expat Sites
Expert Expat Advice for living in South Africa can be found on these websites:
Johannesburg
Read this expat guide to Johannesburg written by a now-ex-expat, but still the most valuable blog for the Gauteng region. Visit: www.joburgexpat.com
Pretoria
For free information and advice on touring, visiting and living in Pretoria South Africa visit www.pretoria-south-africa.com
South Africa in general
Homecoming Revolution provides various services especially to ex-patriates living in the UK wanting to relocate back to South Africa. Find lots of general advice useful also for other nationals on their website and in their forum: www.homecomingrevolution.com
Living in South Africa - The Expat Guide
The most comprehensive expat guide to South Africa. All about moving to South Africa and settling in the country. Insights and tips for immigration, visa, housing, health, schooling, transport and so much more. Available as handbook, e-book and additional tips on the website. More info.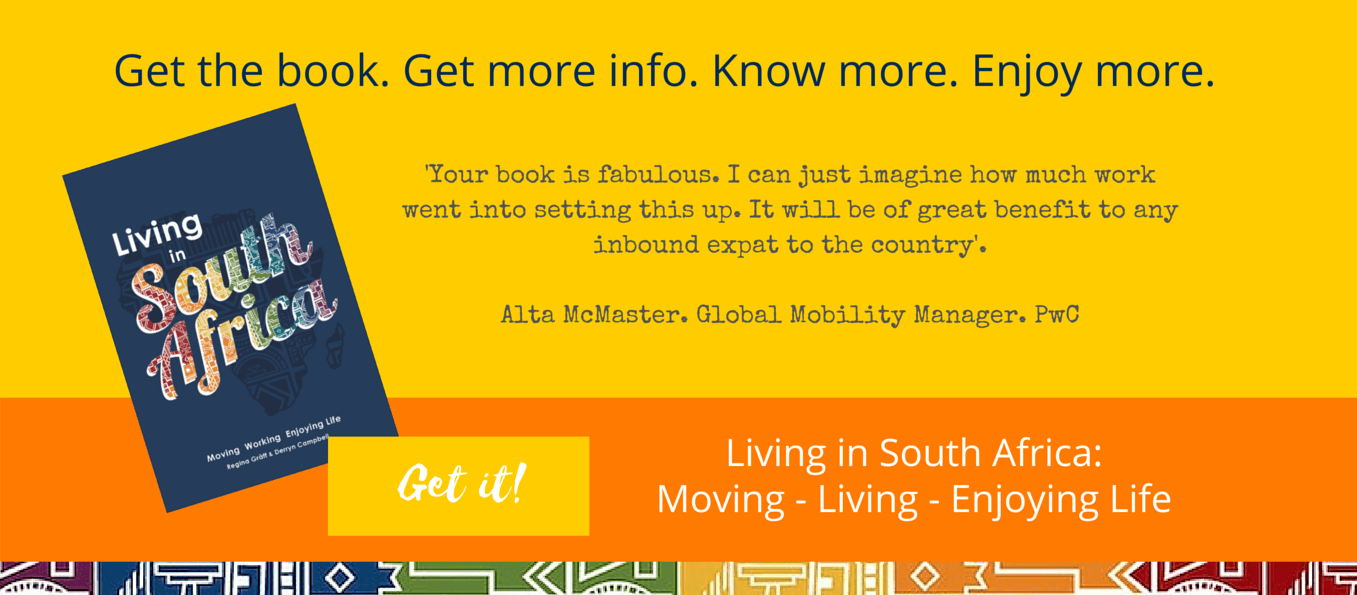 Worldwide Expat Sites and Expat Services
Expat Child:
Moving with kids? Loads of practical tips from an seasoned UK-expat who now enjoys life in South Africa. Website.
Expat Finder:
Destination guides and information for most popular expat destinations around the world. More info.
Expat Blogs:
You will find blogs from all over the world in this excellent collection of insights from expats living in many different countries. With various blogs also from South Africa.
Expat Women:
This website includes stories, interviews and country information from expats around the world. More info.
Expat Focus: 
Global relocation advice for expatriates residency, overseas employment, buying property abroad, international schools, offshore finance etc. More info.
Going Global:
Expat support for your next assignment by an experienced expat consultant. Online consultations available for a wide range of expat related topics. More info

PSS Removals:
Expat relocation support by renowned UK removal company. Use their expertise in regards to coordinating your removal to South Africa with various storage, transfer and excess baggage delivery options and have a smooth transition. More info.
Expat Experiences: Our favorite expat blogs from around the world
These personal accounts of expat life in different parts of the world are highly recommended readings, if you are looking for up-to-date expat resources and real experiences from expatriates about the following destinations:
Expat Guide to Living and Enjoying Life in Munich/Germany:
The lifestyle guide Munichmom brings fresh tips and insights about this beautiful city, which incidentally is my hometown;-), in Southern Germany. Website.
Expat Guide to Perth/Australia:
Detailed expatriate guide about moving to and living in Western Australia: www.immigrate-to-a-new-life-in-perth.com
Expat Guide to Brazil:
Interested in info on expat life in Brazil? Go to gringoes.com and get a true inside look into living and working in Sao Paolo. 
Expat Guide to Spain:
A very valuable guide for expats moving and living in Spain. Visit SpainExpat.com 

Expat Guide to Mauritius:
Thinking of moving to Mauritius, the mesmerising paradise island in the Indian Ocean? Go to this site here.
Subscribe to our newsletter. It's free!