Cape Town Car Rental
Here we will show you Cape Town Car Rental options and you will also find answers to the most asked questions by fellow expats. We have collected so many reviews and tips over the last ten years, thanks to many expats and visitors who have shared their experiences about rental agencies with us on the site and in our Facebook forum. This input did give us some real insights we want to share with you here. 
Car Hire FAQs and Cape Town Car Rental Tips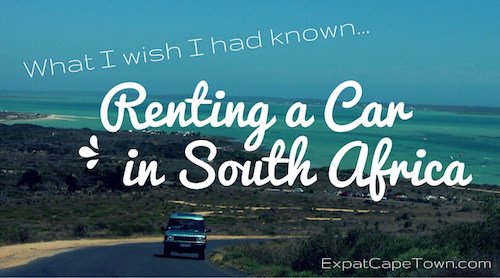 Renting a car, gives you the flexibility to explore Cape Town and the surrounding areas without the need to look for adequate public transport or relying on UBER and private drivers. Then it's easy to explore also some nearby areas such as scenic Langebaan Lagoon, a mere one-hour-drive north of Cape Town, but booking a day with a tour company or private driver will cost you dearly.
As we experienced, it pays if you do your homework before renting a car and research all your car hire options. Read below what we found out about hiring cars in Cape Town and which companies come highly recommended.

Great Car Rental Companies in Cape Town
There are many Cape Town car rental agencies operating in the Mother City. The prices vary widely depending on the season and the length of the rental period. It always is advisable to get at least three quotes from Cape Town car rental companies or compare on one of the international price comparison sites. The major car rental agencies that also have an office desk at  Cape Town International Airport and at various points throughout the city are as follows: Avis Car Hire, Budget Car Rental, Dollar Thrifty, Europcar Rentals, FirstCarRental, Hertz, National Alamo and Tempest Sixt.
However, smaller Cape Town car rental companies might offer much better car rental deals which are still reliable and thus will be more valuable. We had recommendations for the following sites listed below, however, please note that only few of them offer longer term rentals, i.e. longer than one month. Please see their websites for contact details.
Motorent: Started by an expat knowing what expats, students and interns coming to Cape Town look for. They offer value-for-money car rentals knowing about the need of private transport when relocating to Cape Town. They have growing fleet of reliable cars for both short- or longterm rentals. Make sure to check them out and get a quote.
RentMyRide: This is a growing car rental marketplace. Here you can select your rental car from the listing of a wide range of cars. All listed rental cars have been checked, owners verified and comprehensively insured through the company. 
Cheap Car Hire Cape Town: Rent-a-Cheapie is a popular car rental agency with low rates. Mainly young travellers and surfers can be seen driving with these cars, which are usually filled to the brim with surfboards and equipment. Low rates.
AroundaboutCars: This car rental company is very active all over the Cape offering competitive rates. They have newer cars, the majority of the cars are between one and three years old. 
SouthAfrican TravelStart: Travelstart offers car rental comparison site with car rental offers from various agencies. Easy to book.
Billiger Mietwagen: This German site offers value-for-money car rental contracts with major car rental companies. They offer discounts and are reliable.
Make sure you compare like for like regarding the insurance cover and excess which all the companies handle differently. With all companies, it is advisable to confirm your pick-up date via telephone or email the day before you want to collect the car.
Cape Town Car Rental FAQs
Which documents does the car rental company need?
Valid Driver's Licence: An International Driver's Licence is advisable, as many car rental agencies prefer you have one. However, if your national driver's licence has got a picture and is in English, this should suffice. Nevertheless enquire about requirements with the specific companies.
Passport or Picture ID Card
Credit Card or Cash Payment. Credit cards are generally preferred as they are used for deposits too. Some companies will also accept small cash deposits instead of a credit card down payment. Always make sure you read the fine print in the contracts!
Is renting an SUV or 4x4 necessary for driving in South Africa? 
Driving in the Cederberg Mountains
When renting a car in South Africa, choose your car size wisely. Driving in Cape Town is not much different to driving in any other metropolitan city in the world and there are only a few gravel road around the peninsula. Therefore, if you mainly want to explore Cape Town, the Cape Peninsula, the splendid beaches along the West Coast or False Bay or even venture to the nearby Winelands or along the Garden Route, you do not need to worry, a small car will do and a 4x4 is not necessary.
If you want to venture further afield, drive off the main routes, you will find that you really can enjoy travelling better in a bigger car with better suspension or even an SUV. If you plan to travel further inland to places such as the Cederberg or the Karoo or booked a farmstay, make sure to get a bigger car or 4x4. Many rural roads are riddled with potholes or are gravel and untapped roads, in mountainous areas with steep inclines and rough surfaces.
Do I need to have air-condition in the car?
We would recommend to rent a car with air-conditioning. Especially in summer, the temperatures can feel scorchingly hot and especially when driving inland, away from the cooling breeze which prevails along the coast. 
How safe is driving in South Africa?
In South Africa, driving is easy if you compare the volume on the roads. There are less cars and less congested roads outside the cities than you experience in many countries overseas. Although traffic jams can be bad during rush hour in the major cities, the usual travels into and out of town are easily manageable, especially with a bit of routine in driving on the left hand side of the road. However, it is highly recommended, not to drive after dark outside of the major towns as there often is no street lighting and there may be stray animals, vehicles without proper lighting or people walking on the road. Even driving on the highways is not without dangers at dark, as people might cross the roads or obstacles might have been placed on badly lit roads. At all times, is highly advised to carry a cellphone with you and have a local emergency contact. You really want to rely on advice or support should you need help when out and about. In case of a breakdown, call the rental company, the police or another local contact and keep calm. There usually are good people who will stop and help, but some stretches of highways or some areas are best avoided if unsure of the safety of the area.
Cape Town Car Rental: Is there a minimum age for young drivers?
Most car rental agencies allow rentals to people under 23 years only if they have at least two years of driving experience, i.e. are in possession of a valid licence for at least two years. Some companies rent out cars to young people from 18 or 21 years of age, but then often an additional young-drivers-fee apply. Best to enquire with the rental companies and advice when booking.
Is it safe for women alone on a road trip?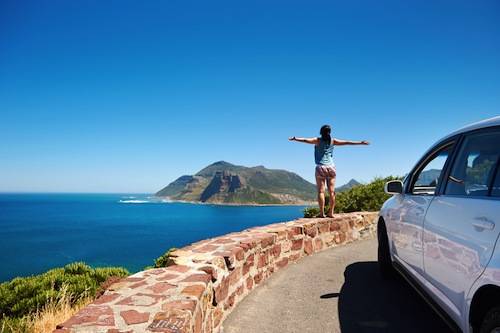 Admiring the gorgeous views from Chapman's Peak
Yes, if you use common sense precautions. As everywhere in the world you need to take precautions when travelling alone, whether you are male or female. In South Africa, most roads are well maintained and if you stay on main roads and do drive during daytime, you should not encounter any problems. If your car breaks down, be sure to stay in the car and call your car rental company's emergency contact number. They will usually send roadside assistance or inform the police.
What to check with Cape Town Car Rentals?
Always insist on full/comprehensive insurance cover. Most of the motorists in South Africa do not have any insurance cover, so you have to make sure you and your passengers are insured in case of an accident or damage to the car.

Opt for Zero Excess, as this means you will not have to pay anything with any damage to the car.

Insist on unlimited mileage. Distances often are longer than expected and calculated prior. Should you encounter road closures, the distances between the routes can increase significantly in South Africa.

If you book a one-way rental, make sure to get written confirmation when booking. Transfers are often possible at additional cost, but must be confirmed to you in writing.

Consider carefully the length of your contract with any Cape Town car rental. Often renting more than 14 or 30 days gives you more value and better prices. And take note that usually the maximum rental period is around 40 days on one contract.

Opt for a rental car agency with round-the-clock-breakdown service or check if your national automobile club offers a partnership with the local AA in South Africa. Always write down a reliable contact number in case of an accident or car breakdown.
Cape Town Car Rental: What to do when something goes wrong?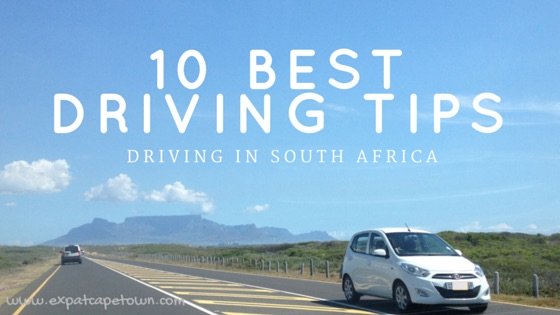 Click on the image to read more...
Make sure you take out a comprehensive insurance cover for your car as mentioned above. In case of an accident, call your car hire company and if the damage is minor, you usually do not need to call the police to the scene, but must to report the accident within 24 hours at the nearest police station. There you will get a case number which you need to forward to your Cape Town car rental company.
More Cape Town Car Rental Tips?
More about Driving in South Africa
Always check your rental vehicle - before leaving the car rental company's parking spot. Take note especially of the condition of the tyres, windscreen, dents and scratches and make sure you have got a spare tyre in your car!
Often it is better to plan in an extra day before an overland trip - to get used to your car before going on your travels.
Taxi drivers in South Africa are known for a quite aggressive driving style, so beware of the white taxi buses swerving in and out of lanes, stopping without warning or risky overtaking manoeuvres. Truck drivers should be given special consideration as well as some trucks have badly functioning breaking systems or transport unsecured loads.
Buy some local maps or a map book of the region (available at many supermarkets) so you do not have to rely solely on a car's navigation system - as your navi might not work in the countryside.
When booking your car with a frequent flyer card, check if special rates apply. Most of the car rental companies are partners in airline mileage programmes that offer special points or rates to their members .
Have a safe trip and enjoy the journey:-)
Should you want to share some of your experiences regarding your Cape Town Car Rental please send us a short message here. 
Disclaimer: The car rental tips given on this page are for information purposes only. We do not take any liability for any advice given on this page. Always check the terms and conditions of the car rental companies as we do not take liability for information accessed from and distributed though these companies. From Cape Town Car Rental to Transport Directory
Subscribe to our ExpatCapeTown newsletter. It's free!