Blouberg Cape Town
Relaxed living along the attractive Cape Town West Coast
Blouberg Cape Town or Blaauwberg as originally named by the Dutch meaning Blue Mountain is located 30km to the North of Cape Town.
The view of Table Mountain from the sprawling seaside suburbs along Cape Town's West Coast is spectacular and is one of the most photographed sights in Cape Town.
The Blouberg area is very popular with Cape Town residents and expats from all over the world and is also a tourist hotspot especially for kitesurfers and beach tourists of all ages who enjoy the relaxed beach life in this coastal suburb.
The suburbs of the municipality of Blaauwberg are situated along the R27 or Otto du Plessis Road which meanders along the West Coast up to the Namibian border. The residential areas are:
Dolphin Beach, Bloubergstrand, Bloubergrand, Blouberg Sands, West Beach and Blouberg Rise,with Big Bay and Waves Edge to the North. The East of the R27 lying suburbs of Parklands and Sunningdale are often counted as Blouberg suburbs and then the are Tableview and Flamingo Vlei east of the R27 which belong to the Blaauwberg Municipality too.
Be aware that the both names Blouberg and Blaauwberg are used on street signs.
An excellent map section of the Blouberg area can be found here . On these detailed Cape Town suburb maps you will also find the amenities like shopping centres and schools of the Blaauwberg area.
The suburbs of Blouberg Cape Town at a glance:
Population: 5,800 residents in 2001 census however the figures in the Blouberg area must be much higher closer to 20,000 as the Parklands and Blouberg Area experienced a property boom (90% White, 5% Black, 3% Coloureds, 2% Indian and others), 72% English, 23% Afrikaans Home Language (2001 census)
Distance to Airport: 30km, Taxi charges approx. R300, Distance to Cape Town CBD: 30km
Driving Time: 35 min on the R27 In Rush hour: 90min, between 7.00h-9.00h and 16.00h-18.00h
Shopping: chainstores, boutiques, shopping centers
Hospital: Blaauwberg Netcare Hospital
Blouberg Cape Town: Main Attractions
• Enjoy the seemingly endless white sandy Blouberg beach .
• Admire the stunning view of Table Mountain. Have a look at the beautiful skyline of the city across the Atlantic Ocean.
• Have a meal at the popular Blue Peter Hotel and Restaurant or head to Small Bay
• Get some great homemade food and crafts from the monthly Schoolyard Market at Elkanah House, where you will be delighted to find lots of organically grown goodies too.
• Nearby Rietvlei Nature Reserve offers not only sailing, windsurfing and waterskiing but there are also beautiful walking trails along the lake. This is a hotspot for ornithologists too, Bird watching is excellent at this lake, which is known to locals as Flamingo Vlei as you can not only spot pelicans but often also the gracious pink flamingos.
• The model aircraft builders meet at the weekends at lower section of the Rietvlei Vlei as well. The local model plane airstrip is accessible from the R27.
• Blouberg Cape Town has got great housing, excellent sports clubs, shopping and entertaining amenities and low crime rates, so you always will be find something to do without driving far.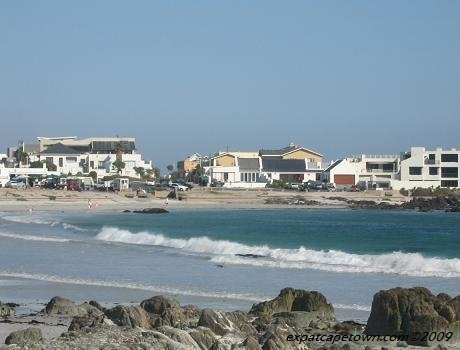 Blaauwberg Cape Town: Housing and Amenities
Blouberg is experiencing a lot of construction activities and upgrading in the area in the recent years. The lively but still relaxed West Coast town is still near enough to commute to Cape Town and still has a more relaxed atmosphere.
The crime rate is comparably low and the people in the Blouberg area come from many parts of the world, so the suburbs have an international multicultural feel.
The construction on the BRT (Bus Rapid Transport System) is progessing and the implementation of a public transport system should improve the traffic flow noticeably from 2010 from the Blouberg suburbs into Cape Town.
The Big Bay Beach front is being developed too, where there shall be created a new waterfront with promenade, shops, guest accomodation, restaurants and cafes by 2010.
Housing Prices: for a 3bedroom House range from ZAR1,600,000 to ZAR2,500,000. Rentals for a 3bedroom house average at about R11,000.
Shopping: There are great shopping facilities in Blaauwberg with the Bayside Shopping Center in Tableview being the biggest. There are however many other big shopping centers which are often also called Lifestyle Centers in Parklands, Tableview, Sunningdale and Big Bay. There are also some smaller boutiques in this suburb and many popular restaurants and bars often with stunning sea views which attract local and tourists alike.
The industrial areas around Blaauwberg offer some great hardware stores, big garden centers and homeware stores as well as factory shops like Colibri, Toy factory etc. too.
Medical Facilities: located in smaller practices as well as bigger medical centers, there are 24 hr service pharmacies at Blaauwberg Netcare Hospital and Milnerton Mediclinic. The Blaauwberg Netcare Hospital and the nearby Mediclinic in Milnerton offer first class patient care.
Schools: There are various good Primary and High Schools in the area, like the public schools in Table View and Blouberg Ridge. The International School is located in Parklands, there are also the excellent private schools of Elkanah House and Parklands College, where you will meet many expat families and where your children will get a well rounded education and will feel very welcome.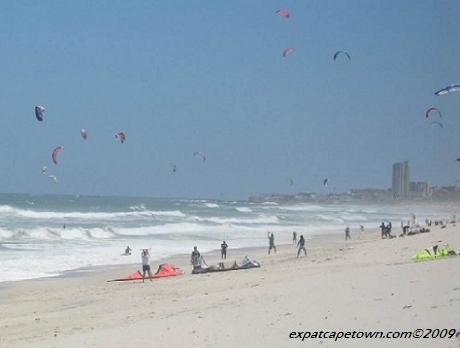 Sporting Facilities: Blouberg offers all kinds of sports activities. There are naturally the water-based sports activities, like surfing, kitesurfing, sailing and waterskiing at Rietvlei, canooing in the nearby Milnerton Lagoon. Nearby there are the stunning Sunset Links Golf Course and the beautiful Melkbos' Atlantic Beach Golf Course is not far away neither.
Besides excellent beach life there are many other sporting facilities in this suburb, the major fitness centers have got branches in Tableview and Parklands, there are soccer clubs, tennis and cricket teams as well as scout groups for outdoor enthusiasts.
Library: There is an excellent public library in Birkenhead Road next to Virgin Active Fitness Centre is close to the Tableview Shopping Centre. In 2008 this library won an award for the best public library in South Africa and the dedicated team is always helpful when looking for advice.
Transport: Currently there is a lot of construction work been carried out in the area, as the major arteries into Cape Town like the R27 will be upgraded to get another lane for the Integrated Rapid Transport (IRT) System which will be implemented over the next years. Better access into town with a dedicated bus and taxi lane and cycle lane will be provided and the peak hour traffic jams will be much less. This suburb currently is being connected to Cape Town through the new IRT link, which is a dedicated bus and cycle lane, so you will encounter major construction work along this main artery leading into Cape Town.
Expat Communities:There is a quite international community living in Blouberg with English and German expat being the biggest foreign communities here, with other Europeans, Russians and Chinese moving here more now too. So it is no wonder you will find all kinds of foreign delicatessen from Euro Delicatessen to Chinese Supermarkets and Take-Away in the area.Lots of international specialty restaurants and delicatessen are to be found here too.
Blouberg Cape Town: Historical Facts
The Blouberg area has got a rich history. If you are interested in the Blouberg Cape Town's history here here you will find a mine of information on Blouberg Cape Town, with loads of excellent historical photographs of the area, too.
Have you got any interesting experiences about staying and living in Blouberg Cape Town? Please share them with us and contact me.
---
Back from Blouberg Cape Town to Expat CapeTown Housing Guide

Return from Blouberg Cape Town to ExpatCapeTown Homepage