Expat Forum
Cape Town - South Africa
Where Cape Town Expats share their Experiences
Are you looking for a friendly and positive expat forum for your Cape Town or South Africa related questions?
Join our Expat forum:
Expat Cape Town on Facebook 
On our Expat Cape Town Facebook group and on our page, you can ask questions and get answers by expats living in Cape Town or find tips from passionate South African experts.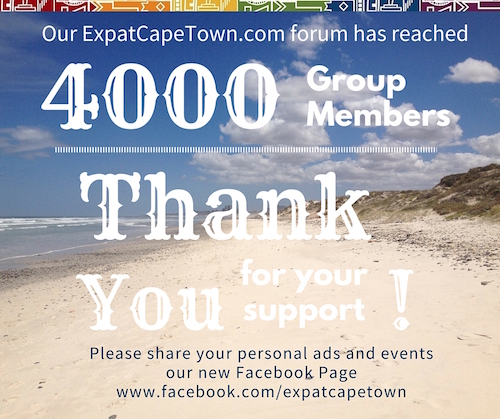 As groups on Facebook do not have their own Facebook plugin, you will find our Open Facebook Group 'ExpatCapeTown' when you search for the name or copy and paste the following into your browser:
https://www.facebook.com/groups/expatcapetown
Our Expat Cape Town group has already grown to more than 4,200 active members. Lively discussions and tips sharing are always under way! Join now and enjoy!
Share your expat experiences or post your own Cape Town insider tips and show us what you love about living in Cape Town.
But do not loose out on posting your personal ads and tips also on our new Facebook page, where we share news from our blog and share tips by our highly valued advertisers. So make sure to like our Facebook PAGE too:-)
Simply click on the image below to go to our Facebook Page:
Let's share our insights! Just join and comment on:
your favourite events and places for sunny or rainy days in the Mother city
your queries regarding housing, suburbs and schools
your favourite restaurants, beaches and activities in Cape Town
your culture shock experiences and coping strategies
your queries and tips for moving and immigration
what makes living so special in your favorite Cape Town suburb 
which events are great to visit
Ask questions, get answers and find tips on:
What else to know? Some Expat Cape Town forum rules
Well, in general, feel free to add everything other visitors, business travelers, Cape Town expats or expats-to-be will want to know. Just please stick to about expat related issues and don't spam. No advertising without prior request and only if permission is received.
Just one more thing...
There is so much negative news out there, let's keep this forum real and positive and share the good news. 
Read though our pinned post and enjoy our Cape Town expat forum.
If posts are considered rule or are reported, the post as well as the member will be removed from the group without prior notice. Similarly will be dealt with commercial posts or self-promoting of websites and blogs/commercial sales/job offers/company offers etc.
Have fun browsing the ExpatCapeTown Forum and adding your comments! Looking forward to hearing from you soon!
Expat Forum ... and Expat Newsletter!
And make sure you subscribe to our ExpatCapeTown Newsletter where you will find monthly the best Cape Town Insider Tips and much more.
Just add your email address and name to our newsletter mailing list.
If you want to know more about expat life in Cape Town, visit our various expat guide on the website and then simply add your comment or more info in the expat forum on facebook at ExpatCapeTown.
And for a starter you surely can find great tips here:
Free Activities to do in Cape Town 

Great Cape Town events for the Month 

Return from Expat Forum to ExpatCapeTown Homepage