South Africa Traditional Food
South Africa traditional food and cuisine which is best known in Cape Town is the Cape Dutch or Cape Malay style cooking. As the traditional cuisine in South Africa was influenced by the cooking styles of the slaves that were brought to the Cape from Malaysia and Java, the dominant spices in the South African cuisine are chill, curry, nutmeg, ginger and allspice. 
Traditional South African cuisine
From the 'Living in South Africa' handbook. Read more.
South African cuisine is thus a true melting pot of different cooking styles and combines the best of the food traditions worldwide. The South African cooking mainly consists of chicken, game, tomatoes, lemons and limes, corn (mealie) in form of breads and flour, beans as well as ginger, chili and spices.
South Africans love the outdoors and enjoy to have lunch or dinner which was cooked on a fireplace. They love to cook over wood fire or coals and either cook a steaming 'potjiekos', so named for the food 'kos' cooked in a back iron pot, which is called 'potjie' in Afrikaans or they gather for a 'braai', the South African equivalent of a barbecue. Many South African houses have a built-in 'braaiplace' or grill/oven on the verandah. 
Cape Town Restaurants for lekker South African food
Here is a shortlist of our favorite restaurants for a taste of South Africa traditional food when you are in Cape Town:
Moyo at Big Bay: for that special open air experience and stunning views of Table Mountain in the distance, plan in a visit at Moyo in Blouberg. With poolside tables great in summer and wooly blankets are provided at the tables should the weather be not so clement in the winter days. There are usually dance and drumming shows and gum boot dances which are very entertaining.
The dining experience includes also traditional face-painting. Combine this with a day out at Big Bay beach in Blouberg and all the family will be happy.
Moyo at Kirstenbosch: Or visit the other Moyo branch in Kirstenbosch Gardens in Newlands. The setting is nothing short of splendid and the happy and relaxed atmosphere in one of the world's most beautiful botanical gardens makes this one a must visit in any case.

Gold: adjacent to the splendid Martin Merck House in Cape Town's city centre on Strand Street, this is not only a tourism magnet. With a wide variety of African food, they have a strong local following as well and convince with their very friendly service, surprisingly refreshing presentation of the dishes and the good quality of food. You will enjoy drumming lessons and team building workshops there as well. If you were wondering, this is the location were previously the excellent exhibitions at the Gold of Africa museum were celebrated as well.

Jonkershuis: The typical Cape Malay food at this typical South African restaurant at one of Cape Town's best known wine estates, Groot Constantia, never disappoints. Book your table in time.


Ons Huisie: Situated in an old farmhouse, this is a popular small restaurant with locals who stop by for drinks and snacks after work. Delicious Cape Malay crayfish and seafood curries. Located on Small Bay beach, with a beer garden with lovely Atlantic Ocean views.

Typical South African food

There is a variety of typical South Africa food, which is very popular. Among the most common produce and dishes in South Africa are:
South Africa traditional food: meat and meat dishes
Traditional Potjiekos

potjiekos: meat and vegetable stew cooked over coals and fire in a black round cast-iron pot
curry: in all forms due to the Indian influence, regional variation in use of spices
ostrich: healthy red meat, popular due to low cholesterol but high protein content
game, also referred to as venison: springbok, kudu, impala, warthog or crocodile
biltong: dried cured meat, mainly from beef and game
All-time braai favourites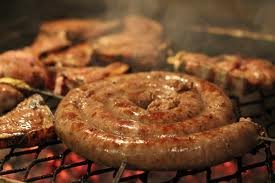 Boerewors on a braai
Side dishes or take-away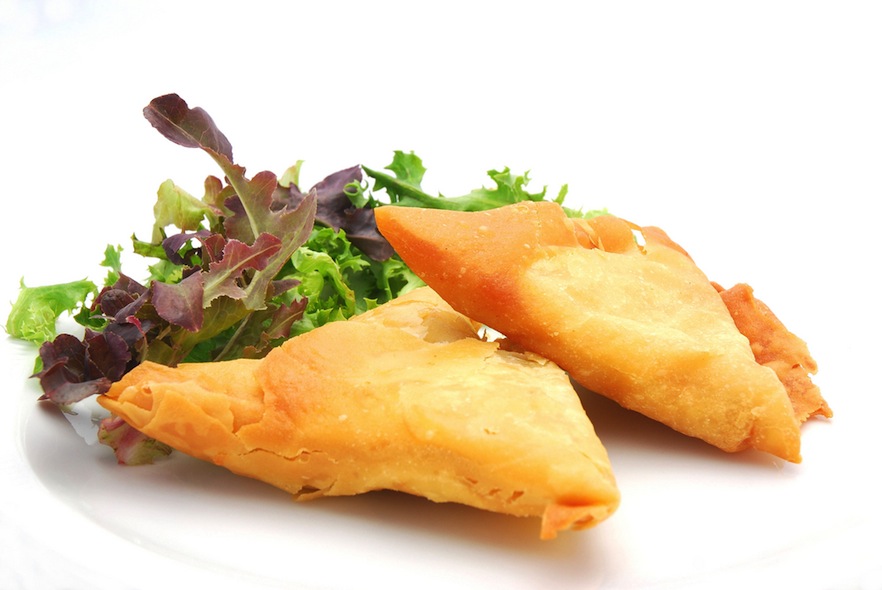 Samoosas
samoosas: stuffed fried pastry parcels with meat and veggies or vegetarian
sarmie: sandwich prepared in a variety of fillings (urban slang)
mealie pap: cooked porridge made with sweetcorn flakes, often served with braai meats or stews
slap chips: hot but soft, soggy chips (french fries) soaked in vinegar or drenched in sauce
gatsby: bread roll filled with Cape Malay curry or steak and lots of spicy sauce
Popular dinner treats
bobotie: layered lamb stew with rice, bananas, raisins, coconut milk
tomato bredie: soup or stew made with tomatoes and vegetables
pumpkin soup: orange butternut pumpkin soup, often curried or spicy hot
waterblommetjie bredie: soup or stew made with meat cooked with water flowers from the Cape pondweed
Dessert and Sweets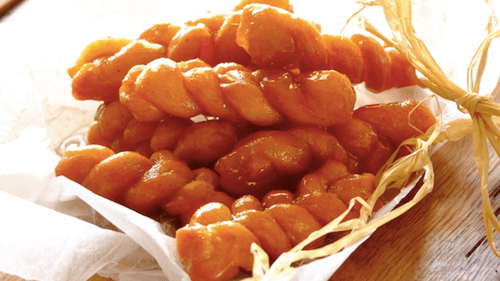 Koeksisters
koeksisters: syrupy sweet twisted donut strips, looking like girls braids
melktert: milktart, a milk flavoured cake
malva pudding: sweet apricot flavored sponge cake, often served with custard
rusks: thick and hard sweet biscuit slice, that is dunked in tea or coffee before eating
Fish and seafood
This excerpt is also from our 'Living in South Africa' expat guide book. Would you like to know more about our new e-book? Click here.
Do you want to learn how to cook South Africa traditional food?
Learn how to cook delicious Cape Malay Food and South Africa traditional food with one of the most reputable local chefs in South Africa. Take part in one of Cass Abraham's cooking classes! A delicious local treat! Read our review here.
Or take a class with a German chef who took part in the culinary olympics and heads a wonderful culinary school in the Southern suburbs. Join one of Nadine's classes and spoil your taste buds. More here.
Learn cooking traditional Cape Malay dishes such as the tasty samosas with Gamidah in an authentic Cape Malay home in the Bo-Kaap. Read more here.
Anything else? If you have some experiences with South Africa traditional food you want to share or if you want to suggest other good places where you get delicious South African food please contact us here.
Subscribe to our Newsletter here. It's free!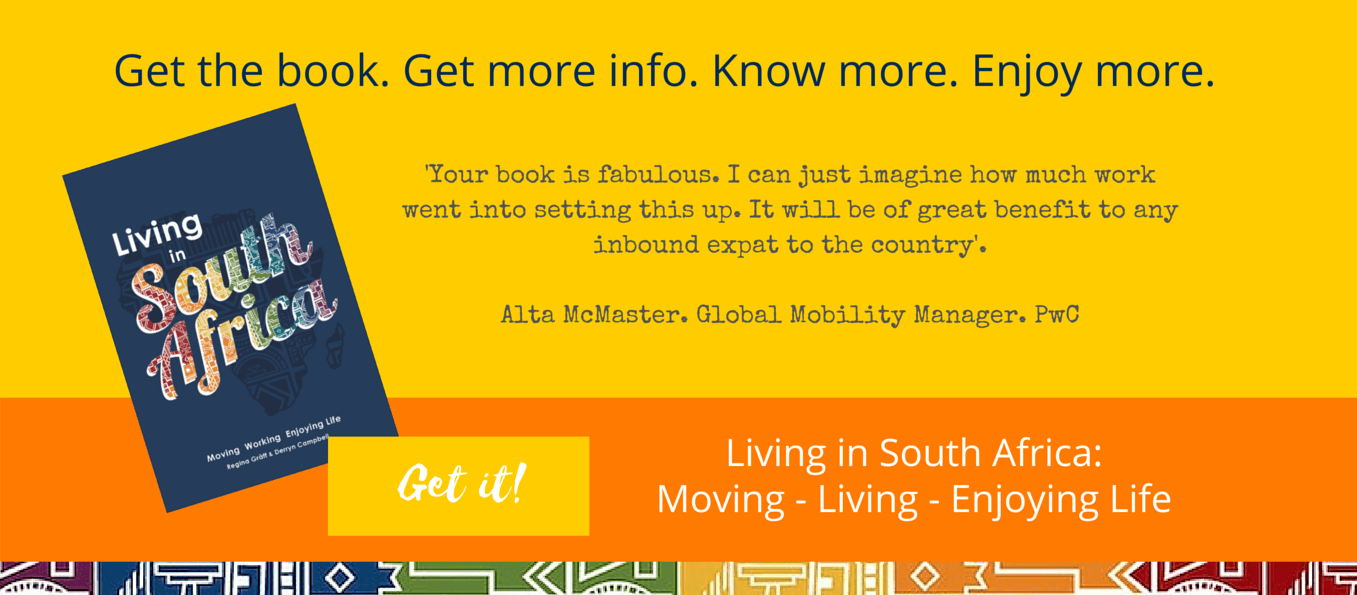 Did you like our info on South Africa Traditional Food? Feel free to share...