Cape Town Malay Cooking Classes
Have you ever thought of doing a Cape Town Malay Cooking Class? Do you want to learn how to do a traditional bootie, chicken curry or the spicy delicious samosas? If you ever fancied learning how to make delicious traditional Cape Malay food in Cape Town, you definitely are in for a treat if you book a cooking class with Gamidah. 
Malay Cooking with Gamidah Jacobs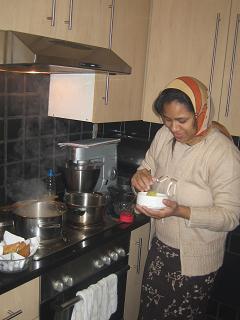 Gamidah Jacobs offers Cape Malay cooking classes to interested locals and foreigners in her home in the colourful 'Malay quarter' of Cape Town. Read here in our cooking class review about the excitement and fun preparing and eating traditional Cape Malay Food in an authentic family home in beautiful Bo-Kaap.
At Gamidah's class, you will learn to make really simple to make and very delicious Cape Malay food which the local Cape Malay enjoy at home every day. Hence the name of her business Lekka Kombuis, which means as much as delicious homemade food. While Gamidah was telling us many stories about her cultural upbringing and the traditional fast for Muslims at Ramadan, we were busy rolling our rotis, folding up delicate samoosas and watching our hostess creating a very tasty chicken curry with lots of fragrant spices. What an amazing smell! The hostess/chef ever so patiently showed us some of the tricks to roll the perfect roti and fold a samosa without spreading the filling all across the table. 
Cape Town Malay Cooking Classes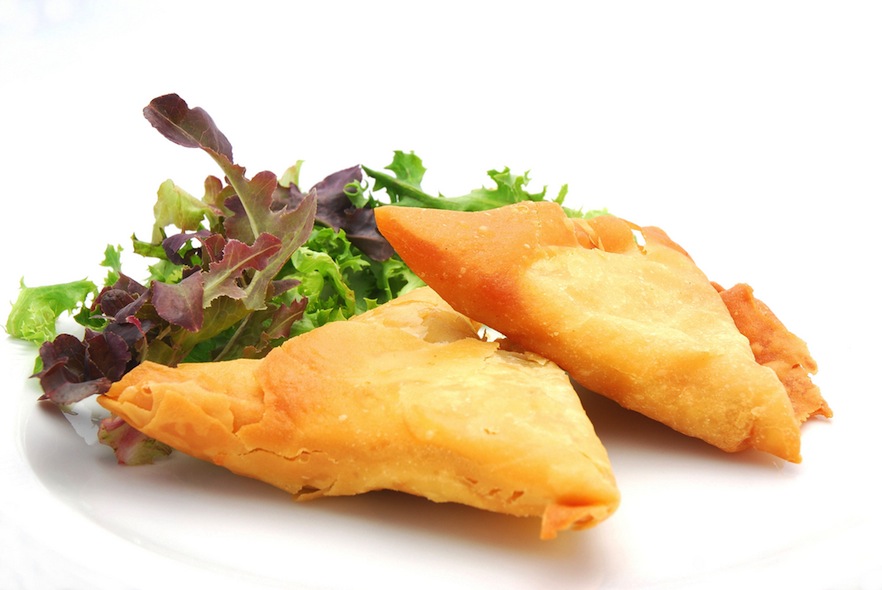 Click here for Gamidah's samoosa recipe
The Cape Town Malay cooking class takes place in one of the beautiful colourful houses in Wale Street in the Bo-Kaap. The kitchen is modern, clean and well equipped. Gamidah who is giving cooking classes already for many years in her own home is a wonderful chef who prepares a delcious meal which you will eat together in her modern kitchen. The class was very relaxed and as much hands-on as you like. So feel free to join in the fun or relax, watch and enjoy. When the meal was cooked and ready to be served, we already had snacked on our samoosas and then enjoyed the other dishes we had prepared together.
Most of the fun of the two hour cooking class was definitely the rolling and folding up of the vegetarian samoosas. For us beginners, it was quite an achievement to get a perfectly formed triangular samoosa, without dripping filling all over or ripping the delicate homemade pastry sheets. And the taste was really simple but oh so yummy! This actually makes the perfect snack for your next dinner party. Feel free to use the recipe which she so generously offered to us.
As another treat Gamidah served us her fabulous Cape Malay koeksisters as a dessert. This Malay sweet pastry is totally different in texture, taste and appearance to the cooksisters you will find in most shops in Cape Town. Cape Malay cooksisters do not look like the braided pastry of the Afrikaans cooking tradition, but more simple, looking like smaller donuts. They are very delicious and not as sticky and sweet as the Afrikaans koeksisters.
More information on the Cape Malay cooking classes with Gamidah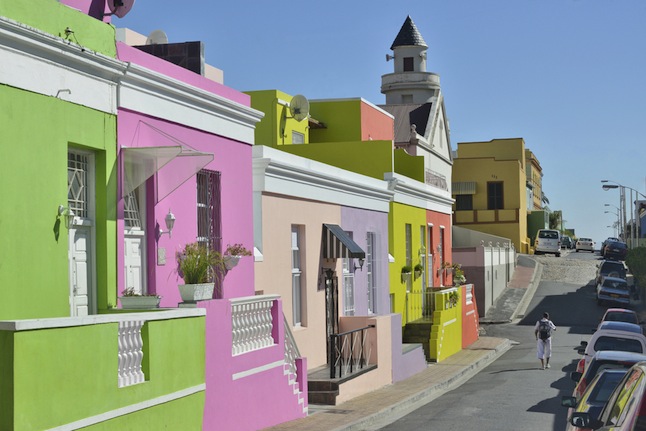 More about the Bo-Kaap
Cape Town Malay Cooking Classes with Gamidah Jacobs:
Location: at her home in the Bo-Kaap, Cape Town 
Duration: plan in 3 hrs
Costs: enquire for your special requirements
Catering: available, ask her directly about catering for your special event
Her company is called Lekka Kombuis. Find more info on her website.
Cape Town Bo-Kaap Tour and Cooking Class

If you want to experience the wonderful Cape Malay hospitality and learn a bit more about the historic Cape Malay Quarter in Cape Town, book the excellent BoKaap Tour Pam McOnie offers with her Cape Fusion Tours. To learn more about Pam's Bo-Kaap Tour, read what you can explore when you visit the brightly colored Cape Town suburb with her. Go to our Bo-Kaap Tour review.