Bo Kaap Tour
Insiders Tour exploring the Cape Malay Quarter
Are you looking for a great tour through historic Bo Kaap in Cape Town?
This Bo Kaap Tour through the Mother City's Cape Malay Quarter has so much more on offer besides showing you the brightly coloured houses and small cobbled streets.

This is one of the typical scenic views when on a Bo Kaap Tour in Cape Town.
There are many great BoKaap attractions your walking tour through Malay Quarter in Cape Town should include:
Bo-Kaap Attractions
It is easy to stat your Bo-Kaap tour either at the Bo Kaap Museum in 71 Wale Street or at the Atlas Trading Company opposite this popular Cape Town musem.
Have a good look and take in the smells at Cape Town's most famous Spice Shop Atlas Trading Company, the supplier of exotic spices in Cape Town. You will be mesmerized by the fragrant spices in this spice shop. In the many wooden containers you will find all the condiments for cooking the typical Cape Malay dishes , like bobotie , samosas, curries and bredies.
After this stop walk up and down the rows of pretty brightly coloured houses. The oldest area of the Bo Kaap is around the Wale Street with Auwal Mosque in Dorp Street being Cape Town's oldest mosque. The Bo-Kaap Museum is one of the oldest buildings in the Malay Quarter and dating from 1768. You will recognize the older Dutch buildings from the English ones by their ornamental arched roof lines.
Continue your Bo Kaap Tour and walk around the Cape Malay Quarter and see the many lovingly renovated houses and mosques in the area. This Cape Town neighborhood is getting more and more popular with young professionals. Due to its vicinity to the Cape Town CBD the area is getting more and more popular with locals and investors too.
The Bo Kaap Heritage Mural in Wale Street, some houses up the road from the Museum depicts the rich cultural heritage of the Muslim residents of the area and is worth to have a good look at.
Bo Kaap Tour: Arts and Crafts
There are many little shops and arts and crafts factories and designers offices pop up in the area. So you should not miss out on some excellent shopping opportunities and watching the locals fabricating splendid arts and crafts.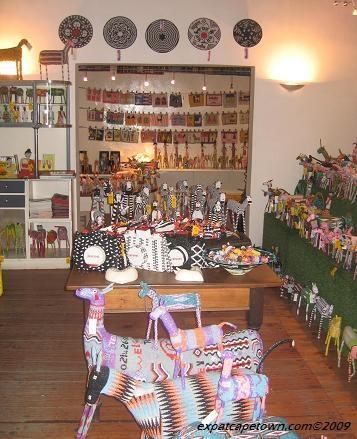 Be sure to walk down to MonkeyBiz, a social empowerment project which sells stunning bead creations, from little puppets to huge beaded zebras and fantastic animals in all colours and shapes. The little dolls and animals are created by more than 450 women who are supported by this project. Monkeybiz was born out of the idea of two local ceramic artists who wanted to help the Cape Town community to raise funds for women and children with HIV. All profits go back to the local communities. More info.
The headquarters of Carrol Boyes, a local Cape Town sculptor who now produces unique South African functional art, like her distinct pewter, aluminium and stainless steel cutlery and ornaments, is located in the Bo Kaap too. The beautiful showrooms in the Bo Kaap show you some of her stunning work which earned Caroll Boyes fame overseas too. She has got stores in Perth, Paris and Toronto and recently opened another store in New York. More info.
Another good opportunity to see local artists at work is at Street Wires who make beautiful artefacts from wiredesign and bead- or paperwork. There are creating a wide range of fabulous contemporary African wire and bead craft in various sizes and designs for the local and international markets.
More unusual additions include their portfolio are craftily designed lampshades made with bottle caps or bowl made out recycled softdrink cans. A visit to the huge workshop is a real eye-opener and you will be amazed by the display of colorful designs and techniques of the local craftspeople. More info here.

Bo Kaap Tour
How to best experience the beautiful Cape Malay Quarter of Cape Town?
Take a tour with Pam McOnie from CapeFusion Tours and get all the information about life in the Bo Kaap. The highlight of her tour is certainly the visit of the little alleys and backyards and a homevisit at one local Muslim family.
Pam is a very knowledgeable tour guide and knows a lot about this Muslim Quarter. In her Cape Malay Quarter tours she is sharing her exciting insights about the area iwith you. She will open your eyes, not just to pass the colorful houses but also see behind the facades.
Pam's Bo Kaap tour leads you though all the most important dates in time and the best attractions of this Cape Malay Quarter.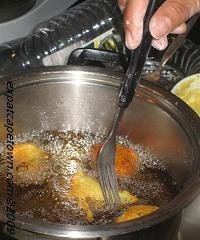 This is how I met also Gamidah who offers Cape Malay cooking experiences in the comfort of Gamidah's beautiful Wale Street home and kitchen.
Read more about this interesting cooking class here.
Our tourguide Pam was very flexible and she is also taking on small groups on her Bo Kaap Tours. Her tours are very personal and flexible to accommodate your interests in the Bo Kaap. You will soon be chatting and laughing a lot with your Bo Kaap host and, as a real treat, getting some insights into the many little secrets of Cape Malay cooking. Have a go and enjoy a fabulous day out.
To go to Pam's Website, please click here.
If you want to go on a day tour or half day tour or want to try one of her gourmet and wine tours, be sure to get in contact with her.
Pam's tour packages are really reasonable and her tours come highly recommended by tourists and expats in Cape Town.


Are you already subscribed to my ExpatCapeTown Newsletter?
It is easy! Simply add you name and email here and you will get more great Cape Town Insider Tips every month.

All about shopping for special Cape Town Souvenirs

Go to other Great Cape Malay Cooking Courses: Cass Abrahams

Return from Bo Kaap Tour to ExpatCapeTown Homepage