Cederberg
Hiker's Paradise close to Cape Town
We just come back from a great weekend in the Cederberg mountains near Cape Town. What a stunning landscape, but hiking in South Africa really needs some preparation. Nevertheless, if in Cape Town, this mountain range can easily reached after a two and half hours drive from the Mother City. Perfect for a long weekend out of town!
Where are the Cederberg Mountains?
This Mountain range lies north of Cape Town and can be reached via the N7 highway.
Relaxing and cooling down in the Cederberg
Mountain Road in the Cederberg
As you can see on the map the Cederberg mountain area is vast and still under-developped, but there are various accomodation and facility options in the area, mainly basic camping facilities, but for those who want to be spoilt there is a special treat waiting for you at Bushmanskloof Mountain Resort!
The roads in the nature reserve are mostly untarred, so we would really recommend to go there only with a 4x4, which you can rent in Cape Town, or you try to avoid some of the rougher pass roads. The first excursion to the area we drove in our 2x4 car but decided we would not do this again. So we came back with a 4x4 and driving definitely was much more comfortable and less stressful.
Accommodation at Sanddrif Campsite
There are accommodation options in all categories in the mountain area. From really basic campsites to the luxurious Bushmanskloof Resort, which is repeatedly voted one of the best hotels in the world. Well, we opted for a very comfortable self-catering option in cottages and stayed at the Sanddrif Camp, which does have nice clean facilities for campers and lovely family cottages. This is the two-bedroom cottage we stayed in: lounge, fully equipped kitchen, braai area on the verandah, shower/bathroom... no TV, but electricity and warm water. What could one wish for more for a relaxed weekend out of town?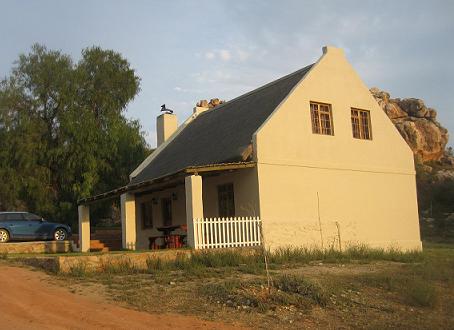 Sanddrift Cottage
About our Hiking Experience
We were lucky to be introduced to hiking in South Africa by friends who have been to the Wolfberg before.
As we stayed in Sanddrift which is kind of the base camp of the Wolfberg, we decided to hike up the Wolfberg Crags. What a different hiking experience! Being used to hiking in the Alps and having managed some mountains in the Dolomites, this hike was surely a treat too! The paths are quite steep and rocky, so be prepared to wear comfortable and sturdy shoes to enjoy the hike.
Hiking in the Cederberg Mountains: Wolfberg Crags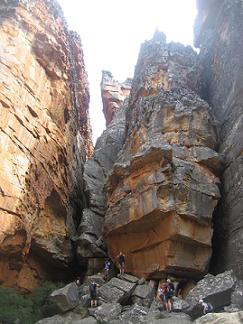 Wolfberg Crags
The markings up the Wolfberg are quite non-existent so we were lucky to have our friends with us who could remember where to climb over rocks, crawl under huge boulders - backwards!- or how to push ourselves up over steep rock face. So be sure to get advice from the reception about the climb as you certainly do not want to get lost or stuck up there. That said, remember to wear the right footwear and take along some bandages and emergency medication.
Well, during our hike we met an unlucky guy with a broken ancle high up the rocks who had to be rescued, but was waiting for quite a while before even having some painkillers! This is a challenging climb and you have to be careful where to place your foot next.

Hiking in South Africa - Be prepared!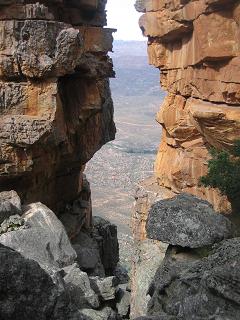 View from the top
For any hike in the Conservancy you need to get a permit, holders of the Wildcard get in free. Take enough water, a hat and sun protection, a jacket or long sleeved shirt and long trousers to protect your elbows and knees when crawling and start your hike early in the morning.

Hiking up with kids in tow
The hike will take you around four to five hours, depending on fitness and breaks. By the time we started climbing down from the top around eleven o'clock, the sun was shining down hard and it had already around 30degC. There is no cell phone reception in most of the areas, so make sure where your next emergency phone can be found, the camp sites do have landline reception.

Be aware the mountainous area is known for all kinds of creepy crawlies, so watch out for spiders, scorpions and snakes! Well, we were lucky and did not encounter anything else than shiny butterflies, chameleons or little lizards.

Other activities in the Cederberg
There are lots of other activites than hiking to enjoy when staying the Cederberg mountains. You can go swimming and canoeing and there are numerous sites where you can go admiring the historic rock paintings and you can also go stargazing. The last evening we spent listening to an interesting talk at the Cederberg Observatory which is only a five minute drive from the Sanddrif Camp.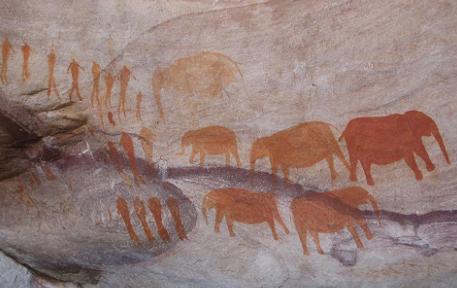 San rock paintings
Fantastic rock formations
Even though the sky was quite cloudy, through the huge telescopes at the observatory we managed to catch a glimps at Venus and of Jupiter and his two rings! That was quite an unforgetable sight!
For more info on this South African National Park, please go to the offical website of the Conservancy. Now it's over to you! Go out and explore the area. The Cederberg is stunningly beautiful! And if you would like to share some of your experiences, please contact us here.

If you are interested in more Cape Town Insider Tips, please subscribe to our free ExpatCapeTown Newsletter.

Subscribe to our newsletter. It's free.
Other Popular Pages