Cape Town in Winter
Cape Town in Winter | 21 November 2019 | ExpatCapeTown
What's Cape Town in winter like? Rain, wind, hail, snow? Or Sunshine as usual? How cold does it get? What to pack?
Well, it's not always big winter storms as we had in 2017 when the meteorologists had issued such severe weather warnings that it was deemed safest to even close the Cape Town schools for one day - something we never experienced before during our more than 10 years of living in South Africa! Usually we have quite some lashings of rain and heavy gusts mainly during nighttime, when we still experience strong winds, however, the rains seems never to be to much. Looking at our sky, it seems actually more sunny than during any other winter storm we had experienced overseas! Blue sky interspersed with clouds, then ten minutes later, dark as can be with heavy rain, but that lasts only a couple of minutes, then the sun comes out again.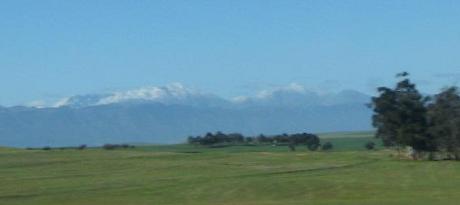 Snow in the Cape mountains
It feels a bit like the moody weather in April in Germany... However, we have to admit that the winds play havoc in some coastal areas and also damage to roofs and infrastructure have been reported in more and more in the recent years. The first snow of the season arrives also on the higher mountain ranges near Cape Town around Worcester and further afield near Sutherland.

Have you ever considered travelling to Cape Town during the months of June or July? That means during winter in the Southern Hemisphere? Winter here is officially from the months of June to August.
Cape Town is a beautiful city in any weather but in winter with often very clear blue skies or special cloud formations just before a storm draws close, it is simply stunning! Of course, you need to come prepared, bring some warmer clothes, choose accommodation with a warming fire place and be prepared to explore also the many museums or indoor activities the Mother City offers. Certainly, when planning to come to Cape Town in winter, there will be many questions in your mind: How cold does it get in Cape Town in winter? Is it grey and miserable most of the days? Which clothes do I need to pack? And many of you might wonder: Does it snow even in Cape Town in winter? Lean back and relax, we will tell you here all to be comfortably prepared.
Winter temperatures in Cape Town
The average temperatures for daytime are between 10 and 18 degrees Celsius, with occasionally warmer days with temperatures in the 20s.

The highest recorded day temperatures in winter were above 30 degrees Celsius!

The night time temperatures in winter are usually in the lower tens, rarely the temperatures drop below 10 degrees Celsius.

The lowest recorded temperatures go down to even minus 1 degrees Celsius!

The winter month take most of the annual rainfall. On average, 13 days per month receive some rain. Learn more about the Cape Town Weather and the Seasons here. 
Which clothes to pack for winter in Cape Town?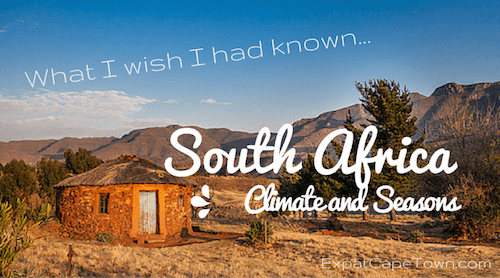 Cape Town in winter means that Capetonians will put on their winter dress usually around mid of May, that is warm boots, fleecy sweaters and woollen jackets and some even don gloves and hats when heading outside – well, of course there are also locals who wear beanies and hats in summer, but that's a different story.
Tourists are usually spotted quickly as when the locals feel cold when temperatures reach less than 17 degrees Celsius, many of us Europeans or Americans start to shed the clothes, especially when the sun is out and there is only a mild breeze. Actually, you might get strange looks when you decide it is warm enough for shorts or a short sleeved top, but hey, do as you like.
Our advice would be to travel with a lightweight wind breaker and dress in layers, a fleecy jacket always will come in handy, as will a light scarf or bandana for the windy walk along the coast. Rain showers often only last a couple of minutes, sometimes hours though. But be warned that there are some rainy and cold days especially when the cold North-Westerly winds blow which can feel quite 'freezing'. Remember also, that a warm sweater and warm pyjamas will come in handy, as the houses here get cold in winter. There are no central heating systems like you would have overseas. Most of the guest houses and bigger hotels, however, have combined air-con/heating systems. In newer/luxury accommodation, you might even find under-floor heating, but many houses still rely on gas or electric heaters put into your rooms during the colder season. So be prepared to stay warm indoors in Cape Town in winter. And pretty much all house here have a cosy fire-place to keep warm in the evenings.
Things to Do in Cape Town in Winter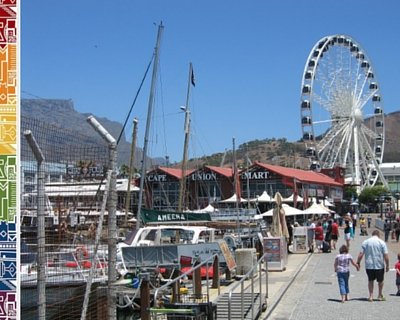 Cape Town Attractions & more
Most of Cape Town's attractions are great to visit in winter too and this includes not only the many excellent museums and galleries, but also the National Botanical Gardens. Kirstenbosch Gardens in winter? Yes, as the rain allows for new growth, there are usually stunning flower displays to be admired. So make sure to include this in your itinerary. Table Mountain is worth a visit during the winter month too. Check the Table Mountain weather forecast here and check with the Table Mountain website if the Cableway is open up the mountain you should ride. Remember, that the weather might change quickly you should take a chance when there is blue sky as the winter light is so clear you can soak in stunning views over Cape Town and the surrounding region for miles and miles. The V&A Waterfront, of course, offers all kinds of attractions, from award-winning exhibitions, such as at the Chavonnes Museum to free entertainment indoors and outdoors, as well as gastronomic delights and shopping galore.
Wonderful winter memories can be seized also in the wineries around Cape Town. The Cape Town Wineries usually have got splendid parks to take a stroll in and then you will be able to warm up in front of a crackling fire in one of the comfortable and delightful vineyard restaurants or maybe even catch the sunshine in the patio cafes.
Ever wanted to celebrate Christmas in July or June? You could visit a winter festival in the many attractive villages around Cape Town. Like the popular Tulbagh Christmas in Winter festival with fairy lights and all winter warmers you can think of. And maybe there will even be some snow too. The Christmas in Winter Festival in Tulbagh will take place every year towards the end of June - during the South African school holidays.
Does it snow in Cape Town in Winter?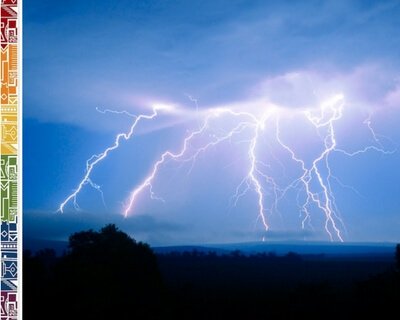 More about Weather Extremes and Interesting Facts
Not really in Cape Town, but there is snow in the Western Cape not to far from Cape Town. Usually from the end of May or early June, the Langeberg Mountains near Swellendam are sprinkled with snow. There is snow on the high peaks near Ceres and DuTooitskloof too. At the beginning of June usually there is the first winter snow on the Matroosberg, which lays 35km outside of Ceres. And the area around Worcester has usually got its fair share of the white wonder too.
The Western Cape region around the town of Ceres, a mere 160km from Cape Town, had its first snow in July and had some  more snow during the winter months in the high lying areas. Many South Africans use the winter weekends for a little getaway. The area around Ceres is often referred to as Little Switzerland. Ceres itself is well known for its delicious fruits especially cherries. With more snow on the way this winter, the Matroosberg Nature Reserve, 35km from Ceres, is expecting visitors from all over the region to come and see the white wonder. The Matroosberg area is usually getting its fair amount of snow in winter. To find out where and how much snow there is, follow @SnowReportSA on twitter
The southern slopes of the Matroosberg can be driven on a 4x4 track and there is also a private ski slope. Some winter weekends the Ceres region can expect up to 6000 vehicles, especially 4x4s, to come to the Matroosberg. Farmers in the area however appeal every year to the visitors to respect private property and not to trample their land in search for of a snowfield. They warn the snow-seekers not to park their cars on the fields and damage their crops. Read more here: From Cape Town in Winter to Cape Town Seasons.
Photo Credits on Cape Town in winter: shutterstock and own images
Need more info about Cape Town?
Subscribe to our newsletter. It's free.