Cape Town Health Care
Cape Town health care facilities can be efficient and first class or shockingly depressing and dismal. Be sure to know where to go when you need medical care. This is what you'll find on our page:

Cape Town travel health clinics
Private Health Care Costs
Cape Town Hospitals and Emergency Care
There are many new and very efficient private Cape Town hospitals where the standard of care is the same as you would expect from a private hospital in Europe, America or Australia. Emergency care is swift, caring and efficient, as we have recently experienced at a night time visit to the Blaauwberg Hospital's A&E unit.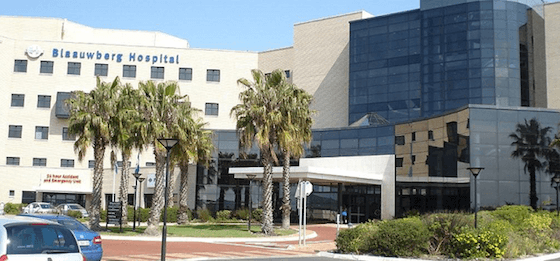 In the private hospitals you will find all the relevant departments from Audiology and Cardiology to ENT, Paediatric, Surgery and Urology. They have access to the newest state-of the-art equipment such as MRI and CT scans and health care professionals who are well-trained and experienced.

The private Cape Town hospitals all have access to ambulances and well trained emergency staff. Private ambulance teams not only have shorter response times, they also often better equipped and primarily serve the affiliated hospitals. ER 24 is affiliated with Mediclinic while Netcare belongs to Netcare Hospitals.
Private ambulance teams can be reached under these telephone numbers: 084 124 (ER24) and 082 911 (Netcare)
Read more on the various Cape Town hospitals here.

Cape Town Health Care Centres
There are numerous health care centres, private day clinics at the hospitals or medical centers in and around Cape Town. The bigger medical centers also are affiliated with the private hospitals. The treatment is in general very good and most of the times you can choose your doctor.
If you want to see a specialist straight away and are a cash-paying private patient you usually get you appointment immediately and do not have to wait for weeks. It is advised though to ring the practise before for an appointment. Should you be looking for a general practitioner, dentist or specialist who speaks your language I would recommend you call the embassy for their trusted doctors otherwise check the sites of the private hospital groups for doctors affiliated with them. Should you need after-hours medical care, contact or make your way to your nearest private hospital's A&E unit.
Private Health Care Costs
As you have to pay your visits to the doctor or dentist up front, you should be sure your insurance will cover the fees. To get private treatment in Cape Town you are advised to take out a private insurance to cover any medical costs. In the big medical centers you can pay either cash or with debit card or credit card and rarely with cheques.
The doctor's fee for a general consultation amounts usually to around R350 which is comparably lower to fees you would have to pay overseas to see a doctor. Other fees which are only a general guideline:
GP and Dentist Examination: From R400
Pediatrician check up: From R550
Optometric exam/Eye check: R300
Physiotherapy session 60min: From R400
Due to these comparably low prices the health care tourism is booming in Cape Town. There are many practices and clinics which offer special packets to visitors from overseas.
Cape Town Health Insurance
Private health insurance is mandatory when moving to Cape Town. Many visa prescribe South African health care insurance, so make sure to choose a comprehensive one as the public health system is quite basic, so you want to protect yourself and your family with either an additional or complete private health insurance. Medical aid schemes often do only cover for medical emergencies and you will only get limited access to specialist care. 
There are a variety of medical aid plans, including gap cover, available with different health insurance providers in South Africa. Full medical care plans, including hospital plans, cost around R5,000-R7,000/per month. Enquire with these popular health care insurance providers:
Please contact us, should you need contacts for insurance brokers. Looking forward to hearing from you! Contact us
Need more info on expat life in Cape Town? Subscribe to our newsletter here:
Image Credit for Cape Town Health Care: Image by DrOdendaal
Read my info about Insurance for Expats here
Return from South Africa Health to ExpatCapeTown Homepage