Health Food in Cape Town
Great stores to by organic and special diet food
Health food in Cape Town is now easier to find than ever before. After the much discussed 'banting' and 'vegan' diets held entrance also in several restaurant in Cape Town, staple diet food and health food is quite easy to source in local shops. There are many health food stores, coffee shops and restaurants in the Mother City catering for special diets now. Online shopping for organic, natural and healthy food has become easily accessible too.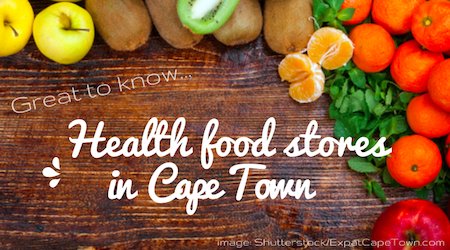 Where to buy health food in Cape Town?
Dischem, chemist chain stores, are located in many shopping centres such as Canal Walk or Bayside Mall. They stock lots of grains, flours, nuts, berries and dried fruits and other organically grown dry produce. Specialized diet brands.
Wellness Warehouse in Cape Town, opened only in 2007, but has more than 15 branches in many suburbs. The have a wide variety of natural, organic and healthy food, lifestyle and beauty products. The flagship store is in Kloof Street/City Bowl and in Cavendish Shopping Center/Claremont, and they also offer online shopping facilities. Locate a store
Nature's Deli Health Shop in Table View, opposite Bayside Mall, sells a wide range of homeopathic medicines and organic health food like fresh Essene Bread. They also offer advice and tips for your wellbeing and occasionally host experts for talks or presentations.  Visit their website.
Go Natural at Somerset West: There you can stock up on many organic foods, juicers, stone mills, water destillers, cleaning products and cosmetic ranges. More info.
Faithful to Nature: If you are after King Soba Noodles, EnviroKidz Organic Musli and Nairns oatcakes, then Faithful to Nature (in Sunnyvale, Noordhoek) will be one soon of your favourites. This is an online store without shop, but you can collect your ordered products from their warehouse instead of having the products delivered. More info.
Think Organic in Kenilworth stock a good range of organic and biodynamic food products. They also offer organic fruit and veggie bags which they weekly deliver to your door. More info here.
In most local supermarkets, you will find special heath food sections with wheat free, gluten free and dairy free products. The organic food sections and sections for special dietary requirements in the supermarkets Woolworths, Shoprite/Checkers, Spar and PicknPay are constantly growing, and do not hesitate to ask the store manager about specialised food items which you can not find, often they can order them in for you. Keep an eye on organic ranges which are part of the regular food items on the various shelves. As dairy replacement you will get soy or rice milk and some times goats milk. Cocoa butter, nut butter as well as almond milk and milk powder is available at many stores too. 

Any other question regarding special diets and food in Cape Town? Then see our FAQ regarding food in Cape Town. 

Subscribe to our Newsletter
Return from Health Food in Cape Town to Shopping in Cape Town

More on Cost of Living in Cape Town

Back from Health Food in Cape Town to ExpatCapeTown Homepage