Marigold Weekends  
The Third Best Exotic Marigold Weekends is a series of exotic, weekends capturing the colors, cultures and cuisines of one of the world's most frenetic destinations - India. Much like the first and the second best exotic marigold hotels as seen in the popular movies. 
Indian Cooking with Gautami Seksaria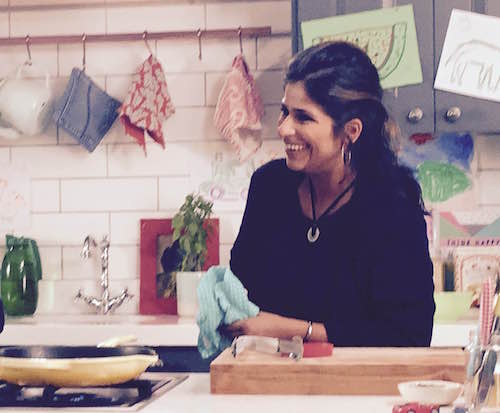 Gautami Seksaria
Marigold weekends are hosted by Gautami Seksaria who originally comes from Mumbai. She now lives in Cape Town for the last five years. Gautami became fascinated with Indian cooking at a very young age and what started as a skill to find her a 'suitable boy' soon became her life passion and profession. 
In her new series of cooking classes set in the stunning Tulbagh countryside you will be enchanted to learn new cooking skills and make new friends and of course cook and eat fabulous self-prepared Indian food and taste some great South African wine. Read Gautami's fascinating story here.
Indian Culinary Journeys
The itinerary for the culinary journey is jam-packed with Indian food and fare, exotic drinks and wine, yoga and meditation, rural walks and shake-a-legs and fashion flair.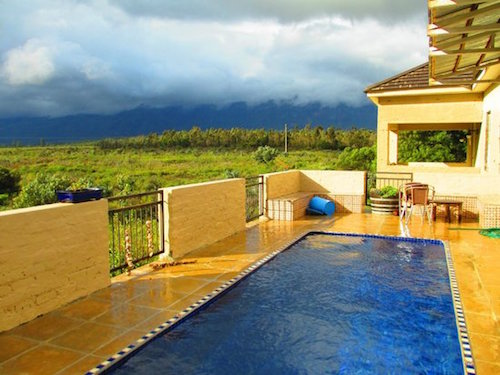 Cook, relax and enjoy at Guinevere Farm
Most Marigold weekends are held at the stunning Guinevere Guest Farm situated on a 95ha piece of beautiful cape vegetation. This luxurious property is perfect for our weekends as they have an uncanny feel of an Indian haveli. The Marigold itinerary is full of food and festivities and promises to make that weekend a busy one. Here it is:
Friday Evening:

 We'd spend our first evening together, nice and relaxed. With a theme of 'Street Food Bombayia style', we will fuss over a variety of some incredibly delicious street food that gets this 22 million people metropolis going everyday and wash it down with some awesome South African wine. And if you are feeling adventurous, we will dress you ladies up in saris or salwars; the gentlemen in turbans and shake a leg to some Bollywood. 

Saturday Morning: After an enjoyable group walk through the stunning farm, we will work with you to dish out some traditional south Indian breakfast on a Banana leaf. Often not found in Indian restaurants, South Indian grub combines great taste with health and this is how half of India starts its day .. 
Saturday Mid-morning: A yoga, meditation and Nidra (induced sleep) session led by Cape Tonian Yoga guru - Annie Wyatt - to get your day going and leave you with 'asanas' to try at home. May be this is where you will get hooked to Yoga for life.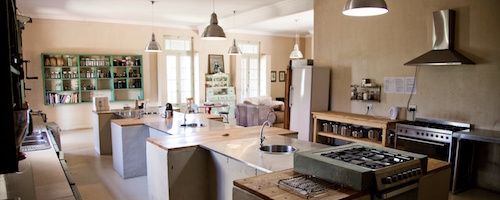 Indian Cooking Session in the Kitchen at the Guinevere Farm in Tulbagh
Indian Cooking Classes at Guinevere Farm in Tulbagh
Saturday Lunch: This relaxed multiple course signature lunch with delicacies from all over India will get you tipsy on food'. A culinary ride you won't forget in a hurry.
Saturday Evening:

 We will together enjoy this evening in the kitchen where you get to don chef hats and later, enjoy the fruits of your labor. This evening, we'd get around the fire and do a fun lesson on Indian cooking. We will chop, peal, knead, fry, bake, roast (and then eat) some easy-to-do-at-home-later Indian food. I am sure, it will leave you with a bunch of great party tricks. 
The latest Marigold Weekends were held in June and July 2016, enquire directly with them for upcoming culinary journeys.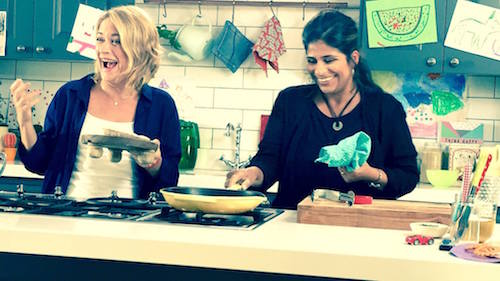 Gautami and Justine Drake as seen on BBC Lifestyle
Indian Culinary Classes in Cape Town
Gautami offers private culinary classes at her home in Sea Point. If you would like to book her for a gathering with friends, fun times cooking together and enjoying a delicious meal afterwards, contact here here. Lessons take 3-4 hours and cost roughly R1,000 per person.
As a special treat for all our ExpatCapeTown readers, Gautami offers a 10% discount for all Marigold bookings. Please use the code: EXPATCPT and let Gautami know you were referred by us. 
Indian Cooking Classes with Gautami

Location: at her home in Sea Point, Cape Town 
Duration: plan in 3-4 hrs
Costs: enquire for your special requirements
Catering: available, ask her directly about catering for your special event

Image Credits on Marigold Weekends: G.Seksaria, shutterstock.com and own images, Text: G.Seksaria (sponsored article)

Subscribe to our ExpatCapeTown newsletter. It's free.