Language Schools in Cape Town
In Cape Town you can find language schools to suit every need and budget as the friendly South African city is the favorite language travel destination on the African continent and one of the most popular expat cities in the world.

Many language students cherish the option of improving their language skills in the scenic city at the foot of Table Mountain during the week and experiencing adventure or safari trips on weekends. You can learn at a language school with any Visitor Visa. Homestays with locals offered by many schools as an additional option are also a great opportunity to get more insights into the realities of life in Cape Town. There are many language schools in Cape Town catering also for expat spouses, business travelers and gap year students or those that offer extended language classes for exam preparation, for learning effective business english or language immersion courses and some schools even offer additional work- or internship programs. (Remember: not all nationalities allowed to do 'internships' or 'work experience' in South Africa, often special conditions apply)

Learn English in Cape Town
The number of travellers coming to South Africa for study purposes is growing constantly. Many of these visitors choose to spend their time in Cape Town where they can combine their language studies with an exciting stay in one of the most culturally diverse and  popular beach cities in the world. There are many different schools in Cape Town offering a wide range of language learning experiences.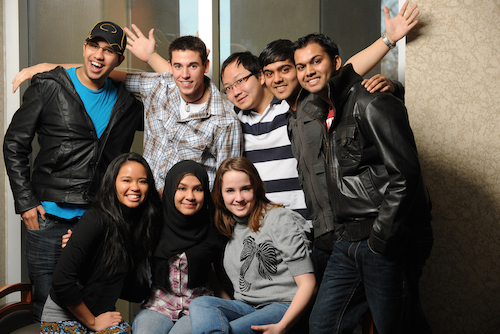 Make new friends at a local language school
Here are some English language schools that offer a variety of courses in Cape Town:
Ailola Cape Town English School 
EC English Language Centre Cape Town
Cape Town School of English
International House Cape Town/IH Language Schools
Language Teaching Center Cape Town
Kurus English Language School
EF Language School Cape Town
Oxford English Academy
Good Hope Studies
LAL School Cape Town
Class sizes and course prices vary, so you should check out the schools which suit your own requirements. Most of the Cape Town language schools, however, are located in Cape Town's central business district which is great to explore the city's attraction with your newfound friends after class or catch the local public transport. Many of the established schools teaching English as a Foreign Language are members of EduSA (Education South Africa), the association of South African English language centres.
Learn Afrikaans in Cape Town
Afrikaans is with English the most common official language in South Africa. The language is taught to children either as first language or second language in most schools in Cape Town. 
Afrikaans is the home language for many South Africans and in Cape Town, Afrikaans is the most widely spoken language. Afrikaans is predominantly spoken by the large colored community in Cape Town and the residents living in the northern suburbs of Cape Town. However, most Capetonians will understand and speak English, only when venturing further into the Western Cape or up the West Coast, the locals might be used to speak more Afrikaans than English.
Learning Afrikaans is a great way to gain insight into the life of the locals.  As the language is a mixture of Dutch, English and German vocabulary with some Southeast Asian languages strewn in, it is quite easy to learn for people knowing any of these languages already.
Learn Afrikaans in Cape Town: Inlingua Language School. 
Learn Afrikaans with a private tutor: TeachMe2. 
Learn isiXhosa in Cape Town
isiXhosa classes are quite popular in Cape Town too, especially interns and volunteers working in the townships, will need to get some basic knowledge to communicate effectively. Xhosa is one of South Africa's 11 official languages and the most used indigenous language in the Western Cape and Eastern Cape, the former Transkei and Ciskei, where the Xhosa people originally come from.

More about languages in South Africa
isiXhosa is spoken widely in Cape Town and many of the local staff will speak Xhosa as their mother tongue. When living in Cape Town, it is always a good idea to learn some basics of Xhosa to understand more about their culture too. In Xhosa language classes, the cultural component usually plays a big role. And you will be surprised how much you will learn about cultural concepts and intercultural communication. In Cape Town schools, Xhosa is often offered to pupils as a third language, even some private schools offer the language experience to teach the children the language, values and culture of this people.

Learn Xhosa in Woodstock/Cape Town: Xhosafundis, Tel: 021 447 9868
Learn Xhosa with UbuntuBridge
Cape Town Language Schools - Foreign Languages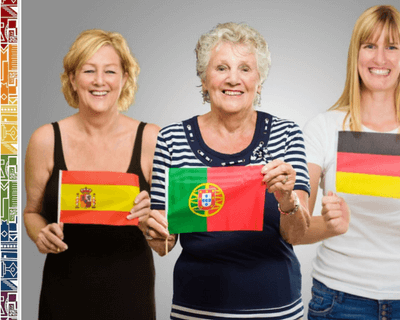 Expat Interviews
Learning foreign languages in Cape Town, be it for business or travel, can be a lot of fun too. World languages such as Spanish, French, German or Mandarin are offered by a variety of organisations or cultural institutes.

You might also want to learn other 'foreign' languages in Cape Town, maybe because you need it for your job or want to know basic language skills for the next holidays abroad or maybe to get additional private language tuition for your children or for travel purposes. Or maybe you want your children to study your home language more intensively than you can teach them at home.
There are quite a few excellent language courses on offer in Cape Town.
Learn Dutch in Cape Town: Stichting Nederlandse School Kaapstad, Tel: 079-028-7230
Learn German in Cape Town: Goethe-Institut in Gardens, Tel: 021-465-1317 or DSK German Internat. School in Tamboerskloof, Tel: 021-480-3835 or at the 
Learn French in Cape Town: Alliance Francaise in the CBD, Tel: 021-423-5699 
Learn Italian in Cape Town: Italian School of Cape Town in Gardens, Tel: 021-465-8261
Learn Spanish in Cape Town: La Casa Scuola de Espanol, Tel:  071-255-2015
Learn Portuguese in Cape Town: Alliance Francaise in the CBD, Tel: 021-423-5699
Be informed about updated pages and expat related news for living in Cape Town, simply subscribe to our Newsletter here:
Subscribe to our newsletter. It's free!