Expat Interview with a Swedish Expat
Read here our expat interview with an expat from Sweden. Anna has experienced expatriate life in many countries before moving to Cape Town. She is a German, Swedish and Italian to English translator.

Name: Anna                      

Nationality: Swedish 
Profession: Freelance Translator 
When and where did you move from? 2013/United States
Have you lived as an expat in other countries? I have been an expat all my life, never living in my own country. Germany, Austria, Holland, UK, Italy, United States, South Africa.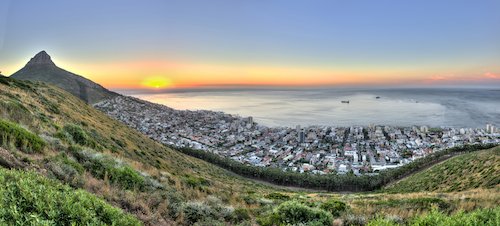 Sunset over Table Bay, Cape Town
Expat Interview
Why did you choose to move to Cape Town? Good work opportunity and because it seemed like an exciting and interesting opportunity for our family.

Do you have children? One daughter who is 3 ½ and one son on his way to be born in a month.
Where does your child attend school? Our daughter goes to a Montessori preschool - Explore & Discover in Mowbray. We like the school very much because it is small, home and family like, it is very diverse, friendly and sweet.
How did the child settle in Cape Town? Our daughter is very outgoing and she was only 1 ½ when we moved here so it was easy. My suggestion is preparation – involving them in what is happening, possibly some decision making, making it a fun and exciting experience for them. There are wonderful things to do for children in Cape Town, so that should be the easy part.
Where do you live here? What's top in that area, what's not? We are now living in Claremont. The first year of our stay we were in Greenpoint. Both areas are walking distance to shops, parks and other amenities, which as Europeans is very important to us. None of them have a very strong community at least as far as we have seen so if you are someone who values being close to your neighbours these may not be good areas for you.
What were your first impressions of South Africa? The inequality that still persists was and continues to be quite a culture shock. Other than that the child friendliness really impressed me. Children are genuinely loved and considered here more than in any other country I have experienced.
What are your best experiences in Cape Town? Spending time on the beaches, encountering the various animals, enjoying wonderful weather most of the time, the beauty of the landscapes and the diversity of the people.
Anything that is not so great when living here? The extra security measures and some limitations due to that and being very far away from Europe.
What about Cape Town living expenses, compared to your home country? Having a good life here is much more affordable.
Which expat services, restaurants etc. would you recommend to other expats? Spurs – a family chain restaurant that offers a play area and a babysitter for the children. We love the Eco Village Oude Molen with café, playshed (indoor playground), horse rides and nice views close to the city. We did not make us of any particular expat services.
Anything from Cape Town you miss when you go back 'home'? Yes, many things. The broad range of activities and experiences (especially outdoors) that are on offer and particularly nice for families. The diversity. The child friendliness. The amazing nature. The weather. The African culture.
Many thanks to you, Anna, for sharing your insights and all your lovely and useful tips in this expat interview! Wishing all the best to you and your family. Enjoy your time in South Africa!
Contact Anna for translating/proofreading services here.
Looking for more insights into living in South Africa?
Our expat guide book on 'Living in South Africa: Moving - Working - Enjoying Life' will bring you insights into a wide range of topics such as Customs and Cultures, Schooling and Housing, Working and Immigration, Shopping and so much more. Published only in 2014 it will provide you with all the newest facts, statistics and helpful resources for settling more easily in South Africa.
Click and view sample pages

If you are interested in more in-depth, well-researched, up-to-date information and more South Africa facts:

Order your copy of our Living in South Africa guidebook directly from us.
Image Credits on ExpatCapeTown.com and this expat interview: own images and Shutterstock.com
Back to Expat Communities in Cape Town
Return from Swedish Expat Interview to ExpatCapeTown Homepage