German Expat Interview
About Moving to South Africa and Living in Cape Town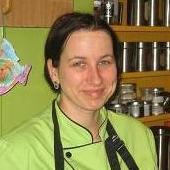 In this Expat Interview with German expat, Nadin Pospech who lives in Cape Town with her husband and their two young kids, will tell you about her experiences when moving to South Africa and what makes living in Cape Town so special.
Nadin is a professional chef, passionate about fresh organic food and belongs to the South African Olympic Chef Team and now owns a cooking school and Catering Business in Cape Town's Southern Suburbs.
After finishing her apprenticeship in Germany she has worked in several high profile restaurants in Austria, Switzerland and England before moving to South Africa nine years ago.
Here she worked initially at Grand Roche in Paarl and after her eight months stay and meeting her future husband she decided to move to Cape Town for good. She then worked in several top class restaurants at Table Bay Hotel, Ellerman House and Cellars-Hohenort Hotel.
In 2007 Nadin decided to open her own business to be more flexible with working hours and because she enjoyed teaching classes at Varsity College in Cape Town she took the step to be her own boss.
Here you can read what Nadin thinks is interesting and important to know when moving to Cape Town.
A German Expat in Cape Town
Why did you choose to move to Cape Town?
Still in Germany one of my work colleagues, a South African recommended to visit South Africa and as I wanted to broaden my horizons and learn some English, a language I had not learned at school, I took the plunge.
Who did help you with Immigration issues?
After my internship at Grand Roche I decided to stay on in Cape Town as I had met my future husband while in Cape Town and a lawyer at the hotel helped with the immigration issues.
For a South African work permit it is important you can proof that only you are suitable for the job and that you have special skills your employer can not find in the country. So I started working as head of patisserie at the Grand Roche.
Did you experience culture shock?
Not really, I find it easy to meet new people and I joined a pottery class where I met nice people too. One thing I noticed n the beginning was that there were so many old cars on the road. The South Africans are really friendly and warm people.
Which things should expats bring when coming here?
When moving here, bring certified photocopies of all your documents. It is easy some documents get lost along the way when moving; even home affairs lost some of my papers. Get also translations of your certificates and a police clearance report from your home country.
Anything you would recommend to people who want to move here should take care of?
I highly recommend getting a good private health insurance. You will need it, as you do want to be able to go to private hospitals if you need to get medical assistance or even need an operation. I was shocked by the health standards in the public hospitals and think you always should have your own health insurance.
What makes Cape Town so special in regards to having your own business here?
It is much easier to open a business here compared to Europe, there are far less regulations. You just need a reliable accountant here. For me it is great as I can be much more flexible now that I want to be there for my kids too.
What is great about living in Cape Town?
There is so much more freedom to do what you want as there are less rules in place. Friendships are easily made here, bring and braai parties are wonderful. The lifestyle is relaxed, although the criminality issue is something you can not deny. There is more acceptance towards natural healing; you do not always have to see a doctor as there are many more specialists for alternative healing methods available.
Do you have any shopping tips for the German Expat?
For German specialties and delicatessen, there is Raith's Butchery at Gardens and the Black Forest Butchery in Plumstead, then there is Le Bon, a German bakery in Milnerton. Good fresh fish you can get at Fish4Africa and great organic food you will find at the Earth Market or Porter Estate Market in the Southern Suburbs on Saturdays.
Any restaurants you can recommend to other expats?
I like the food at Aubergine which never disappointed, then Haiku for a more Asian touch and the Cape Farmhouse at Red Hill near Scarborough is a great place to go for lunch.
What do you think about living expenses?
Fresh fruit and vegetables are much cheaper here; otherwise the living expenses are quite high. But you can get almost everything here however you pay the price for good quality food.
Where to get the best sweets and cakes?
Just try my delicious Apfelstrudel or my acclaimed Macaroons, which were mentioned in Top Billing.
Is there anything from Cape Town you miss when going back home?
I always enjoy the Nature and great scenery. Just drive down to Camps Bay and you will know… then, spontaneity and the relaxed lifestyle. And I would miss my friends.
Nadin, thanks a lot for your great tips and advice!


If you are interested in booking a cooking class with Nadin, then please contact her directly through her own website.
Are you are German expat and want to know more about German expat life in Cape Town? Or do you need some specific advice regarding immigration, schooling or housing?
Then you can also contact me in German here.
And make sure you subscribe to my monthly ExpatCapeTown Newsletter and get lots of Cape Town Insider Tips.
Go to Info for German Expats in Cape Town

Return from German Expat Interview to ExpatCapeTown Homepage