British Expat Interview
In our British Expat Interview you will read about Mark, who hails from Surrey/UK and although he and his family only recently arrived in the Mother City, he can already can share lots of stories. Here he explains to us his experiences of settling in Cape Town with his young kids. Great tips, thanks Mark!
Name: Mark McAllister       
Nationality: British
Profession and Workplace: Offshore Wealth Consultant at Devere Acuma in Century City
When and where did you move from? End of September 2016 from Guildford, Surrey/UK
The stunning Cape Winelands
British Expat Interview
Have you lived as an expat in other countries? Worked in the Middle East for a few months before SA, between Dubai and Saudi Arabia. Two countries in the middle east at complete polar opposites culturally.

Why did you choose to move to Cape Town? Having finished my last UK role we spent about 4 weeks here in December/January for a bit of time out and absolutely fell in love with the country, its people and could think of nowhere else in the world we would want our kids to experience growing up.
How old are your children? 7 and 4
Where do your children attend school? Reddam House in Somerset West, it's an awesome school with a really caring and energetic teaching staff backed by a well respected group worldwide. The kids love school so much they often don't want to come home, worth every penny.
How did the children settle in? Any tips? The school made them feel so welcome, its great to see teachers hugging kids every day which simply isn't allowed in the UK. Be ready for the extra sports (every day) and the early starts in the morning / early finishes which you soon adjust to. Neither of our two have looked back since.
Where do you live here? What's top in that area, what's not? Currently near Somerset West, 20 minutes from the airport but right in the winelands. It has a great mall with plenty of shops and restaurants and a beach close by (Strand). The wine estates are amazing, so many to list Spire, Cavalli, Eikendal the last goes on and on.
What were your first impressions of South Africa? Any culture shock experiences? Like most Brits, I was fed constant negative stories on crime, corruption etc in South Africa. It's not as bad as people think - the school run isn't like the convoy in Black Hawk Down. That said, you will struggle to adjust to the poverty of the informal settlements, beggars and frequent road accidents but already we are getting used to them being part of the fabric of SA with our first month or so.
What were your best experiences in Cape Town? The people are amazing, we have been welcomed with open arms and I can't express how great they have all been its made such a difference and we already have a significant circle of friends from the school. You have to get up early and travel to see the beauty that makes this one of the most unique places on earth, sunrises and sunsets against the backdrop of Table Mountain or the Helderberg are simple epic.
Anything that is not so great when living here? Get used to things not working like they do back home, it's still evolving as a country. Any administration you do will involve significant queuing at the various bureaucratic offices. Crime and road accidents are an issue, you have to be more aware and you need your head on a swivel sometimes but the best approach is prevention and avoid putting yourself in the wrong place at the wrong time.
What about Cape Town living expenses? If you are paid in a foreign currency it is very easy to forget how much value you get for your money. You can live a much higher standard of life here than anywhere else in the West of that I am pretty certain. The closer to the CBD and higher end suburbs you go, the more expensive it becomes but its still relatively cheaper than home.
Which expat services, restaurants etc. would you recommend to other expats? Go to Little Saint on Bree Street to eat, it's owned by a couple of friends and you will not be disappointed.
Other expat specific tips? If you have worked in the UK and aren't going back you should definitely move your pension offshore through an HMRC recognized scheme. It makes such a difference in the long term and is really easy to do. It's my specialist area and I'd be happy to help but even if you don't talk to us, take the time to look into it and you won't be disappointed.
What should expats definitely know when coming here? If travelling with kids, make sure you have their unabridged birth certificates in a wallet with your passport and if one parent is travelling with them a signed letter authorizing the other parent to do so (templates on DHA website). Likewise if you buy a car, start the process of registering for a traffic ID number as a foreigner EARLY, you need to have one regardless of if you have an international or SA driving license and it's a bit of a pain (see point above around queues at the municipality)
Anything from Cape Town you miss when you go back 'home'? The weather, the people, the general vibe of a society that's a bit hectic but it's getting somewhere.
Many thanks to you, Mark, for sharing your insights and experiences with us in this British expat interview! Wishing all the best to you and your family!
Mark is already very active in the Cape Town expat community and has started a new social club for British and UK expats and their partners which you can join on Facebook. He organises currently an expat meet-up and accepts bookings for the next meeting in January. Join his group here 
More expat interviews and info on the Cape Town expat community
Looking for more insights into living in South Africa?
- British Expat Interview
Our expat guide book on 'Living in South Africa: Moving - Working - Enjoying Life' will bring you insights into a wide range of topics such as Customs and Cultures, Schooling and Housing, Working and Immigration, Shopping and so much more. Published only in 2014, the hand book will provide you with all the newest facts, statistics and helpful resources for settling more easily in South Africa.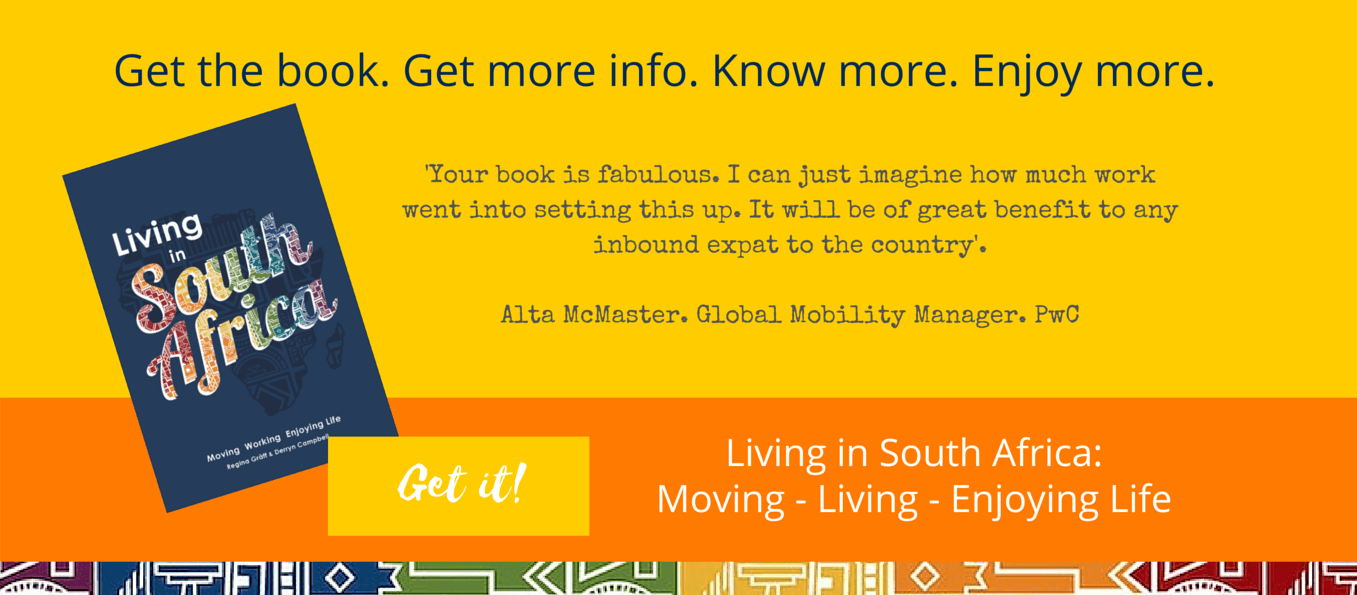 Image Credits on ExpatCapeTown.com and this British expat interview: own images and Shutterstock.com
Subscribe to our newsletter. It's free!