South Africa Sunset Pictures
Searching for the most fabulous sunset in Cape Town
Sunset Pictures always evoke nice memories, we have seen sunsets on many nice places around the world, like Sydney, San Francisco and Rome. However, these South African sunsets are something really special for us and stunningly beautiful. The colors in South African sunsets are even warmer and more golden.
So if you want to know what I mean, check out my sunset photos. And if you like watching sunsets, then my South Africa sunsets should be a real treat for you and create the right mood to want to see them here for yourself.;)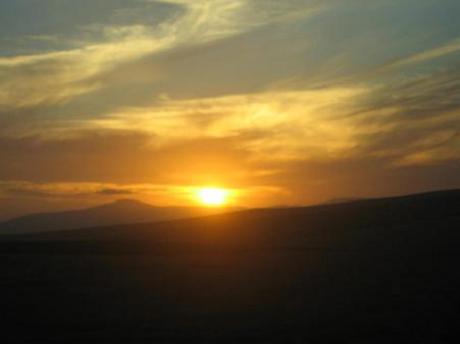 Our favourite South African sunset pictures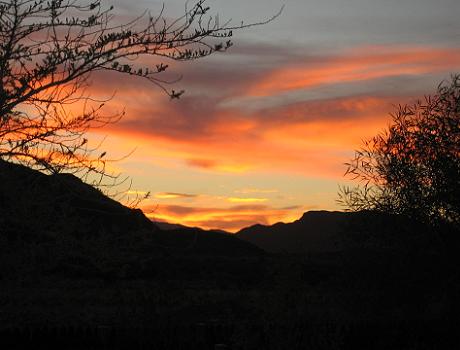 Countryside sunset
Stunning sunsets in Cape Town
The Southern African sunsets are special and the warm colour palette of the South African landscape offers great atmosphere.
For sunsets these warm golden colours of the African landscape act as a great background and the intense light in these pictures is extraordinary.
This is a sunset photo I took when on holiday exploring the landscape to the north of Cape Town: Isn't this an amazing African sunset picture?
Best places for watching sunsets in Cape Town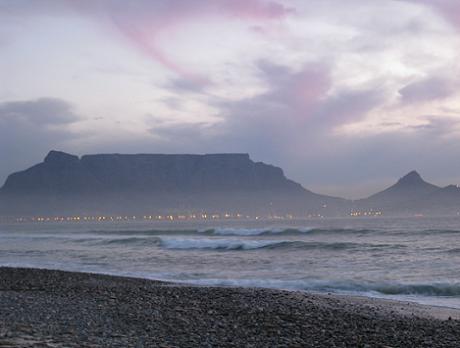 Sunsets with rocky or pebbly beaches
Now you will ask where are the best places to view awesome sunsets in Cape Town, so here are my tips for stunning pictures of Cape Town.
• Big Bay or Blouberg Beach: This is probably the most photographed view of Cape Town. Head out of town on the R27 and the beaches along Marine Drive after Dolphin Beach turn-off are offering some of the best sunsets over Cape Town with the typical Table Mountain silhouette. From Big Bay you will have the most picturesque Table Mountain views in sunset. And do not miss to stop for a sundowner at the Blue Peter Hotel or the many bars and restaurants at Eden on the Bay.
• Sunset Beach or Milnerton: How about taking sunset pictures of Cape Town in Sunset Beach between Milnerton and  Blouberg, where this brilliant sunset photo was taken. From Sunset Beach you will also have awesome views towards the city and amazing sunset photos of Table Mountain can be taken from here.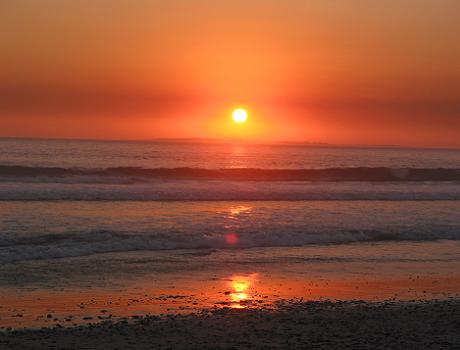 Sunsets with sandy beaches
• Sea Point/Bantry Bay/Camps Bay: Really anywhere along the Atlantic Seabord's coastline you will have the opportunity to watch fantastic sunsets over the Atlantic Ocean. Make sure to stop for the amazing Cape Town sunsets on a balmy summers evening and watch the sky turn from blue to red - best experienced with other sunset revellers from one of the trendy bars in Camps Bay. And if you want to celebrate in style have a sundowner at the famous Twelve Apostles Hotel which is a bit further along the coast from Camps Bay.
• Noordhoek/Chapman's Peak Drive: One of the most stunning sunsets we have experienced, was on the way back from the False Bay coast coming over Chapman's Peak Drive. There the sun reflects in the sea and Hout Bay shimmers in a silvery light. There are lots of photo opportunities along Chapman's Peak Drive, so make sure to plan a sunset trip on this scenic drive as well.

Otherplaces for taking African sunset pictures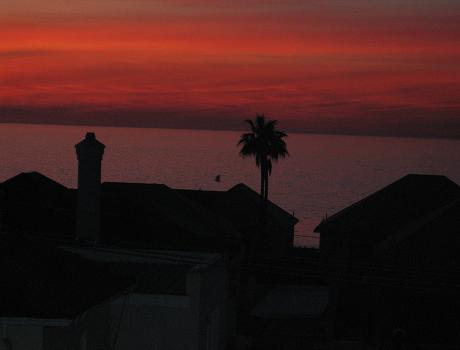 Amazing African sunset over Camps Bay
• Sunset from Lions Head: Take in the great view of Cape Town and Table Bay and have a picknick on the lawns at Lions Head.
• Sunset over the Cape Winelands: A bit further out of Cape Town, but worth the 40 minute drive. Drive to Stellenbosch and enjoy a yummy African evening at the great Mojo in Spier Estate from where you can enjoy also the South Africa sunsets.
• Sunset over Table Mountain: Well, Table Mountain dominates most of the views in the Mother City from many angles and if you like sunsets, then having the most fabulous warm sunset colours painting the sky over the mountain is worth many a camera picture;). We have seen glorious views from pretty much all directions coming back to Cape Town in the evening. So wherever you are, be sure not to miss the magic Cape Town sunsets.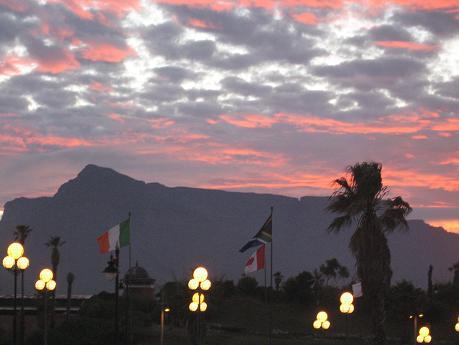 Sunset picture taken at Century City/ Canal Walk with flags
Now I couldn't stop myself from showing you this gorgeous picture from one of our holidays, not really in South Africa, but Southern Africa. Should you want to see another great African sunset such as the one below, you have to go on holiday in Mauritius, which is a five hours flight from Cape Town and a popular getaway with Capetonians and Cape Town's expats. This Indian Ocean island is really worth a trip - and not only for capturing lovely sunset pictures...
View my South African photo gallery here. - Return from South Africa sunset pictures to ExpatCapeTown Homepage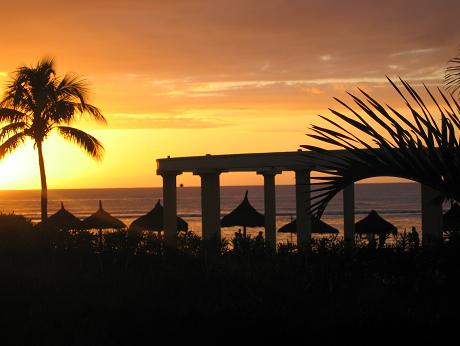 Mauritian sunset