Freedom Day in Cape Town
Freedom Day will be next celebrated in South Africa on Wednesday, 27 April 2022 which will be a public holiday. A day to celebrate and enjoy the wonderful diversity and freedom in South Africa since the first free elections were held here in 1994.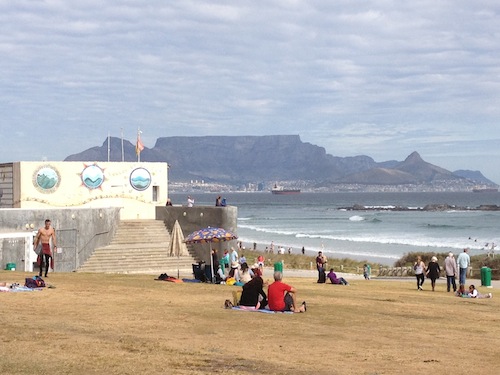 Freedom Day in Big Bay/Cape Town
 Cape Town Events on this public holiday: 27 April 
• V&A Waterfront Amphitheatre: enjoy the free concerts and shows at the amphitheatre at the buzzing waterfront.
• Koningsdag in South Africa at SASNEV in Pinelands: Celebrate freedom day with the Dutch and South Africans and enjoy typical dutch specialties and delicatessen. Free entrance. Watch this space for more news. 
• Visit the Iziko museums in Cape Town for free and learn about the South African history. On most of the South African public holidays there is free access for all visitors to the Cape Town Iziko museums. Visit the South African museum, the Slave Lodge or the Constantia Manor House. Cape Town's historic sites and museums are great places to explore the country's cultures and history. 
Freedom Weekend Events that usually take place on this holiday
• Decorex at the CTICC: Admire the creative works of South Africa's design greats - will take place in 2022 only from 16 - 19 June. More here
• SA Cheese Festival: Taste the specialties of local cheesemakers - usually takes place on this holiday - watch this space for 2022
• Run for a Cause: 5 km trail and fun run at Zevenwacht Farm in Kuilsriver - watch this space for 2022

South Africa history: What is Freedom Day?
Freedom Day commemorates the first free and democratic elections in post-apartheid South Africa in 1994 and celebrates democracy in South Africa which is now 27 years old. In 1994, Nelson Mandela was elected as the first president of the South African people in the first non-racial national elections in South Africa.
At that time, the South African population was for the first time granted the right to vote disregarding their racial background. Through this democratic election, the majority of the South Africans, the black population, were relieved from the oppression of the white minority in the country and apartheid came to an end.
Nowadays people of diverse cultural, political and racial background celebrate together the free and democratic South Africa on this special day. Many people and organisations also reflect on the achievements and challenges the young democracy is facing. Find here some interesting insights into the perceived changes since 1994 which were collected by the South African Reconciliation Barometer (SARB) during an opinion poll in 2015. SARB survey results.
Wise words
Nelson Mandela at his inauguration speech as president: 
'We have fought for a democratic constitution since the 1880s. Ours has been a quest for a constitution freely adopted by the people of South Africa, reflecting their wishes and their aspirations. The struggle for democracy has never been a matter pursued by one race, class, religious community or gender among South Africans. In honouring those who fought to see this day arrive, we honour the best sons and daughters of all our people. We can count amongst them Africans, Coloureds, Whites, Indians, Muslims, Christians, Hindus, Jews - all of them united by a common vision of a better life for the people of this country' (1994)
Kgalema Mothlante, Deputy President of South Africa:
'Warriors have died for us. Youth have given their lives for us. Generations have fought for this precious and treasured fifteen years of freedom. Let us all work together to improve the quality of life for all.' (2009)
Helen Zille, Premier of the Western Cape:
'Today, as the most important day of celebration and rejoice in our country, we honour our past, and we own our future.' (2012)
Desmond Tutu, Archbishop Emeritus of Cape Town:
'We dreamt about a society that would be compassionate, a society that really made people feel they mattered. You can't do that in a society where you have people who go to bed hungry, where many of our children still attend classes under trees.' (2014)
Subscribe to our newsletter. It's free!