Flights to Cape Town
Flight Bookings - Airport Transfers 
Cape Town Airport
Booking flights to Cape Town is easy, if you know where and how. Cape Town is one of the most popular holiday destinations in the world. Several international airlines are offer flights to Cape Town International Airport, especially in high season and over the busy holiday periods between November and March.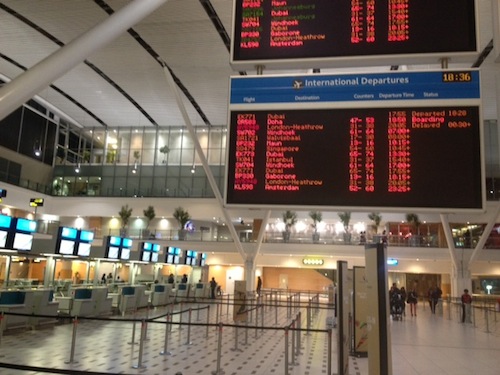 Cape Town International Airport
Various national and international airlines service CapeTown Airport as a destination either with non-stop and direct flights or in combination with domestic flights, mainly from South Africa's main air transport hub, O R Tambo International Airport in Johannesburg, which offers many domestic flight connections with Cape Town daily.
Flights to Cape Town:
Airlines

International Airlines
International Airlines which offer international direct flights to CapeTown are:

Domestic Airlines
South Africa's domestic airlines with flights to Cape Town are Kulula with their green aircrafts, SA Airlink and Mango, who fly their distintive bright orange aircrafts. Newer low-cost airlines are Flysafair and Skywise. The British Airways Comair is serving the domestic sector too.
Domestic Flights - FAQS
On the infographic provided below you will find answers to many frequently asked questions such as:
How much luggage can I take?
Can my teenagers fly alone?
Can I get frequent flyer points?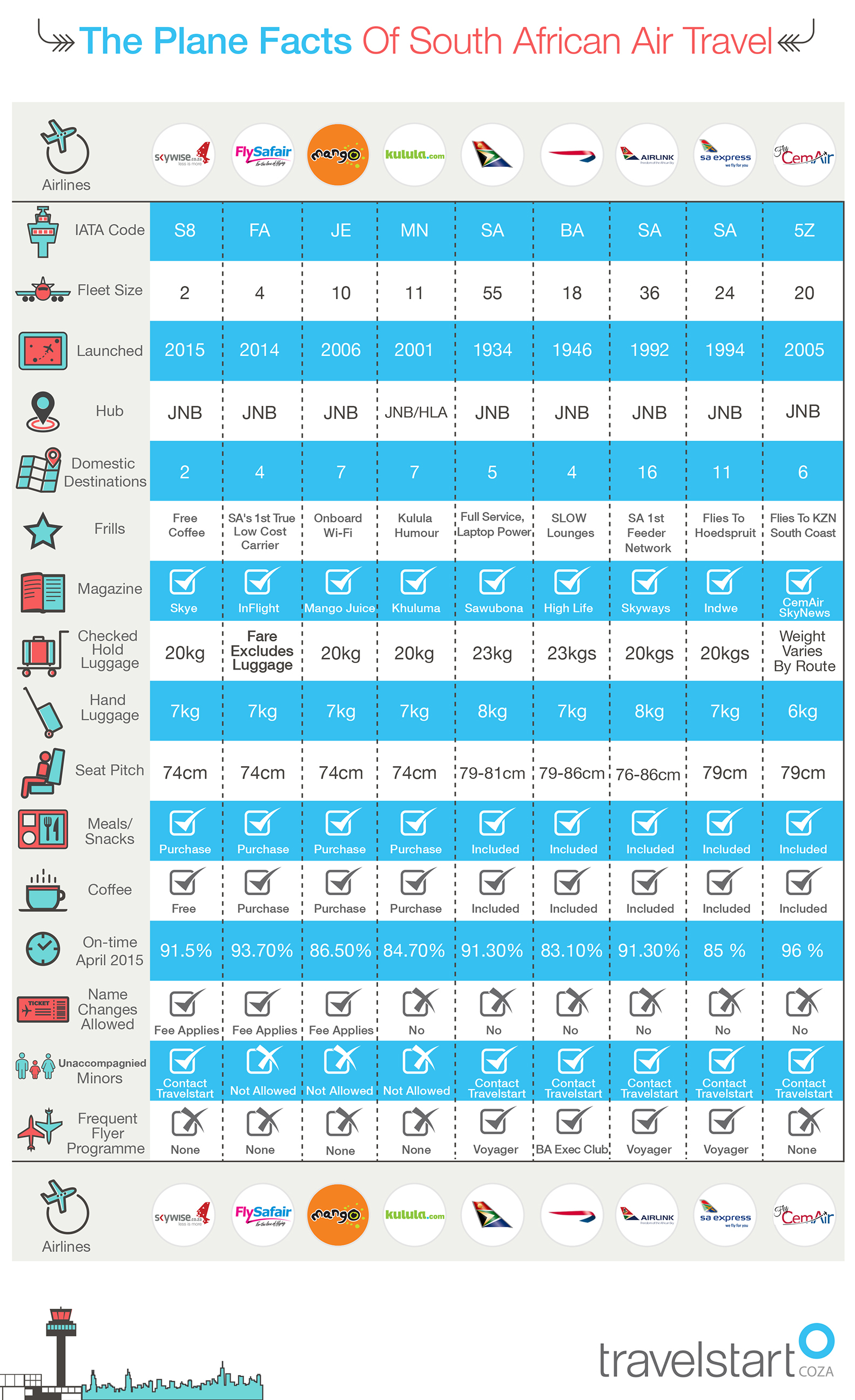 Our top 10 Tips for air travel in South Africa
Go to our sister site 'Living in South Africa' where you will find other useful tips for your booking flights and air travel in South Africa.
Cape Town Airport
One of Africa's most modern airports and South Africa's second biggest airport after Johannesburg, Cape Town International Airport is the gateway to South Africa. Cape Town International was named 'Best Airport in Africa' in 2013. The Central Terminal Building of award winning Cape Town Airport has got a combined domestic and international airport arrival and departure hall.
Read our FAQ about Cape Town Airport here.
Cape Town airport is to the east of the city, 22 km (14 miles) from Cape Town's city center and is connected to the Cape Town CBD via the N2 motor highway. 
The airport offers many facilities to travellers from duty free shopping at the many little shops, ATM banking and money exchange services in the arrival and departure halls, to cell phone rental (VodaShop Rent a Phone as well as MTN Rent a Phone) and tourism information desk at the ground level. You will also find a post office at the ground level of Parkade 2. (Opening hours: From 8h00 to 16h30, except Wednesdays from 8h30 to 16h30)
There is also a VAT (Value Added Tax)-refund desk at Cape Town airport. Tourists can claim back VAT from goods purchased in South Africa, but travellers will need to present the goods to the officer at the international departures hall. Find out more here: Tel +27 (0)21 934-8675 or visit the Tax Refunds website. 
Airport Transfer Options

By Car: For parking your own car, when going on holidays or a business trip, you can choose between the different parking facilities. For an easy and quick pick-up and drop off, you can use the ramp up to the departure level. If you want to accompany your guests, collect or greet visitors, you can park your car at the ground level in the Parkade 1 for up to 30min for free. After this parking charges apply.
More info about parking at the airport
If you consider renting a car, all the major rental car offices have got desks at CapeTown Airport.
Read our Car Rental Tips for Cape Town
By Taxi: Metered taxis can be booked at the airport, desks are in the arrival hall or you queue outside. However, iff you are looking for recommended and safe Shuttle Taxi Services, I will share with you my favourite company who offers an excellent and very reliable service. We have used them many times. 
To book an airport transfer in advance, contact:
ATS Shuttle Taxis: Ismail Robinson
Cellphone: 083 953 2593 
ATS office: 021-697-3568
They offer outstanding service and have new modern minibus taxis to suit everybody, but especially families travelling with lots of luggage will cherish the space. 

By Bus: The 'MyCity' shuttle bus service the newest addition to the transfer options. The Cape Town's official shuttle bus connects the airport with the city centre and the V&A Waterfront. The main bus terminal is in the city centre from where further bus services to various suburbs are offered. Read on here: Official MyCiti website. For information on transport options in Cape Town please go to:
Getting around Cape Town: Your Transport Options 
Image Credits on Flights to Cape Town: own images, infographic by Travelstart.co.za
For more info on Flights to South Africa click here.
Back from Flights to Cape Town to ExpatCapeTown Homepage