Cape Town World Cup
and other fun sporting events
What is to know about the Cape Town World Cup Fever that has hit so many Capetonians in 2010? Colorful Flags could be seen everywhere. What about this driver taking it to the next level...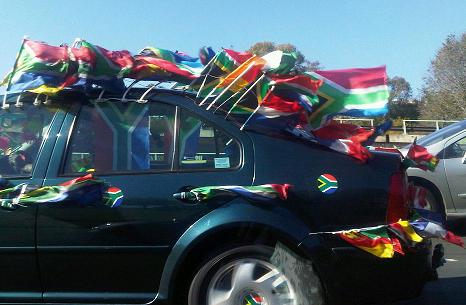 What a great feeling to be living in one of the most beautiful cities in the world and feeling the great atmosphere! During major sporting events, the vibrant Mother City feels even more lively than ever. When the next big match happens, whether an international or a local derby, simply don your makarabas (hope you still have one!) and get your vuvuzelas out (don't forget to pack earplugs for the matches!) Be sure the Mother City will become a noisy but happy party zone. Rugby and cricket matches are of course especially popular here too, but besides donning the mandatory jerseys and scarfs, there are not really any special paraphernalia - and definitely do not pack your vuvuzelas!
If you want to celebrate your favorite team with one of the international clubs in Cape Town, make sure you get in touch with the expat clubs in Cape Town and find out about their special world cup events. More info on expat clubs in Cape Town.
Cape Town World cup Public Viewing Areas
During the Cape Town world cup, there were four public viewing areas, where one could meet with local friends and enjoy viewing the matches on big screens. The fan jols or fan parks were located: in Bellville at the Velodrome, in Mitchells Plain at the Swartklip Sports Komplex, in Khayelitsha at the Oliver Tambo Community Hall and Athlone at the Vygieskraal Stadium. By the way, 'jol' is the Afrikaans word for party and I am sure you will hear the word more often during the any sporting event.
Cape Town Fan Fest at the Grand Parade
The Grand Parade in front of the Cape Town's beautifully restored City Hall buzzed with soccer fans during the world cup and offered loads of activities for the whole family. The Grand Parade hosted many fan parties during the Worldcup. The festival took place every day during the Worldcup from 11am until 11pm. Entrance is free.
Starting off the World Cup celebrations in Cape Town was a big Welcome Concert on Thursday, June 10th, 2010 from 14.ooh with local and international bands like the German band Haindling which is very popular not only in Bavaria and local hot shots like Locnville. There were also lots of street festivals and fan parties all across the city. Many restaurants and bars entertained their guests and screened the WorldCup matches on huge television screens. The main party zones during the Cape Town World Cup was in the city center at the Grand Parade, the St Georges Mall and the V&A Waterfront.
Cape Town World Cup - 2010 Matches Results
• Friday, 11 June 2010 – 20.30h – Group A: Uruguay vs. France: 0:0
• Monday, 14 June 2010 – 20.30h – Group F: Italy vs. Paraguay: 1:1
• Friday, 18 June 2010 – 20.30h – Group C: England vs. Algeria: 0:0
• Monday, 21 June 2010 – 13.30h – Group G: Portugal vs. Korea DPR: 7:0
• Thursday, 24 June 2010 – 20.30h – Group E: Cameroon vs. Netherlands: 1:2
• Tuesday, 29 June 2010 – 20.30h – Round of 16: Spain vs Portugal: 1:0
• Saturday, 3 July 2010 – 16.00h – Quarterfinal: Argentina vs Germany: 0:4
• Tuesday, 6 July 2010 – 20.30h – Semi-Final: Uruguay vs Netherlands: 2:3
Cape Town World Cup Road closures
As during any major event in Central Cape Town, at the V&A Waterfront or at Greenpoint Stadium, there were quite a number of road closures in Cape Town during the Soccer Worldcup and especially on days of worldcup Matches. Affected streets are usually Keizergracht, Buitenkant, Darling, Plein, Parade, Corporation, Burg, Wale, Bloem and Green. No on-street parking will be allowed during these times. 
Cape Town Fan Walk
The new established Cape Town Fan Walk links the Fan Fest Zone at Grand Parade and the city's main pedestrian zone in St Georges Mall with the Cape Town Stadium . The pedestrian walkway is a safe way to reach the Stadium on match days and there will be lots of entertainment to be enjoyed. More about the Cape Town Fan Walk here.
Cape Town WorldCup Party
The Cape Town International Convention Center, the CTICC hosted one of the biggest indoor Worldcup Celebrations in Cape Town, a giant Football Party. The Cool Britannia music fest was one of the biggest events for soccer fans in Cape Town with live matches broadcast on giant screens and after-parties every night. Top international and local Bands and DJ's such as DJ Fresh and Roger Goode, top entertainers like Fat Boy Slim and Dizzie Rascal entertained the locals and visitors to Cape Town and there were even high-class fashion shows, various parties, concerts and international food and fanfare for all.
The event was created around the theme "soccer fever" as the teams battled their way to victory, with massive screens showing every game live and Cool Britannia hosted different national theme-days so the sights and sounds of the world could be experienced as the CTICC was transformed into a different nation every day. National days were also hosted in honour of the various countries participating in the games.
Cape Town during the World Cup and beyond
Always take good care of yourself and stay safe in Cape Town. Are you staying in Cape Town with Kids during a major event? Then check out the many families activities in Cape Town to keep your kids busy and happy during the this time. Our Top 10 Kids Activities in Cape Town
Enjoy living in Cape Town, all the other great attractions and events in Mother City.