Cape Town Valentine
Top Ten Romantic Dinners and Concerts
Love is in the air! Do you need some romantic ideas for a special Cape Town Valentine Day?
This is the ultimate Valentine's Day Special on ExpatCapeTown Guide with five of the best places to go for a romantic dinner experience with your Valentine. There are so many special events for every taste and budget, it is not easy to choose. But these options below are definite our favourites. Tried and tested - not only on Valentine's Day - to be sure you have a fabulous date.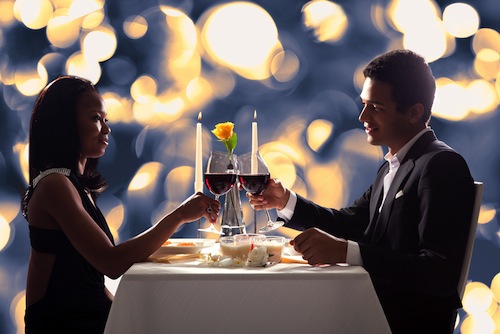 Read about our favourite  Cape Town Valentine's Day events in 2016 and have an amazing night out in the Mother City. 
Best Romantic Dinner Treats
Where? Cape Town V&A Waterfront: One & Only
What? Choose either the romantic bistro fare at Reuben's, the acclaimed Nobu restaurant or the Isola poolside restaurant and get treated to some of Cape Town's best cuisine. The One & Only has a fabulous setting at the V&A Waterfront. And while at the Waterfront, you could go on a ride on the night-lit ferris wheel to end of an amazing Cape Town Valentine evening.
How much? Depending on restaurant and choice of menu
Bookings: Call 021-431-5800 for booking. 

Where? V&A Waterfront: Table Bay Hotel
What? The Atlantic is always one of our favourites with amazing service and the most delicious food. Book a table for the five course gourmet dinner and enjoy live music and stunning sunset views of the Waterfront harbour come for free. 
How much? R450 per person, includes a welcome drink and five course menu. For an extra R180 get wines paired with your meals.
Bookings: Call Michelle on 021-406-5988 for booking.

Where? City Centre: Taj Hotel Restaurants
What? The five-star city-centre hotel is renowned for its delicious local, Indian and international fare. The special 'Mint' and 'Bombay Brasserie' Valentine's menus offer vegetarian and non-vegetarian options. Get your complimentary 'Love Potion' welcome drink and listen to enchanting musical tunes before dinner starts at 19h00.
How much? R650/1200 per person, depending on restaurant choice includes the welcome drink.
Bookings: Call to book 021-819-2000.

Where? Durbanville: Quarry Valentine Concert
What? The Quarry's concerts are legendary! Visit the lovely Hillcrest Wine Estate in the scenic Durbanville wine valley on Sunday afternoon for this year's Valentine's picnic concert on 14 February 2016 from 14h00. South Africa's hottest Indie Rock Band Desmond & The Tutus will be performing.
How much? R150/single and R250/couple.
Bookings: Computicket.com

Cape Town Valentines under the Stars
Where? Century City: Valentines under the Stars
What? Open-air concerts on 13 and 14 February 2016 with internationally acclaimed South African stars, such as the Gugulethu Tenors and soprano Madgalena Minaar and the Cape Town Philharmonic Orchestra. The amazing setting at new Century City Conference centre will provide the background to an unforgettable evening.
How much? R290 per person. Book at Computicket.
Bookings: More info.

Where? Kirstenbosch Gardens: Matthew Mole /Rubber Duck
What? An late afternoon/evening in the stunning landscaped Botanical Gardens with some of South Africa's top acts will be really special. Bring your own picnic baskets and a blanket and have a romantic concert date. Concert is from 17h15 until 19h00.
How much? From 110/person
Bookings: Tickets via Webtickets. More info.

Where? High up on Table Mountain
What? Admire the splendid African sunset from Cape Town's iconic Table Mountain, one of the 'New7Wonders of Nature'. Either hike up via one of the various paths or make use of the cable car's sunset special when buying your ticket after 18h00. Enjoy a sunset picnic and gaze over the city glittering with evening lights. The last trip down with the cable car is at 20h30.
How much? R120 per adult for a return ticket.
Bookings: Call the info line at 021-424-8181 or check out the website for more info.

Where? Clifton: Moonstruck Summer Beach Concert
What? You can expect an amazing spectacle with concerts and fireworks at Clifton's fourth beach on 13 February 2016 from 18h00 to 21h00. Probably not the most romantic but definitely a great night out dancing on one of the world's best beaches under the stars!  
How much? R600 per couple, includes two tickets and picnic basket full of yummy goodies by Nitida's Tables restaurant.
Bookings: More info

Where? Nooitgedacht Wine Estate: Movie-Night Casablanca
What? Have a special Valentine's Date at the open-air movies in the stunning Cape winelands. The Valentine's movie is screened at Nooitgedacht Wine Estate in Stellenbosch off the N1. Food stalls offer mouth-watering local specialties and Nooitgedacht wines and soft drinks. Especially if you are on a restricted budget, it can't get more romantic than this. Well, maybe a sunset picnic on the beach…?
How much? R190 per person, but this includes chair and blanket, a welcome drink, live music and a small gift and of course, the movie.
Bookings: More info.

Where? V&A Waterfront: Legacy Live Performances
What? Enjoy the free open air concert at the Waterfront's Amphitheatre. Listen to the fantastic local talents between 18h00 and 19h00 And after the concert, maybe take a couple of rounds on the magic wheel. Add to that dinner at one of the many excellent restaurants and your loved one with be truly yours. 
How much? Free, well, the ride on the ferris wheel costs and dinner depending on your budget and taste.
Bookings: More info.

We hope you enjoyed these Cape Town Valentine Ideas. Let us know and share more great ideas on our forum.
Are you already subscribed to my monthly ExpatCapeTown Newsletterwith lots of Cape Town Insider Tips?
Well, it's easy to do, just add your name and address here.
And you can be sure, I will only use your data for sending the newsletter! So enjoy your special Cape Town Valentine!
Picture credits: shutterstock.com

Other special places for Fine Dining in Cape Town 

More great Cape Town events in February 2016 

Return from Cape Town Valentine to ExpatCapeTown Homepage