Cape Town Jazz Festival
March 2015
The Cape Town Jazz Festival is Africa's biggest jazz music festival. This major event on the Cape Town event calendar takes place annually at the end of March. In its 15th year, the festival will offer amazing concerts of more than 40 renowned local and international artists. For the two day festival from 27-28 March more than 37,000 visitors are expected to join in the vibrant atmosphere.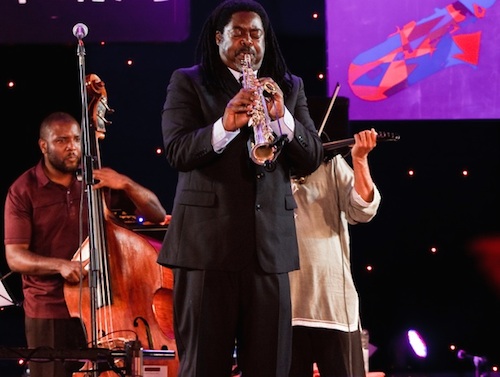 Courtney Pine in Concert
Again this year, a free community concert will be held at the Greenmarket Square before the start of the Jazz Festival. 

Free Community Concert
The annual Cape Town International Jazz Festival (CTIJF) FREE community concert, is set to be a vibrant mix of local and international artists.

This year, multi-instrumentalist Courtney Pine from the UK will join South Africa's jazz great, Sipho 'Hotstix' Mabuse, on stage to entertain the crowds who will throng Greenmarket Square.
Joining the illustrious pair will be the winner of the popular local 'Open Mic Jazz Vocal' competition, Zoë Modiga, Cape Town's very own pop group Beatenberg as well as the All Star Band.
According to Western Cape Premier, Helen Zille: "'The festival has become one of the main events in the city's calendar.' It's a great opportunity to experience our rich diversity in the arts & music. I want to encourage everyone to take this opportunity to attend & share in this experience". 
Free transport to this free concert is provided by PRASA, the Passenger Rail Agency of South Africa, who is the official sponsor of the CTIJF will provide free trains on selected main lines. 
The following routes will operate free train services departing between 15H00 and 17h00 and returning from Cape Town at 23H30.

(1) Cape Town - Heathfield (Cape Flats)
(2) Cape Town - Khayelitsha via Kapteinsklip (Central Line)
(3) Cape Town - Bellville
More, than a community concert, this free event has become as much a part of the fabric of the CTIJF as the Festival itself, forming part of the festival's Sustainable Training and Development (T&D) programme. These workshops and programmes are sponsored by the City of Cape Town, the Department of Arts and Culture, the National Lottery Distribution Trust Fund (NLDTF) through the South Atlantic Arts and Culture Trust, Schwepps, Independent Media, PRASA, CCID, Cape Town partnership in association with Heart104.9 FM, 
More info on the Cape Town Jazz Festival's homepage
Cape Town Jazz Festival
* Free Community Concert:
When? 25 March 2015 from 17h00 –to 23h00
Where? Cape Town CBD, Greenmarket Square
* Photographic Exhibition:
When? 26-28 March 2015 from 16h30 to 18h00
Where? Cape Town International Convention Centre
* Fashion Show:
When? 26 March 2015
Where? Cape Town International Convention Centre

* Jazz Festival:
When? 27-28 March 2014
Where? Cape Town International Convention Centre
How much? Day Pass: R530, Rosie's Stage: R30
Image: Tyzhnenko Dimitry/Shutterstock
Source: Thanks go to Kaz and Lee Anne from Neworxpr