Cape Town Design Capital 2014
Cape Town - World Design Capital 2014
Archive: Cape Town Design Capital 2014: Cape Town certainly benefitted from being World Design Capital in 2014. Many Capetonians had rallied and supported Cape Town's bid to become World Design Capital in 2014 and the year-long event was certainly a success to be celebrated.

The World Design Capital 2014 title resulted in a year-long programme of design-focused events that saw creative communities across the globe turning to Cape Town for social, economic and cultural solutions. These connections are vital in the long-term links the city could secure with global role-players within creative industries. Cape Town was shortlisted together with Dublin and Bilbao, from a team of 56 hopefuls for the prestigious title. The award was announced in Taipei/Taiwan on October 26, 2011.
Looking back: In her acceptance speech Cape Town mayor De Lille said: "It is an honour for me to be addressing you here today as mayor of the first African city to be named a World Design Capital. A city belongs to its people and it must be designed for and with them and their communities. For many years, people have been applying innovative solutions to our challenges. They have been using design to transform various aspects of life. But they have often been working without an overarching social goal in mind. The World Design Capital bid process and title have helped to bring different initiatives together and have made us realise that design in all its forms, when added together, creates human and city development."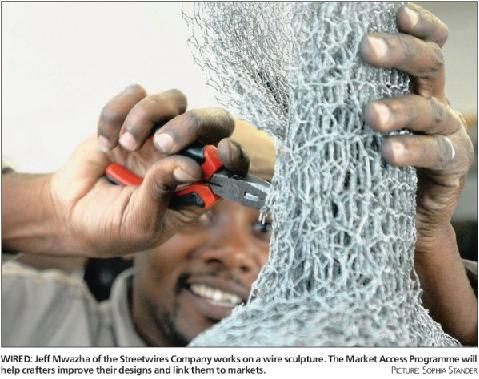 Why Cape Town was elected?
Cape Town is the first city in Africa being named a World Design Capital, a designation which bears prestigious status. The title is awarded biennially by the International Council of Societies of Industrial Design (ICSID) to cities that are dedicated to using design for social, cultural and economic development. The ICSID appoints the World Design Capital title only "to those cities that have most effectively and, more importantly, creatively used design as a tool for progress" and is a quite innovative idea in contrary to so called design cities where the design element has evolved over several decades thorugh the design industries.
Torino/Italy (2008), Seoul/Korea (2010), Helsinki/Finland and Taipei/Taiwan (2016) were past World Design Capitals whereas Mexico City/Mexico will be the next world design capital in 2018. All the cities named above, already proved that design can in fact transform lives, and as such Cape Town's status as a top three contender in the 2011 nomination process shifted the city onto a new world platform and into a new era.
So what does Cape Town Design Capital mean for the city?
What it means to be World Design Capital
The World Design Capital title is awarded every two years by the International Council for Societies of Industrial Design (ICSID) to increase global awareness of cities dedicated to using design for social, economic and cultural development and change. The title is awarded two years in advance to allow the winning city sufficient time to plan, develop and promote a year-long programme of World Design Capital-themed events that throw an international spotlight on the winning city's creative sector.
The win for Cape Town came at an optimal time as the destination gears itself for more sustained economic growth and a more significant share of the world's urban travellers. The announcement was seen as pivotal for Cape Town's reputation as a destination that has adopted design for transformation and social cohesion. As the City of Cape Town's Press release during the application release stated:
There is a strong connection bet

ween good design and a city's economic growth, development and social inclusion program.

Well-designed cities are best placed to address issues of competitiveness, climate change, growth, social cohesion and mobility.

Design as a principle for changing lives began with the end of apartheid and, increasingly, has become a guiding philosophy in the repositioning of Cape Town as a sustainable city, committed to a journey to improve the quality of life for all its citizens.
Cape Town Design Capital - The Success Story so far
The creation of the World Design Capital Bid has, in itself, succeeded in putting design firmly on the City Development Agenda through identifying numerous tangible examples of how design-led interventions and planning can have a positive impact on lives.
"Just as the World Cup was a coup for Africa, this is a significant moment for the entire continent. Being short-listed for World Design Capital 2014 is a unique opportunity to change perceptions and to position Cape Town, South Africa and Africa for the knowledge economy. The year 2014 also marks the anniversary of two decades of democracy in South Africa, and so winning the World Design Capital designation would be particularly significant for us." (Managing Director of the Cape Town Partnership, Bulelwa Makalima-Ngewana)
Makalima-Ngewana explained that Cape Town is working towards a new brand position as a destination that is open for business, as well as leisure. "We are more than just a leisure destination; Cape Town is a place where innovation, creativity and inspiration meet." Cape Town's bid for the title of World Design Capital 2014 has showcased the important role design and the creative sector at large play in transforming a city, making it not just a great place to visit, but a greater place to live. The theme 'Live Design, Transform Life' provided a solid platform from which we can continue to learn, change and further develop Cape Town using the concepts of integration, creativity and innovative design. If you want to know why being in the competition is good and what Cape Town Design Capital means regardless of the outcome, read Andrew Boraine's five reasons why being on the shortlist is good for the Mother City.
Cape Town Design Capital 2014 - Some voices
"We are obviously very excited about this achievement; by far Cape Town's biggest accomplishment since successfully hosting the World Cup and a major boost for morale in the design, public and private sectors.
The bid process has been an exciting journey and learning curve for the city. It comes at a crucial time when Cape Town is set to launch an innovative, exciting and inclusive marketing campaign for the city, positioned to embrace citizens, tourism, creative sector, business and academia and grow the demand for Cape Town as a place to visit, invest, learn, live and work. (Mariëtte du Toit-Helmbold, CEO of Cape Town Tourism)
"If we win the World Design Capital 2014 title it will be great for South Africa. It will help build Cape Town and the rest of the province's profile as a leading centre of creativity. Our creative industries have become a sector with great potential, which is why we are currently developing the Cape Town Innovation District that will showcase and foster design excellence in the future. We wish the City well for the final stage of the competition. Winning this title will help drive economic growth and job creation, which is one of the provincial government's most important strategic objectives." (Western Cape Premier Helen Zille during the bid process)
"Winning the World Design Capital 2014 title will be an even bigger opportunity than hosting the World Cup because we will have a whole year in the global spotlight. Now we need the support and enthusiasm of Capetonians, South Africans and Africans to take us through to the title," (Makalima-Ngewana of Cape Town Partnership during the bid process).
The Cape Town Partnership has asked that supporters "make a designerly noise" and support the Cape Town Design Capital. The digital supporter button and more info on Cape Town Design Capital 2014 can be found here.

Source for Cape Town Design Capital: Released for the Cape Town Partnership by Rabbit in a Hat Communications, thanks to Shafeeka Anthony and Tammy White  - Cape Town Design Capital 2014

Subscribe to our newsletter. It's free.