Cape Town Book Fair
About the South African Book Fair
The Cape Town book fair is here again in the Mother City. Make time this weekend to visit the South African book fair which promises to be an exciting event for the whole family.
The biggest book fair on the continent takes place from Friday 13 to Sunday 15 June 2014 from 9.00h until 18.00h at the Cape Town International Convention Centre (CTICC).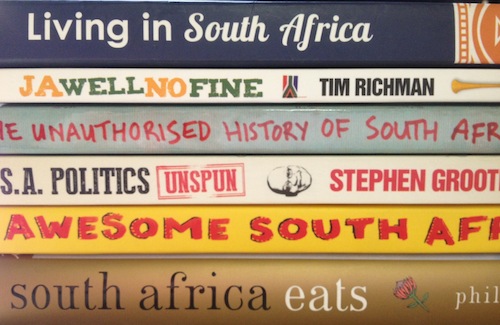 What's on at the South African Book Fair?
Visit the many stands showcasing a large variety of books and magazines

Watch a puppet show or listen to story tellers with your children

Listen to presentations by famous authors such as South African thriller novelist Deon Meyer, best-selling author Susan Lewis, sports analyst Marco Botha or chef Karen Dudley

Meet with authors, illustrators, storytellers, expert speakers and leading thinkers
Meet us at the book fair in Cape Town
At the bookfair, you can also meet us from ExpatCapeTown. Regina Gräff just published a unique guidebook on South Africa, called 'Living in South Africa' which will be officially launched at the book fair.
This book is the first compilation of its kind on South Africa as it is the first comprehensive guidebook on South Africa that will help visitors and newcomers to learn more about our beautiful country and to find plenty of information and tips for enjoying life in South Africa.
 The Gräff family moved to South Africa from England nine years ago, after having lived and worked in several countries around the world, among them Australia, the USA and Singapore. Although culture shock hit quite hard when they moved here, the family now absolutely love living in the 'Mother City' and consider this to be their home. Soon after settling here, Regina started to share her insights on life in South Africa on a blog.
Thus it was a logical progression to follow on from the website and start writing a guide book. When in 2011 Regina was approached by Derryn Campbell, they decided to join forces to create this new and unique handbook on living in South Africa. Derryn, who is at home in Durban, is the author of the best-selling book 'Awesome South Africa' and a co-founder of Awesome SA, an amazing movement that encourages South Africans to positively influence the future.
After exciting years of researching, travelling and gathering all material, organizing designers, editors and experts, the book is finally self-published and now available in bookstores countrywide. The book is packed with 296 pages of information, useful tips and resources and gives a comprehensive detailed overview of this unique country. The pages are presented with a colourful design, graphics and photographs, and the information is complemented with personal experience and includes helpful hints and recommended resources.
This practical guide covers everything you need to know about living in the country. It has both relevant background information about the country's history, economy and cultural heritage as well as a comprehensive overview of more practical topics related to daily living. Amongst these are health, housing, transport, working, education, food and leisure.  
The foreword to the book was provided by the African Union Commission Chairperson, Nkosazana Dlamini-Zuma.  In the endorsement provided by Dr Dlamini-Zuma, she writes:  'Living in South Africa is the perfect welcome to our amazing country. This book is filled with vital information, practical tips and social insights. A must-read not only for expats, but for all who want to embrace living in South Africa'.
Cape Town Book Fair
Where? When? How Much?
Where? Cape Town International Convention Centre, Foreshore
When? From Friday 13 June to Sunday 15 June 2014. 9.00h - 18.00h
How much? Entrance for children under 18 is free. Tickets for adults are R50, seniors pay R20.
The 'Living in South Africa' book is available from bookshops and various online stores or directly from the authors either online or at the Cape Town book fair.
Regina and Derryn will present their books at stand P17 (Awesome SA Publishers). Derryn will also hold various talks and take part in a panel discussion, so make sure to check the Cape Town book fair's programme. See the programme on the website of the South African book fair here.
More information on the book and sample pages can also be found on the website: www.living-in-south-africa.com
Return from Cape Town Book Fair to Cape Town Events in June
Back from Cape Town Book Fair to ExpatCapeTown Homepage