Bandana Day 2016
Please come along and support National Bandana Day in Cape Town, a country wide event held annually on October 12.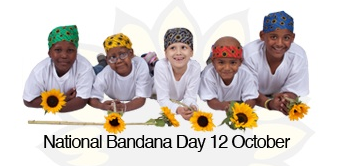 On 12 October 2016, people all over South Africa will don again their bandanas to help raise funds for the Sunflower Fund, a very worthy South African charity raising awareness of leukaemia. Sadly, we lost a dear friend a couple of years ago here in Cape Town also to this disease and know how heartbraking it is to search for a suitable donor and to fund all the treatments. The Sunflower Fund is a very worthy cause to support and you can be sure the money you donate is going the right way and be assured your registration to the bone marrow register is easy to do and painless too.
What is Bandana Day?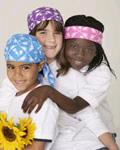 Bandana Day is annually celebrated to remember leukaemia sufferers and show solidarity towards patients suffering from leukaemia who lose their hair when undergoing Chemotherapy treatments. In Cape Town it is easy to buy the Sunflower Fund bandanas for R25 at Pick and Pay Supermarkets, but also BP Express and some schools will sell them. You can wear the bandana any style you like, just show your support - actually not only on Bandana Day:)
Sunflower Fund Events 2016
Cape Town, Killarney International Raceway: Ride for Hope. 9 October 2016. organised by the MOTH Motorcycle Association in support of The Sunflower Fund. Entrance Fee: R50. See the Facebook page of Ride4Hope for more info
Durbanville, Bloemendal: The Medieval Feast. 28 October 2016, Tickets: R500 including 3-course-dinner, welcome drinks and entertainment
Cape Town Waterfront: Sunflower Fund Gala Dinner - Cuban Nights. 3 November 2016 at Shimmy Beach Club. See more on the Sunflowerfund website.
Remember that schools usually take part in various Sunflower fund events on or around 12 October, so get your bandanas in time and make sure you support this worthy cause.
What is the Sunflower Fund?
The Sunflower Fund was formed in 1999 in support of the South African National Bone Marrow Registry. One of the founders was also Tina Collett who started fundraising when her son fell ill with leukaemia. Currently there are around 65,000 people in South Africa registered as donors at the Bone Marrow Registry, but the aim of the Sunflower Fund is to soon have more than 100,000 donors to give more leukemia sufferers a chance to live. Worldwide about 1.9 million donors are registered on international bone marrow associations. This year the Sunflower Fund is fundraising again with its Sowing the Seeds of Hope campaign and their motto says it all:
"Open your hearts South Africa, it's time to shine. You might be someone's only chance."
Join in the many events on this day all over South Africa. Check the website of the Sunflower Fund for events in your area. If you can support them with a donation and register on the bone marrow donor registry. And remember to send your kids to school with bandanas as well, many schools plan special fundraising activities and talks for this and next week. More info on the Sunflower Fund.
Picture credits to Greenstone Mall, South Africa

Back from Bandana Day to ExpatCapeTown Homepage