Cape Town Newspapers
Where you will get your News, Sports, Classifieds & more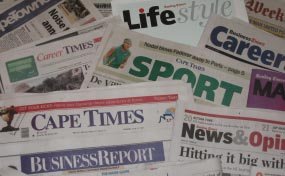 This listing of Cape Town newspapers shall help you to be up to date with international and local news.
In Cape Town newspapers can be bought at most supermarkets, bookstores and petrol stations and are often sold by street vendors at the robots (traffic lights).


Are you looking for information on the most common and biggest South African newspapers, then please read my special page here.
The most popular CapeTown Newspapers
If you are looking for information about Cape Town life, events, sports and news or you search for job ads and classifieds sections you should certainly check out the local newspapers too.
Cape Times:
This English morning newspaper presents international and local news, opinion pages, lifestyle and entertainment as well as business and sports sections. Cost: R5.70 weekdays. With daily changing supplements: Career Times on Mondays: careers section with general advice and job advertisements, Sports, Drive Times on Tuesdays, Cape Property Times with Property and Rental Section on Wednesdays and Arts, Entertainment and Travel supplements on Fridays. The first edition of this Cape Town newspaper came out in 1876. Circulation is now almost 50,000 daily with a readership of 280,000 in the Cape Town metro. The Cape Times' mission is "servicing the needs of the up-market reader". (Cape Times readership fact sheet)
Sunday Times:
This is the weekend edition of the Times with a full size colour magazine and a lifestyle magazine. Cost: R12 News, World News, Business News, Sports, Job adverts, classifieds section and property section "The Cape Property Guide" complete the picture.
Cape Argus:
If you look for an English afternoon newspaper which focuses on local news, entertainment and sports news, this is the one to read. Cost: R4.80 weekdays Circulation: 71,000 with a readership of 342,000 in the Cape Town metro, The Cape Argus is a "dynamic city newspaper (…) aimed at middle to upper income groups". (Cape Argus readership fact sheet)
Weekend Argus:
Make sure you get informed by this bumper weekend edition. It is the biggest weekly newspaper in the Cape Peninsula with over 500,000 readers. Cost: R 11. There is a Saturday edition and a Sunday edition. Both include: World news, South Africa news, Personal Finance, Travel 2008, Weekend Life and Sport, "The good weekend" supplement – an Cape Town Entertainment guide and the special sections: Auctions, Classifieds and the Cape Property Guide
The Cape Property Guide:
This is "the biggest property guide in the Cape" with 75,000 copies weekly. The guide comes in four parts with parts 1 and 2 for property in and around the Cape Peninsula, part 3 being an A-Z guide and part 4 showing property for sale in the Western Seaboard/Country Living/Century City. This property guide has got around 250 pages weekly and can also be found on the internet: www.capeproperty.co.za
Die Burger:
This is the biggest Afrikaans daily newspaper in Cape Town. Cost: R 4.50 weekdays Readership of 171,000 in the Cape Town metro
There are also various Cape Community Newspapers:
TygerBurger:
A weekly newspaper which is distributed in the Northern suburbs and the West Coast area. It is bilingual with articles in English and Afrikaans. There are classifieds sections and job advertisements. These Cape Town newspapers are delivered to homes in the area free of charge on Wednesdays.
People's Post:
The TygerBurger's equivalent in the Southern suburbs Claremont and Rondebosch is also delivered free of charge.
Southern Suburbs Tatler:
This is another one of the free weekly Cape Town newspapers for the Southern suburbs and has also got a classifieds section.
Constantiaberg Bulletin:
The Bulletin is distributed thursdays in the Southern suburbs around Wynberg, Constantia up to Westlake and has a classified section. Free
TableTalk:
You will get this free weekly newspaper with classifieds sections, which is available free of charge, in the Tableview area.
The CapeTowner:
Free weekly Capetown newspaper for the city centre, Waterfront and Robben Island
City Vision:
Free of charge weekly community newspaper which is delivered to households in the black townships in the Cape Town area.
City Views:
This monthly newspaper about Cape Town Central Improvement District focuses on life in the City Centre. Free
And for Cape Town Classifieds also refer to:
Cape Ads:
In this "king of classifieds", a weekly edition, you will find loads of ads by private and commercial advertisers.
The Cape Ads offers free adverts for private advertisers or for R5 you can advertise per SMS.
It is available on thursdays at newsagents and petrol stations and at some traffic lights from street vendors.
This paper, which includes around 40,000 adverts weekly, is distributed all over the Cape. Costs: R9.95
---