Crime in South Africa
Expat Living in Cape Town
The high rate of crime in South Africa is a major concern for tourists as it is for expatriates moving to or living in Cape Town.
South Africa is known to have one of the highest crime rate per 100,000 residents in the world regarding assault, rape and murder. As the Overseas Security Advisory Council (OSAC) states: 'Crimes range from petty muggings to ATM scams to armed residential home invasions. These crimes occur with frequency and in all neighbourhoods.' Johannesburg, Pretoria, Cape Town and Durban are ranked in this report as critical crime thread posts. 
This sound in fact very intimidating, however we think that if you are prepared to investigate where to move to, where to live and which areas to avoid, you will minimise the risk of becoming a victim of crime significantly.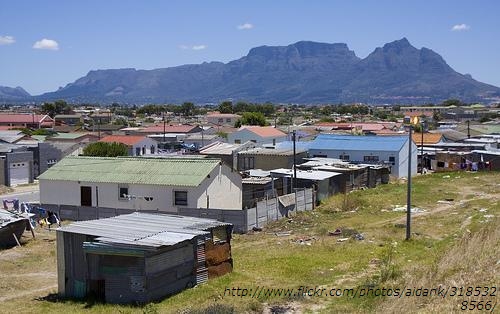 Crime and violence affect everybody like everywhere else in the world. In South Africa, mainly people living or working in the poorer areas are affected by violence and crime. There are certain areas especially the Cape Flats which are no-go areas, if you are not accompanied by a local guide and are introduced to the area. Make sure, that you get more information about an area unknown to you or contact the local police station for current advice, if you are not certain that the area you plan to visit, work in or travel through is safe.
In regards to xenophobic outbreaks in South Africa, which are still broadcast all over the world, these malicious actions by a small minority still happen. Still African expatriates living and working in South Africa's townships are the victims of xenophobic crimes.
To help you get a better overview of the situation of crime in South Africa, we decided to have a look again at the latest South African crime statistics and give you some insights.  
South Africa Crime Statistics 2013
To help you get a better overview of the situation of crime in South Africa, we decided to have a look again at the latest South African crime statistics and give you some insights.  
Some main figures that are given in the latest South African Crime Statistics in comparison to the statistics of the last four years (2009/10 to 2012/13) are:
Common Assault was reduced by 16.5%
Common Robbery was reduced by 15.9%
Theft of Motor Vehicles and Motorcycles reduced by 28.4%
Carjacking reduced by 37.6% (increased by 2.0% in the past financial year 2012/2013)
Attempted Murder reduced by 16.8% (increased by 6.5% during the past financial year 2012/13)
Commercial Crime (Frau) increased by 10.1% (again increased by 0.6% in the past financial year 2012/13)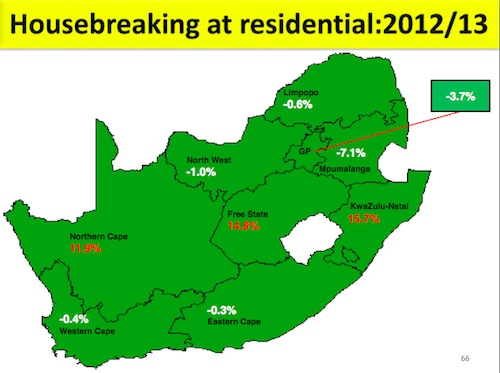 Cape Town Crime Statistics 2013
Burglary, robbery and theft of private property were the most reported crimes according to the Victim of Crime Statistics 2012. Almost half of the victims of sexual offences knew the perpetrator who often is a member of the family, friends or community.
For car-jacking, theft of private property and robbery the middle class and more well-heeled population are especially targeted.
Serious crimes were mainly experience in low-income areas and townships. The highest violence and property crime rate is experienced in Mitchell's Plain, where gang-violence is claiming many lives. Further, areas such as Khayelitsha, Gugulethu or Nyanga remain the most dangerous according to murder statistics of the last years.
Many southern suburbs were affected recently due to violent housebreakings and the popular Hout Bay had more recent spate of car-jacking. However, many of the neighbourhoods have put on special awareness campaigns and stepped up security with private watches and have now a much more visible police presence. Crimewatch members patrol the streets day and night and so have cut down on criminal offences drastically.
Offences such as street muggings (which however are involving increasingly handguns), smash-and-grab-robberies and pick-pocketing are a common occurrence in many cities around the world and you are advised to stick to common-sense safety measures.
Crime Rate in the Western Cape
For the last years there is decrease in the crime rates evident according to the statistics which were released in September 2013.
For 2012/13 the crime statistics show a trend of decreasing rates in most of the categories relating to serious crime in the Western Cape during the past financial year, but there is a disturbing tendency to more
attempted murders (+26.4%)
aggravating robbery (+8.7%)
carjacking (+30.4%)
robbery at residential premises (+9.8%)
robbery at business premises (+10.8%)
It is also to consider that only reported crime are taken into the data, the real figures are usually estimated to be higher, as for example rape victims often do not report this serious offence in fear of reprisals.
It is highly recommended, to take some basic safety precautions, when moving to and living in South Africa. For further information on these specific precautions which you should take on not to become a victim of crime in South Africa, read our safety tips for Cape Town.
Recommended Reading on Crime in South Africa
• Read the most recent South African crime statistics 2012/13 in all its details. You will find here the most recent information by the SAPS (South African Police Service) about the situation of crime in South Africa.
• A really good information is the Crime and Safety Report of the (Overseas Security Advisory Council) of the US Consulate in Johannesburg. Click here to access this Report of the OSAC 2014 
• The Victim of Crimes Survey offers good insights into the perception of crime and the statistical data. You will find the latest VOC survey 2012 here.
• Read also this article on Crime in South Africa: 'Where crime happens in South Africa' published in the Mail & Guardian in September 2013.
Remember to keep informed to stay safe!
More info about safe housing areas in Cape Town
Go to Why Cape Town is so attractive for expat living 

Return from Crime in South Africa to ExpatCapeTown Homepage