Crime in South Africa
How safe is living in Cape Town 2015?
The high rate of crime in South Africa is a major concern for tourists as it is for expatriates moving to or living in Cape Town.
South Africa is known to have one of the highest crime rate per 100,000 residents in the world regarding assault, rape and murder. Johannesburg, Pretoria, Cape Town and Durban are ranked usually as critical crime thread posts. With the latest xenophobic outbreak in Johannesburg and the recurring protest actions along the Cape's major highways, many expats and foreigners are wondering about the situation in Cape Town.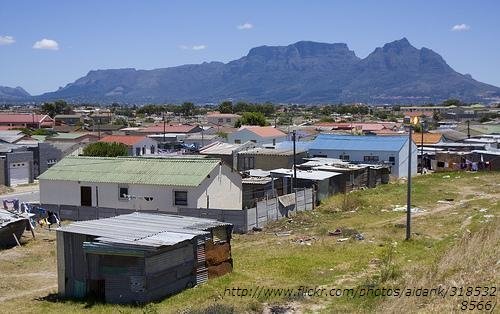 Cape Town townships - crime hotspots
Any news about unrest and murder incidents in the townships in and around Johannesburg and Cape Town sound in fact very intimidating. Be prepared to investigate where to move to, where to live and which areas to avoid, so you can significantly minimise the risk of becoming a victim of crime. 
Crime and violence affect everybody like everywhere else in the world. In South Africa, mainly people living or working in the poorer areas are affected by violence and crime. There are certain areas especially the Cape Flats which are no-go areas, if you are not accompanied by a local guide and are introduced to the area. Make sure, that you get more information about an area unknown to you or contact the local police station for current advice, if you are not certain that the area you plan to visit, work in or travel through is safe.
Be informed about Crime:
Safety Advice
In regards to more recent burglaries at shopping malls and various stores selling goods of high value, the only advice is too be vigilant who is in and around the shops or in the malls. It is a scary thought to get involved in a crime situation, but unfortunately only good security can prevent this - as everywhere in the world - and shopkeepers and staff at malls are called to take their task more seriously and employ better preventative measures as well.
Read through the 'Be Alert!' Advice by the South African Police Service (SAPS) here.
To help you get a better overview of the situation of crime in South Africa, we decided to have a look again at the latest South African crime statistics and give you some insights.  
The latest South Africa Crime Statistics
To help you get a better overview of the situation of crime in South Africa, we decided to have a look again at the latest South African crime statistics and give you some insights.  
Some main figures that are given in the latest South African Crime Statistics in comparison to the statistics of the last year (2012/13 to 2013/14) are:
Contact Crimes increased slightly by 0.5%. Among these crimes are: Common Assault (reduced by 3.3%), Attempted Murder (increased by 4.6%), robbery with aggravating circumstances (increased 12.7%), Common Robbery (increased by 0.6%)
Crime detected as result of police action increased by 18.1%. The main subcategory drug-related crimes increased by 26.1%
Commercial Crime decreased by 13.6%
Property-related crimes (burglary, arson, malicious damage, theft): decreased slightly, but theft out of or from a motor vehicle increased by 3%. 
Aggravated robbery crimes increased significantly. Bank Robbery increased by 200%, Carjacking increased by 12.3% (Total 11221 carjackings, of these 6064 in Gauteng and 961 in the Western Cape), Robbery at residential premises by 7.4%, robbery at non-residential premises increased by 13.7%.
Crime in South Africa: Carjackings 
Carjackings happened in all provinces. A total 11,221 carjackings are mentioned in the Crime Statistics 2014. The provinces with the most occurrences of the nine provinces:
6064 carjackings in Gauteng
2274 carjackings in KwaZulu-Natal
961 carjackings in the Western Cape
775 carjackings in Eastern Cape
Crime Rate in the Western Cape
Significant variation in the crime statistics of the Western Cape can be notices:
Contact crimes increased by 5%, among them: Murder (increased by 12.8%) and Robbery with aggravating circumstances (increased by 16.3%).
Property Crimes increased by 2.3%
Commercial Crimes decreased by 8.4%
Aggravated Robbery increased significantly: While Bank Robbery decreased by 100%, Carjacking increased by 21.8%, Robbery at residential premises by 14%, robbery at non-residential premises increased by 11.5%.
Cape Town Crime Statistics
Burglary, robbery and theft of private property were the most reported crimes according to the provincial statistics 2013/14. Almost half of the victims of sexual offences knew the perpetrator who often is a member of the family, friends or community.
For car-jacking, theft of private property and robbery the middle class and more well-heeled population are especially targeted.
Serious crimes were mainly experience in low-income areas and townships. The highest violence, assault and property crime rate is experienced in Mitchell's Plain, where gang-violence is claiming many lives. Further, areas such as Khayelitsha, Gugulethu or Nyanga remain the most dangerous according to murder statistics of the last years.
Many southern suburbs were affected recently due to violent housebreakings and the popular Hout Bay had more recent spate of car-jacking. However, many of the neighbourhoods have put on special awareness campaigns and stepped up security with private watches and have now a much more visible police presence. Crimewatch members patrol the streets day and night and so have cut down on criminal offences drastically.
Offences such as street muggings (which however are involving increasingly handguns), smash-and-grab-robberies and pick-pocketing are a common occurrence in many cities around the world and you are advised to stick to common-sense safety measures.
It is also to consider that only reported crime are taken into the data, the real figures are usually estimated to be higher, as for example rape victims often do not report this serious offence in fear of reprisals.
It is highly recommended, to take some basic safety precautions, when moving to and living in South Africa. For further information on these specific precautions which you should take on not to become a victim of crime in South Africa, read our safety tips for Cape Town.
Victim of Crimes Survey by
Statistics South Africa 2013/2014
The Victim of Crimes Survey is a countrywide household based survey undertaken by StatisticsSA to explore the perceptions of the public in regards to crime prevention and activities dealing with crime and victimisation.
Data is collected in form of face-to-face interviews at randomly chosen homes. The accuracy is limited to the actual answers by the victims and their ability to recall past victimisation events. The data is thus collected completely differently to the Police statistics which only give a picture about reported crimes and incidents. Here are some interesting findings:
75% of all interviewed believed that crime were mostly motivated by drug related needs and not by real needs (45% believed this, 42% believed greed as main motivator).
More than 70% of the interviewed believed that corruption had increased during the previous three years (2010-2013)
Housebreaking/Burglary, home robbery, theft of personal property were the most common crimes experienced. Roughly one in ten of the interviewed was victim of these crimes.
Theft from cars, car theft and housebreaking happened mostly at night.
Assault and sexual offences are believed to be highly underreported as roughly half of all victims of these crimes reported they were also victimised by their relatives, a known community member, spouses and lovers.
Recommended Reading on Crime in South Africa
• Read the most recent South African crime statistics 2014 in all its details. You will find here the most recent information by the SAPS (South African Police Service) about the situation of crime in South Africa.
• A really good information is the Crime and Safety Report of the (Overseas Security Advisory Council) of the US Consulate in Johannesburg. Click here to access this Report of the OSAC 2014 
• The Victim of Crimes Survey offers good insights into the perception of crime and the statistical data. You will find the latest VOC survey 2013/4 here.
• Read also this article on Crime in South Africa: 'Where crime happens in South Africa' published in the Mail & Guardian in September 2013.
Remember to keep informed to stay safe!
More info about safe housing areas in Cape Town
Go to Why Cape Town is so attractive for expat living 

Return from Crime in South Africa to ExpatCapeTown Homepage