South Africa Health Facts
All you have to know when visiting or moving to South Africa
South Africa Health Facts | ExpatCapeTown | 21 November 2019
Are you looking for reliable South Africa Health Facts? Then you should check out our travel health info here.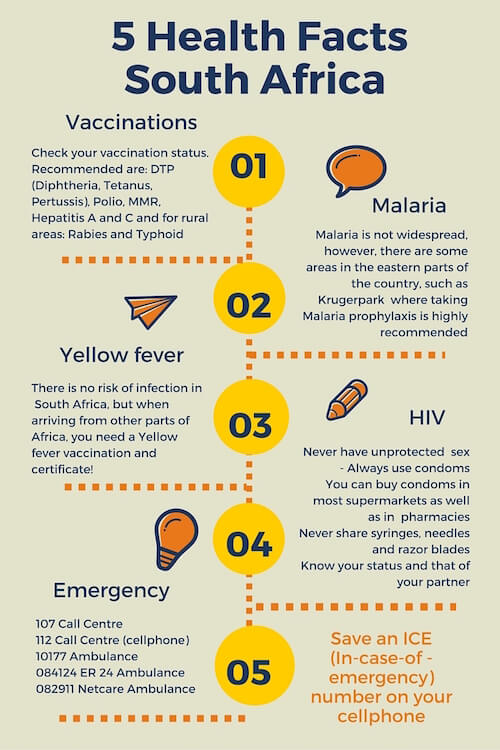 Our South Africa Health Facts will provide some insights on how to protect your health when traveling to South Africa or living in Cape Town.
In South Africa you should take special precautions regarding your health. HIV/Aids are widespread, the risk to contract Hepatitis or Tuberculosis when working in townships or rural areas is prevalent and rabies and typhoid are present in rural areas. There are precautions to take, and for most of the more common diseases you can get vaccinations before your travels. Contact your health care provider or a travel health clinic before you move here or get help here at a local travel clinic. Make sure your immunisation record is up to date or get refresher vaccinations - especially for DTP and MMR.
South Africa Health Facts
Seasonal Influenza is present during the winter months in South Africa as in many other places around the world. There is evidence that not only small children and older or frail people are more at risk, but also teenagers and pregnant women. So if you belong to a high-risk group you should consider the relevant vaccinations.
However you need to plan in certain time for the vaccinations to work. Here is a standard vaccination schedule (discuss this with your health care practitioner!)

Diphtheria, Tetanus, Polio (DTP): 3 doses over 12 months
Measles, Mumps, Rubella (MMR): Check with your doctor re: mainly childhood diseases
Hepatitis A and B: 3 doses over 6-18 months
Tuberculosis (TB): BCG one shot, preferrably at least 6 weeks before travel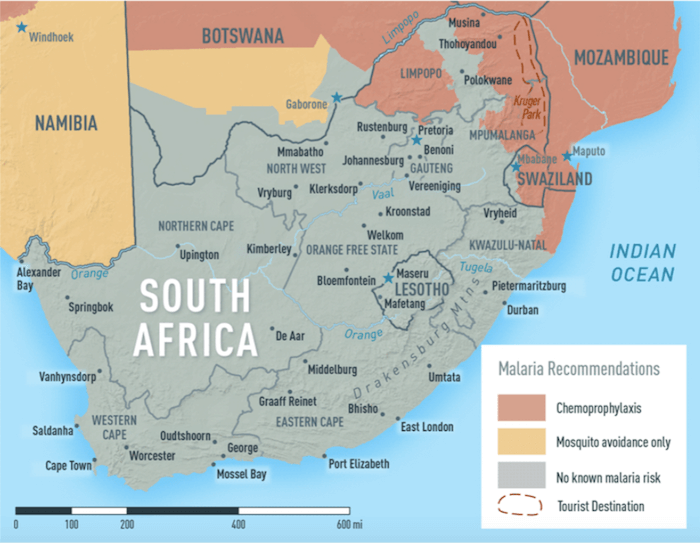 Click to view Malaria Map
Malaria: tablets for protection you need to take a prophylaxis if you travel into certain regions in South Africa, not in the Western Cape or Cape Town. Prophylaxis usually needs to be taken before travel into the malaria regions in South Africa and at least one week after travels. 
Yellow Fever: The vaccination has to be taken 7-10 days before travels to an infected area. The vaccination certificate is valid for ten years.
Typhoid: one shot at least two weeks before travel, highly recommended if working/living in rural areas, then booster every two years afterwards
Meningitis: There are various types of vaccines available, best to enquire with your travel clinic
To get your vaccination status updated, visit any travel health clinic or enquire with your general practitioner (GP) for advice. You will find more comprehensive immunisation information here.
Cape Town Travel Health Clinics
Cape Town Emergency Numbers
When already in Cape Town, make sure to have your vaccination card/booklet with you when making an appointment with a local doctor or nurse. These are travel clinics recommended by expats in Cape Town:
Netcare Travel Clinic in Cape Town CBD: Picbel Parade in 58 Strand Street. Tel: 021 419 3172
Medicross Tokai: Corner Tokai and Keyser Road. Tel: 021 715 7063
Meditravel Cape Town Waterfront: Clocktower Building at the V&A Waterfront. Tel: 021 4191888
Be informed and check your South Africa Health Facts and Information thoroughly. Keep well!  
Image Source: own graphic/Canva
South Africa Health: Resources 
Related Pages
Need more info on South Africa?