Cape Town Life Savers Competition
Interested to learn more about Cape Town Life Savers and Sea Rescue? Then read on here.
As 2010 is the centenary of International Life Saving, the efforts of life savers should be honored here too.
There are about 6500 voluntary lifeguards throughout South Africa. They operate from over 60 coastal clubs and more than 50 inland clubs across South Africa.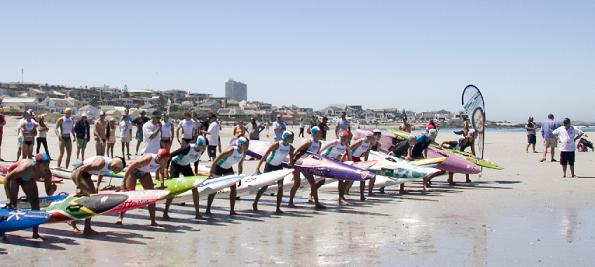 On December 4, 2010 the South African life saving championships came to Camps Bay/Cape Town where the life savers and rescue teams competed at an international level.
If you missed out to see the lifesavers in competition in Cape Town, then you might catch them if you travel down to Port Elizabeth, where further competitions will be held on the 11th of December and in Durban on the 15th of January 2011.
Hans Grohe Masters of Water Lifesaving Series
The Hansgrohe Masters of Water Lifesaving Series are a three part series, this year the stage one was in Camps Bay on December 4, 2010, stage two is in Hobie Beach at Port Elizabeth and will conclude with stage three in Durban where the 2011 Hansgrohe Master of Water will be announced.
Following its inaugural success in 2009, Hansgrohe, the German bathroom fitting manufacturing company and sponsor of this event continues to build on this annual event to promote training and development in this volunteer sport.
Cape Town Life Savers Competition
During the Cape Town Life Savers competition 32 top lifesaving athletes from across the South Africa participated and competed at an international level in 2 main categories; beach and surf.
The events included beach flags, sprints, swim, board, ski and the iron man/woman challenge.
Join the South African Nippers
Lifesaving SA is also involved in the event and is enthusiastic to highlight the voluntary work of the highly skilled lifesavers.
With their involvement they also appeal to kids and teenagers to become part of their "Nippers" teams. So what exactly are the "Nippers"? This is the name for the junior members in the lifesaving clubs.
Kids from the age of 8 to 14 years can participate in a wide range of fun activites which prepare them also to become valuable lifesavers later in life.
The emphasis is on fun and community spirit, so encourage your kids to join them in your local sea rescue club.
South Africa Life Saving Competitions
The international life saving championships 2010 were held in Alexandria, Egypt in October 2 – 17, 2010. More info on this international lifesaving event here.
South Africa was ranking highly in the Lifesavers championships in the last years and competed for the top rankings with Australia and New Zealand.
Water Safety Tips from Lifesavers in South Africa
As we have once witnessed a near drowning on a Cape Town Beach, we just can appeal to the visitors of the beautiful beaches in Cape Town to please be "waterwise".
Be sure you know some important rules when enjoying South Africa's beaches or swimming in South African lakes and dams.
• Learn to swim and know how far you can swim safely.
• Never swim alone and let others know where you plan to go swimming with your friends
• Know about the beaches and its currents and learn where there are dangerous currents
• Avoid dangerous beaches and do not get into the water. Undercurrents can be very strong.
• Wear sunscreen min factor 15.
• On beaches with lifeguards swim between the red and the yellow flag
• Save the local Sea Rescue number on your cellphone. In Cape Town the Sea Rescue number is 021 449 3500.
South Africa National Sea Rescue
There are 33 NSRI Stations around South Africa. The NSRI is a non profit rescue organization and is operating for more than 40 years.
They have a fleet of 72 rescue craft, 21 vehicles and access to a range of helicopters.
These are the NSRI stations in Cape Town:
• Melkbosstrand
• Table Bay
• Bakoven
• Kommetjie
• Hout Bay
• Gordon's Bay
• Simon's Town
but there are many more beaches manned with lifeguards, like Fishhoek, Muizenberg, Big Bay, Camps Bay and others.
Read more about Cape Town beaches where there are lifeguards.
If you want to support the valuable work of the Rescue Organization, please visit the NRSI site here.
Valuable Lifesaving Links about Cape Town Life Savers
• International Life Saving Organization
• National Sea Rescue Institute