The South Africa Flag
The South Africa Flag was used for the first time in 1994. The colorful flag can be seen as a symbol of the long way from disparity to unity of the South African people. The flag was on display on the day Nelson Mandela became inaugurated as the new South African president on 27 April 1994. This was the day when the first free elections where held in South Africa.

National Symbols of South Africa
Freedom Day on the 27 April is now one of the South African public holidays. Read more about Public Holidays.

The South Africa Flag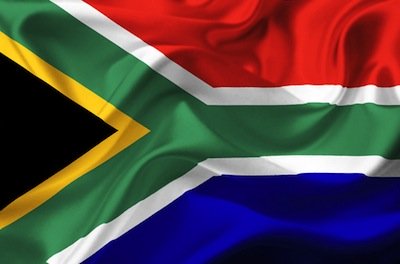 South African Flag
The South Africa flag has six colors like no other national flag in the world considering the primary design colors.
The colors green, black and gold are present also in the ANC flag, while the blue, red and white colors seem to refer to the Dutch and English influence. Please refer to Flags of the World if you would like to gain more in-depth knowledge about the South Africa Flag.
Important rules for presenting the South African flag:
In meetings the South African flag, when presented next or behind a speaker, has to be to the speaker's right. Elsewhere in the meeting-place it should be always to the right of the audience.
Other South African National Symbols
Beside the South Africa flag, there are other South African national symbols:
The National Flower: King Protea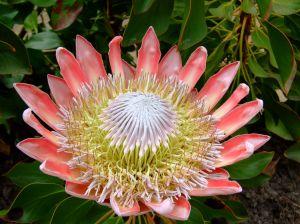 King Protea
This giant protea resembles in form and appearance to an artichoke and is native to many regions of the Western and Southern Cape.
It flowers in late spring and then will show its beautiful pink and red colourings.
If you want to admire the proteas in bloom, then there are some great places around Cape Town to see them:
Cape Point full of the yellow and red proteas in November
Drive from Cape Point to Kommetjie
Drive from Noordhoek to Constantia
Around Somerset West going over Du Toitskloof Pass
Go to Kirstenbosch Botanical Gardens in Cape Town
Many different species of proteas are for sale in Supermarkets and Flowershops, especially between October and December
Did you know that the National Cricket Team of South Africa is called "The Proteas"?
The National Tree: Real Yellowwood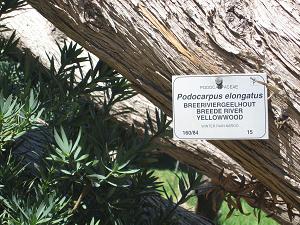 Real Yellowwood
The real yellowwood tree is a protected species in South Africa.
It is the most valued tree for its useful beautiful timber, with which local craftsmen make beautiful furniture out of this wood.
The yellowwood trees can grow up to 40 metres in height and 3m in diameter.
You can see Yellowwood trees along the Yellowwood Trail in Kirstenbosch Botanic Gardens which leads up to Table Mountain from the Botanic Gardens.
Other wonderful areas with Yellowwood Forests can be found around Knysna at the Garden Route and in Tsitsikamma Forest.
The National Animal: Springbok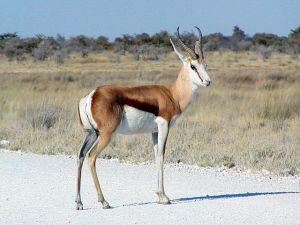 Springbok
The springbok is South Africas most well known antilope. This elegant mammal is a vegetarian which grow up to 75 cm in height.
The springbok is the fastest antelope and can reach a speed of more than 80km/h. It has a distinct white marking in the face and bottom and therefore can easily be spotted from far even when grazing;).
Springboks roam freely in Cape Point National Park and can be found in most of the South African game reserves.
If you want to see more picture of South African animals please go to my Safari photo gallery .
This antelope gives its name to South African rugby team: "The Springboks".
The National Fish: Galjoen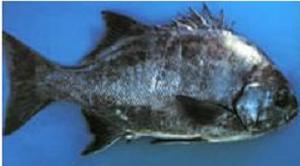 Galjoen
The galjoen is another South Africa national symbol and native to the coastal waters of South Africa.
It lives mainly in shallow waters. Especially popular in Kwa-Zulu Natal it is also called black bream or blackfish. The galjoen weighs up to 7kg.
If you are a keen angler, living in Cape Town will have a great attraction to you. And if you love Crayfish, similar to lobster, get a license to fish crayfish from the Post Office. Then Cape Town and the West Coast are pure fishermen's heaven… 
The National Bird: Blue Crane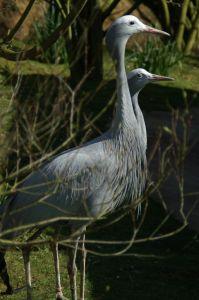 Blue Crane
This light blue grey bird is only to be found in South Africa.
It has got a long neck and long legs. Blue cranes are a common sight in the Karoo and can be seen also in Kwa-Zulu Natal and the Highveld.
Cape Town is very popular as bird-watchers' paradise, as there are many places wher you can spot the beautiful South African birdlife. The Rietvlei Reserve between Milnerton and Tableview is one of the prime spots to go bird watching. Flamingos and Pelicans nest here and many colorful sunbird species can be seen here too.
Other great places include the Tygerberg Nature Reserve near Durbanville in the Northern Suburbs and the Helderberg Nature Reserve near Somerset West.
Image Credits for this page 'South Africa Flag': images by AntoDesign, Neil Gould, Joe Glasgow - all by sxc.hu and own images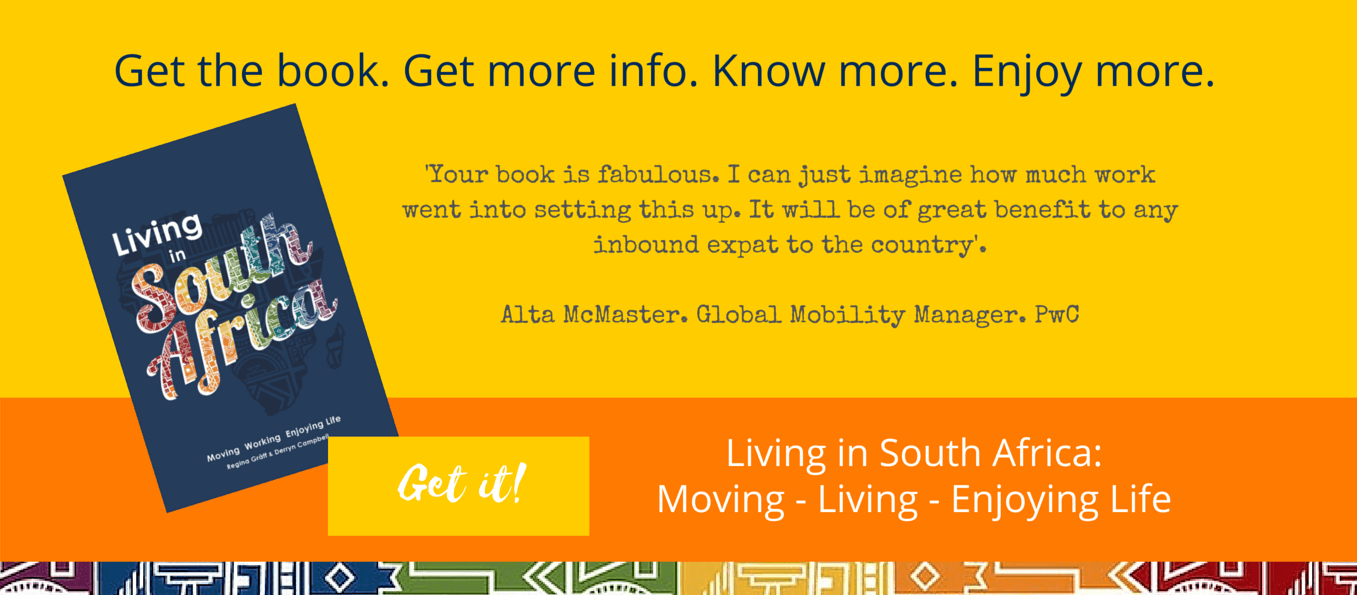 Subscribe to our newsletter. It's free!
Oct 18, 19 07:10 AM

Try our simple and delicious South African bobotie recipe and learn where to find the best bobotie restaurants in Cape Town.

Oct 18, 19 06:52 AM

Expat Guide to Banking in South Africa: FAQs Money Matters in South Africa | Where to bank? How to pay?

Oct 01, 19 05:43 AM

Our listing will show you the best Cape Town events in October 2019. Enjoy life in Cape Town!