Safety in Cape Town
ExpatCapeTown Safety Tips
Your personal safety in Cape Town is easy enough to upkeep if you follow some precautions. Cape Town is like any other big city a hub of activities and some areas are more dangerous than others. If you are interested to read about the crime rate in Cape Town and about areas you should avoid please click here. 
Make sure you are familiar with the areas you are visiting and listen to the recommendations and advice of locals.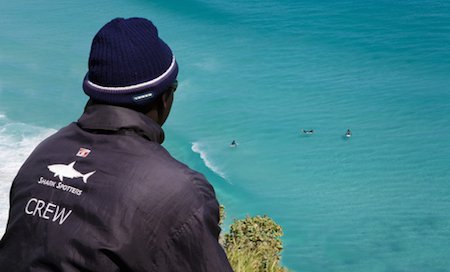 Sharkspotter in Muizenberg south of Cape Town
Please ensure that you are familiar with these basic precautions to feel and stay safe in the Mother City. These are our Safety Tips:
Safety Tips when out and about
• Avoid wearing expensive jewelry, cameras and other valuables.
• Do not carry large sums of money. But always keep some money with you to have some money to hand over when being mugged.
• Keep some coins in your pockets to hand out to car guards without having to open your wallet.
• At night and day, steer clear of isolated areas, building sites and isolated beaches
• Swim only at beaches where there are lifeguards and obey the instructions of the lifeguards. Many beaches are beautiful for sunbathing and walking but are not safe for swimming, due to riptides, backwash and sidewash or shark activity.
• Be aware that ATMs are regular targets for pick pockets or credit card thieves. Do never give any details to a stranger. Phone the emergency number shown on the ATM for clarifications with your bank.
• Avoid being near parking cash transit vans. Armed robberies and heists are a sad but almost regular occurrence in South Africa
• Keep a listing of emergency numbers and contacts in your bag or wallet or on your cellphone.
Click here to find the Cape Town emergency numbers
Safety Tips for your Home
• For your safety in Cape Town invest in a good security system and get connected to an Armed Response team from a security company which operates in your area. Check which company your neighbors use. The more clients a company has got in your area the better the response as they often deploy extra cars when sufficient clientele in your area.
• Use outside perimeter control beams, an electric fence or burglar bars to make sure nobody will get inside without alarming the response company.
• Never leave your valuables in sight from windows or outside the house. 
• Store valuables in your well-hidden safety deposit box. More valuable effects or documents you will not need everyday should be deposited at you bank safety deposit.
• Keep your house or apartment door locked at all times, whether you're in the house or not.
• If someone rings the bell, check who it is before opening the door. If you are unsure what the visitor wants and feel insecure of his/her intent, do not open the door.
• Do not have any personal identification on your key set. In case you loose your keys or they get stolen immediately, have your locks changed immediately.
Safety in Cape Town: Driving your Car
• Plan your route in advance avoid getting too close to townships.
• Always carry a cell phone (mobile) in case of an emergency or a breakdown of your car.
• Keep the car doors locked at all times and wind the windows up when coming to a street crossing where there are street sellers or beggars.
• Lock valuable items in the boot (trunk) and never leave your handbag in sight. Even when driving, store your bag under the passenger seat out of sight. When parking somewhere, never leave anything lying around in your car. Jackets, shoes, books, CDs when visible from outside are popular targets
• Always park in well-lit areas. When parking in parking garages leave your car close to the lifts.
• Never pick up strangers. Should you get lost, do not accept help from people who want to show you the way while accompanying you in your car.
• When you have a breakdown with your car, stay in your car and alert help with your phone or if it is a safe area, you could get help by flagging down other motorists. Capetonians are well known for their willingness to help other people to get out of trouble.
• But never accept help from people who want to show you the way while accompanying you in your car.
• If you are not sure about your safety in Cape Town before venturing in an unknown area, phone a police station for advice. See: www.saps.gov.za for telephone numbers.
More info on car hackings in South Africa
Read more about the Crime Statistics here
Return from Safety in Cape Town to ExpatCapeTown
Image on Safety in Cape Town by Andrea Willmore/Shutterstock.com
Oct 17, 17 09:54 AM

Find your way around Cape Town City Center, City Bowl and CBD - enjoy our ExpatCapeTown City insider information

Oct 06, 17 11:57 AM

The African Penguin Colony in Boulders Beach near Simonstown is one of Cape Town's top attractions. Visit the annual Penguin Festival in Simonstown on 7 October 2017.

Oct 05, 17 10:36 AM

There are more than 60,000 Italians in Cape Town. Find out about the Italian community in Cape Town and useful info for Italians in South Africa