The Nutcracker in Cape Town
Tchaikowsky's Ballet at the Baxter Theatre in November
The Nutcracker in Cape Town will be presented in an innovative and magical production for the first time in the Mother City.
The Performances at the Baxter Theatre in Rondebosch will treat the Cape Town audiences from 4 to 7 November 2009.
The ballet performances are based on the original concept by Adele Blank and David Gouldie.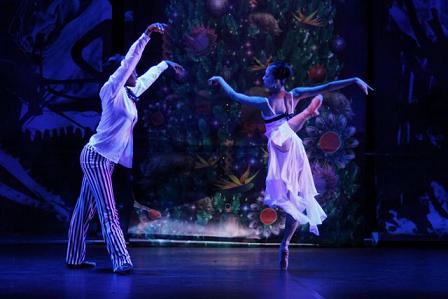 Proudly South African Mzansi Productions are promising a great evening out with this ballet show at the Baxter Theatre.
The company won lots of praise for its work last year when Adele Bland and David Gouldie were both nominated for the 2008 Gauteng MEC Awards for best new choreography.
Who is Mzansi Productions?
Mzansi Productions who launched in Johannesburg only in mid 2008 is already one of the top South African dance companies.
They consist of dancers drawn from the professional ballet and dance world, who are skilled in all the important dance genres and able to perform in classical, neoclassical and modern works.
Now the audiences in Cape Town can look forward to seeing an outstanding cast in the Mother City again. Mzansi Productions MIXIT show was met with critical acclaim here in March 2009 as well.
Tchaikowsky's Nutcracker in Cape Town
For this show the cast includes Kitty Phetla, Craig Arnolds, Yarisha Singh and Gisela Iles from Cape Town and former Cape Town City Ballet soloist Reika Sato.
Several young dancers from ballet studios in and around Cape Town will also appear as the children in the show.
The sets are splendidly designed by Andrew Botha. They create the typical illusion and wonderment which is so loved in Tchaikowvsky's Ballet "The Nutcracker".
The traditional elements that the audiences expect when coming to see the Nutcracker have been retained and some "South Africanisms" have been added into the choreography and the creative aspect. The ballet is completely unique. So enjoy a great Cape Town show in November.
The Nutcracker Ballet is a ballet that always will remain a firm favourite with audiences of all ages throughout the world and perfect for the festive season, which has come a bit earlier to Cape Town this year.
Performances of The Nutcracker in Cape Town
Where? Cape Town/Rondebosch, Baxter Theatre
When? November 4 – 6, 2009 at 8pm and November 7, 2009 at 2pm and 8pm.
How much? Tickets cost from R75 to R170 with special discounts for groups and schools.
Booking is via Computicket or at the Baxter Theatre Box Office


Back to Cape Town events

Return from Nutcracker in Cape Town to ExpatCapeTown Homepage