Cape Town Shopping Guide
Arts and Craft Shopping and Gift shopping in the Mother City
Here you will find your ultimate Cape Town Shopping Guide to the best little arts and crafts shops in the Mother City.
There are numerous souvenir shops around the major Cape Town attractions and you will encounter many craft stalls when you stroll through the main tourist areas of the mother City.
Then you will find many craft markets which will offer many different styles of souvenirs for travelers and tourists to Cape Town. Weekly markets in and around Cape Town are great ways to buy beautiful local arts and crafts.
Not only expats living in Cape Town will also want to adorn their homes with some stunning displays of South African decorative arts and crafts.
In my ExpatCapeTown Shopping Guide you will find also listings of lesser known places where you can find the more unusual an unique South African Memorabilia.
Here in my Cape Town Shopping guide you will get some ideas where to source great locally made gifts and souvenirs to take home when your time in Cape Town is up or just when you want to bring gifts on a holiday overseas.
Besides visiting the big African Souvenir Stores like "Indaba Curios" or "Out of Africa" and the Waterfront Craft Market in the Red Shed next to the V&A Waterfront and the Blue Shed next to the Aquarium you will find many treats when you visit little art galleries in town and often get better prices and discounts right in these shops too.
Art, Crafts and Souvenir Shopping in Cape Town
• Pottery and Ceramics: Porcupine Ceramics at the V&A Clocktower. More info.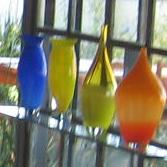 • Wire Art: Streetwires in Bo Kaap, opening times: Monday to Friday 8.30am-5pm, Saturdays 9am-5pm.
• Bead Art: Mokeybiz in 65 Rose St., Bo Kaap, opening times: Monday to Friday 9am-5pm, Sat 9am-1pm.
• Glass Art: Red Hot Glass at Cape Quarter Gallery and in their Studio at Seidelberg Wine Estate, Paarl, opening times: 7days a week, 9am-5pm. More info.
• Felt Art: hearts, cushions, broches. More info.
• Metal Art: Metal Decorations by Tin Town available at Heartworks in Gardens Shopping Centre, Kloof Street and Cape Quarter, at some PNA shops or Africa Nova in the Cape Quarter. More info.

• Table Ware and Cutlery: Carrol Boyes Shops in major Shopping Centers and her headquarters in 43 Rose St., Bo Kaap.
---
There are many great craft shops in the Bo Kaap area and you will enjoy having a stroll through the little cobbled streets and colorful houses too.

Read more about Tour in Bo Kaap.


---
• Wood Carvings, Plastic Art and Tin Art : Find delicate wood carvings, plastic bowls and tin cars and radios at the Pan African Market in 76 Long Street, Cape Town CBD
• Bead Shops: Beads and Crystals, also Swarovsky Crystals in all form and sizes can be found at Bead Merchants of Africa in 223 Long Street, Cape Town CBD
• Ostrich Eggs: can be found in most Curio Shops, but you can get plain and beautifully decorated at the best prices at the West Coast Ostrich Farm or the Cape Point Ostrich Farm as you can see here.
• Spices: For Curry, Breyani Mix, All Spice and many more go to Atlas Trading in 94 Wale Street, Bo Kaap.
"African Doll" by LeeAnn Mogridge at SXC.hu
If you are looking for great Christmas gifts, also check out the great Cape Town Christmas markets.


More about Christmas in Cape Town


Have you got other great Shopping Tips for my Expat Cape Town Shopping Guide and would love to share your secrets? Please let other expats know.
Simply contact me and I will add on your favorite shops for great shopping experiences in the Mother City.


Read here about the best Shopping Centers in Cape Town

Back from Cape Town Shopping Guide to Shopping in Cape Town

Back from Cape Town Shopping Guide to ExpatCapeTown Homepage