Tipping Guide
ExpatCapeTown Guide:
Etiquette in South Africa
In our ExpatCapeTown Tipping Guide you will read how to tip for services in South Africa. Giving tips for good services is customary and appreciated all over the world, but tips can vary hugely. 
People working in the service industry in South Africa usually rely heavily on tips from customers as the basic wages are often minimal and not enough to support a family. Thus, in South Africa, people often tip regardless of the quality of service they receive, as tips are commonly expected or even anticipated.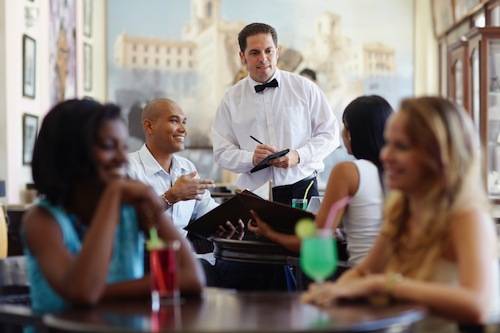 Award excellent service with a good tip
This said, we find that in South Africa, services in the hospitality industry are generally provided swiftly and are of good standard. Given the fact, that education and training levels of people in the service industries are often low, misunderstandings and failures due to inexperience of a waiter for example, might happen. However, services are usually delivered with friendly smiles; and the cooperation and willingness to remedy unacceptable situations often will make up for any shortcomings.
Tipping in South Africa:
How much should you tip?
Restaurants/Coffee Shops/Bars
Waitron: 10-15% of bill, for tables of six or more the standard tip of at least 10% is usually added to the total amount of the bill by the restaurant
Bartender: R5 per alcoholic drink
Parking Attendant: R5-10
Day-to-Day Routines/Personal Grooming
Trolley Attendant/Car Guards: R2-10, if there is no parking fee
Food Delivery Service: R10
Handymen: no money, but cold or hot drinks for morning or lunch break time
Car Wash Cleaner: R10 
Petrol (Gas) Attendant: R5-10
Hairdresser/Barber: R20, if the service is provided by the owner, usually not applicable
Hair Saloon Shampoo Lady: R10-20
Beauty Therapist: R20
Travels/Transport/Hotels
Taxidriver: 10-15% of taxi fare
Porters: R5-10 per bag
Airport porter: R20 per trolley
Concierge: R50
Maid/Housekeeper in Hotelroom: R20+ per person/night 
Full-time Maid (self-catering accommodation): R200/day
Coach Driver/City Tour Guide: R20
Safari Tour Guide: R50 per day
Mover: R20 for each staff member per day
Tipping Guide: What else to know?
These are only customary guidelines. The attitude to tipping services varies widely among the different population and income groups.
For excellent service regarding above mentioned categories, tip as much as you feel comfortable with. If people give value-for-money service, appreciate this with a tip and let the 'servant' and the service provider know. 
Remember, recommending outstanding service delivery generally motivates. It generally improves the service commitment for continuously and proudly delivering first-class services and thus creates are better and more positive environment for all. There are many ways to support great businesses, either by writing reports on HelloPeter.com or TripAdvisor.com or let us know.
South Africa Tipping Guide
Source: Part of a graphic from the expat guide book: 'Living in South Africa' p.140
Need more info on South Africa?
Click and view sample pages

If you are interested in more in-depth, well-researched, up-to-date information and more South Africa facts:

Order your copy of our Living in South Africa guidebook directly from us.
Image Source: shutterstock.com and own
Further reading: Etiquette in 50 countries
Back to Business Guide to South Africa
Return from Tipping Guide to South Africa Culture Shock Guide
Return to ExpatCapeTown Homepage
May 23, 17 06:05 AM

Expat Guide to Cape Town Kids Activities and July / Winter Holidays events. Here you will find the best Kids Holiday Camps and Workshops for the April School Holidays in Cape Town

May 15, 17 02:50 AM

Looking for Language Schools in Cape Town? Do you want to learn English, learn Afrikaans or Spanish? Read more here.

May 02, 17 11:18 AM

The best Cape Town Events in May 2017 with information and links to the event organizers.