The finest shopping centers in Cape Town
This is my listing of my favorite shopping centers for expatriate shopping in and around Cape Town:
On this map you will see at one glancethe location of the shopping centers I mention in my listing.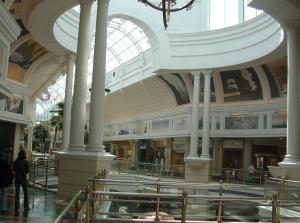 This fascinating shopping mall was South Africa's biggest shopping Mall until 2007 when the huge Soweto Mall near Johannesburg opened its doors.
There are more than 400 shops and restaurants in Canal Walk.
Opening hours: 9.00h - 21.00h
Shopping at the V&A Waterfront

The Victoria Wharf shopping centre is only one of the many shopping centres at the V&A Waterfront.
There are several shopping centers at the Waterfront, altogether there are over 400 shops in this area.
For great shopping also try the shops in the Clock Tower and do not miss out on the many other shopping alleys along the seafront like the Blue Shed shopping experience near the Aquarium where you will find many little craftshops and designerware stall offering an unique Cape Town shopping experience.
Opening hours: 9.00h – 21.00h, Sundays 10.00 – 21.00h
Other fine shopping centres for your Cape Town shopping:
• Cavendish Square in Claremont: This upmarket shopping mall in the Southern Suburbs just received an enormous facelift. There are over two hundred stores in the mall and many fancy designer stores and boutiques as well as a cinema.
•
Bayside Mall in Table View: This is one of the bigger lifestyle centers along the West Coast catering for the Table View, Parklands and Blouberg area. There is a cinema complex in the center too.
•
Somerset West Shopping Village: This shopping compound is really huge and you need a car to drive from one side to the other. Recently they launched a shuttle service for their customers. Here you will also find furniture stores, several diy stores and outdoor warehouses, bowling and cinemas.
•
Gardens Shopping Centre: Smaller center with "only" 86 stores and boutiques with a more European Feel. German deli and toy store.
• Constantia Village Shopping Centre: The finest shopping in the Constantia Valley with more than 80 upmarket stores and boutiques.
•
Tyger Valley: This is the biggest centre for shopping in the Northern Suburbs with more than 275 shops. You can get lost in the many shopping walkways. There are 10 cinemas and there is even a bowling alley in the Center.
• Willowbridge in Durbanville: great open air shopping mall with many designer stores and coffee shops. Great atmosphere in this lifestyle center.
These are just some of the greates shopping places in Cape Town. There are many more lifestyle centers how they are often called here and they come in many different sizes.
---
If you think my listing is missing some important information on Cape Town's shopping centers you would like to add, please contact me. Likewise should you need any information about shopping I will try to assist you in your search.
---