Rooibos Tea
A Taste of South Africa
Have you ever tasted the delicious South African Rooibos Tea? This popular tea could be referred to as South Africas national hot drink! The rooibos or redbush tea is harvested only in South Africa and has a distinct colour and flavour. Here are some interesting facts about this tea for you to enjoy.
Rooibos Health Facts
This South African tea has got many healthy properties: It is caffeine free, low in tannin content and rich in antioxidants. It does not contain oxalic acid so even people suffering from kidney stone can drink this tea. Rooibos is praised a magic medicine, herbal remedy for many health problems and ailments. Redbush tea relieves and combats: insomnia, irritability, headaches, hypertension, skin irritations such as acne and eczema.
Where does Rooibos Tea grow?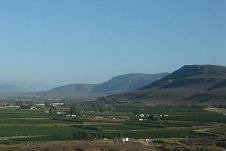 Cederberg Mountains
The Rooibos or Redbush tea plant, the Aspalanthus linearis, is indigenous only to South Africa's Cederberg mountain region. The hardy shrub-like bushes survive the cold temperatures in winter and the draught which is often prevalent in summer in this arid mountain area. The region around Clanwilliam, 250km from Cape Town, is dominated by the Cederberg Mountains and the tea plant only grows there because of the microclimate of this region, which is located approximately 250km northeast of Cape Town.
The needle-like tea leaves grow on shrub like bushes which are between 0.5 to 1.5 metres in height. To harvest the leaves the workers cut of branches, then the leaves get chopped and bruised, left in the sun to ferment. The color of the leaves then change from green to amber and develop the distinctive sweet aroma and flavour.
Who discovered this South African tea?
Botanic Carl Thunberg named the plant after on expedition to the area in 1772. Russian immigrant Benjamin Ginsberg, born into a family who was involved already in the tea business in Europe realised the tea's marketing potential and began marketing the tea in 1904. Rooibos was first marketed it as 'Mountain Tea'. Modern cultivation began only in the 1930s. The popularity of redbush tea grew in the last ten year. Today, the biggest importers are Germany, Japan, Netherlands.
Shopping for Rooibos Tea in Cape Town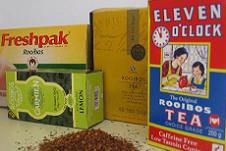 You can find many different brands of rooibos tea in Cape Town in Supermarkets like Shoprite Checkers, Spar, Pick and Pay and Woolworths. There are many different brands available in the South African Supermarkets like Clipper Organic, Freshpak and the famous South African Eleven o'Clock Rooibos Tea. Redbush Tea comes not only in its original form but is available in many different flavours. Most of the tea is organically grown as well.
Use of Rooibos in Cosmetics
Rooibos Tea is also used in many cosmetic products. The brand Annique offers the widest Rooibos cosmetic product range, but there are other health and beauty brands that increasingly include this healthy product in their ranges. You will find Rooibos cosmetics in many pharmacies in Cape Town; and there are Annique Salons usually with shopping facilties in Canal Walk Shopping Centre, Tygervalley and Somerset Mall. If you want to find out more about Rooibos Cosmetic Products, go to Annique's website which is a treasure of information regarding the use of this tea plant in cosmetics.
Cooking with Rooibos

If you ever have tried flavoring your meals with Rooibos you will get hooked on the distinct but subtle flavour. There are various fantastic recipes also to be found in a 'rooibos collection' on this website.

Or find out about great South African dishes with Rooibos in this new excellent cookbook: 'A touch of Rooibos'. In this South African cookbook, fourteen of South Africa's most prominent chefs share their recipes containing this special ingredient. There are over 100 recipes in this volume so be sure to find some recipes for every taste.

Subscribe to our ExpatCapeTown newsletter - It's Free!
Jan 10, 18 05:08 AM

What you should know about Golfing in Cape Town and the Water Restrictions in the Cape

Jan 08, 18 05:44 AM

Your Expat Guide to the Best Cape Town Events in January 2018 with information and links to the event organizers.

Dec 13, 17 02:04 AM

Expat Cape Town Guide to the Best Cape Town Events in December 2017 with information and links to the event organizers