Germans in Cape Town
All Things German - Part I

Welcome to all Germans and to all who love German 'Gemütlichkeit! - Willkommen in Kapstadt!
In our ExpatCapeTown guide you will find all the relevant information and resources for all those things German for all visiting or living in Cape Town and all who enjoy German goodies.
What's on for Germans in Cape Town?
On 31 October 2015, the German school will hold their very popular annual German Bazar at the school's premises from 10h - 22h. Tickets can be bought at the door or at quicket.
This is one of the events in Cape Town which is not only an event for the Germans, but for all enjoying German hospitality. With great kids entertainment while the parents will enjoy German specialties and German beer, wonderful wine or Swiss raclette. Large beer tent, talent show, skate park, fuffie-slide, Christmas Market, Ice-cream stand and the ever popular Mozart Cafe. Join the community at the school in Tamboerskloof, parking and shuttle service are signposted from Kloof Street.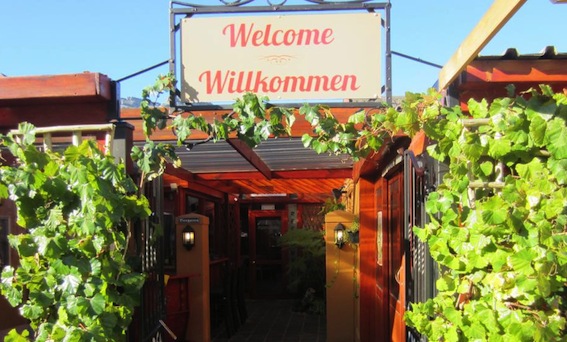 There is a big German community living in Cape Town and therefore it is easy to feel at home in the city. The areas where many of them live are the suburbs Tamboerskloof, Gardens, Oranjezicht and Higgovale as these suburbs are close to the German School.
Many Germans also live in the Blouberg area and many of them feel at home in Hout Bay. Another huge community lives in the Helderberg area around Somerset West, where the big German supermarket is located too. 

German School and German Kindergarten
The big population of German nationals in Cape Town have their own school which has got around 750 pupils.
The German International School (DSK or Deutsche Schule Kapstadt) is located in Tamboerskloof and a satellite school of the DSK in Parow. The German school offers instruction with German as mother tongue and from Grade 5 onwards also classes for non-german speaking children which are taught in English. There are also evening classes offered for parents and the general public at the school.
Entrance exams for current Grade 4 learners are held regularly and applications are open also for non-German speaking pupils as there are English-medium classes for senior primary and high school students too. Contact the school here.
There are several German kindergartens in the Cape Town area with German instruction and German kindergarten teachers.
• St. Martini Kindergarten in Long Street, Cape Town - Website
• German Kindergarten in Wynberg. Website
• German Kindergarten in Bellville. Website
There are several German playgroups for smaller kids in some Cape Town suburbs, like KunterbuntKidz in Tableview. Website.
Please contact the German school should you want to get info on German playgroups in other suburbs and share your info.

German Language Classes
Excellent German Language Courses are offered by the Goethe Zentrum in Cape Town, which is affiliated to the Goethe-Institut in Germany.
Should you have any questions regarding learning German or maintaining your communication skills, please contact me .
As a German language teacher by profession I have loads of tips on effective learning and language skills development and will gladly pass these on. I taught many classes at Goethe-Institute, colleges and universities in several countries around the world and have a treasure of secrets to learning German fast and effectively.:-)
Deutsch lernen macht Spass!

German Books and Magazines
• There is a German bookshop in Cape Town: Ulrich Naumann Deutsche Buchhandlung. There you will find a huge selection of German magazines and German books as well as a good selection of German cards, games and books for children. Burg St. 15-19, Cape Town, Tel: 021 423 7832. Website
• Kapstadtmagazin is an online travel magazine in German providing a wide range of information: news, things to do, events and much more. There are also English and French versions available. 
• Echo is a German magazine with articles written by Germans mainly servicing the market of the German "swallows" with articles on history, economy and politics.
• Kapstadt auf gut Deutsch is a bi-annual magazine with articles in German with many accommodation tips for tourists to South Africa.

German Church Services
There are several churches which offer services for German expats. They also hold regular German speaking mass services and are active with youth groups, social outreach activities and community support. If you want to get involved or join, best enquire for more info with the churches. You will find links to their websites below.
• St. Martini (evangelisch-lutherisch) in the Long Street, City Centre
• Kreuzkirche (evangelisch-lutherisch) in Middel Street in Bellville
• Evangelisch-Lutherische Kirche Stellenbosch/Somerset West 
• Stadtmission (evangelisch-lutherisch) in Tamboerskloof and Durbanville
• The Catholics meet for Holy Mass on Sundays. This is held at the church of Nazareth House in Vredehoek. The Mediterranean Villa offers also accommodation facilities.

German speaking Clubs
There is an active German Club which meets at the Roodehek Restaurant in Gardens.
The Swiss Club meets in Greenpoint and has got several groups you can join. 
The Austria Club meets in Greenpoint, at Bill Peters Drive. Find the address on their website. 
Find more Expat Communities here.

Foreign Missions
The German general consulate is located in the city centre. Consult their Website for more information on opening hours and contact numbers.
The Austrians have a honorary consul in Cape Town too. Contact the Austrian embassy in Pretoria with any queries.
The Consulate General of Switzerland is located in the city centre. Website

This information about Germans in Cape Town shall help you to orientate yourself when arriving as a newcomer in the Mother City.
Go to All Things German Part II
Please bookmark this page as this listing will be updated regularly to give you more information for this specific national group.
And make sure you subscribe to my ExpatCapeTown Newsletter and get monthly my Cape Town Insider Tips. Simply fill in your name and address in the block below. 
If you miss some information in my list or like to share your secret about the Germans in Cape Town and German lifestyle, please contact me 


Return from Germans in Cape Town to ExpatCapeTown 

Dec 08, 17 10:09 AM

Which Cape Town Beach has been awarded the Blue Flag in 2017? Where are these beaches and what makes these Cape Town beaches so special? Read on here.

Dec 07, 17 06:06 AM

Come and enjoy The Nutcracker in Cape Town. Read all about the ballet performances in December 2017

Dec 05, 17 09:16 AM

Expat Guide to Cape Town Kids Activities and December school holiday events. Here you will find the best Kids Holiday Camps and Workshops for the upcoming Summer Holidays in Cape Town