The African Penguin Colony
in Cape Town
The African Penguin Festival in Simonstown is this year taking place on October 12, 2013.
The penguin colony at Boulders Beach in Simonstown is one of the biggest in Southern Africa.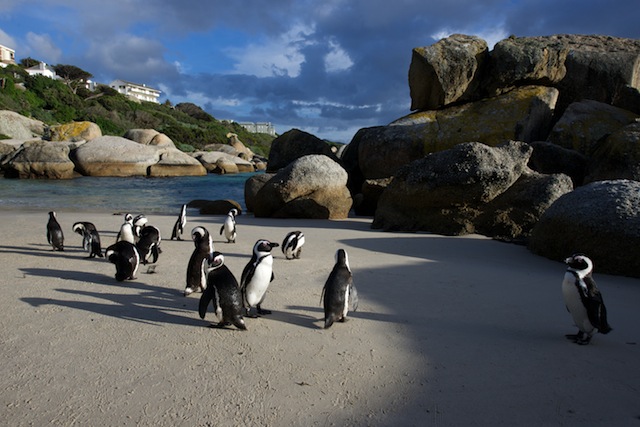 Annually "Penguin Awareness Day" is celebrated in October. There are various events held on this day, one of the biggest in South Africa is the Festival in Simonstown where in the morning penguins are released into the wild at Seaforth Beach.
This event is also celebrated at the V&A Waterfront in Cape Town, where you join the fun at the Amphitheatre from 9.30h on October 12.
The Boulders Beach Penguins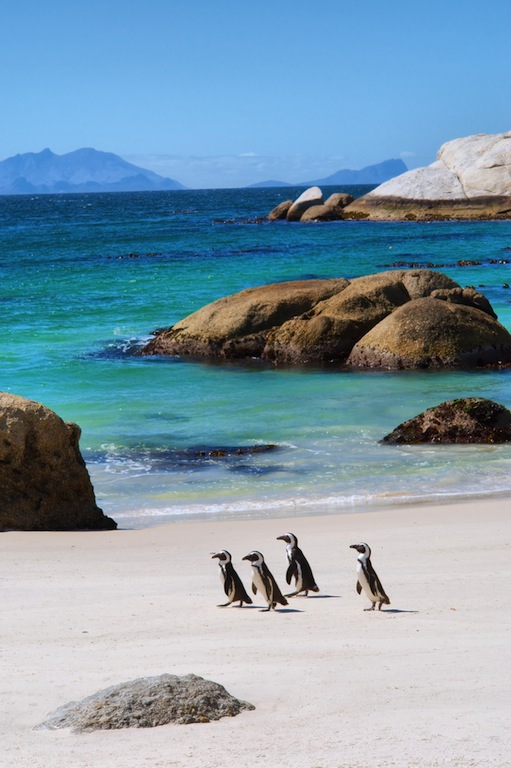 The mainland penguin colony at Boulders Beach near Simonstown is one of 27 recorded penguin colonies in Southern Africa. Boulders houses one of two mainland penguin nesting sites. The other one is near Betty's Bay.
The colony at Boulders has become a major tourist attraction where people can not only watch the penguin from raised pathways, but also can get close to the little birds and swim with them in the turquoise blue, and quite warm, lagoon waters. This is something which you can find nowhere else in the world.
The colony recorded their first pair of breeding penguins in 1985; from then on the colony has grown constantly and now consists of roughly 3000 penguins.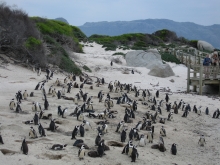 To visit the Boulders Coastal Park which is part of the greater Cape Peninsula National Parks, you will have to buy an entrance ticket either at the information centre to the Penguin Colony or a ticket at the Southern entrance to the lagoon, where there are also shower and toilet facilities. But you can also watch the little creatures from raised pathway which stretches between the information center and the beach.
African Penguin Rehabilitation
SANCCOB (Southern African Foundation for the Conservation of Coastal Birds) is a non-profit organisation which rehabilitates injured seabirds. Every year SANCCOB releases rehabilitated penguins on Penguin Awareness Day and this is quite a spectacle. 
In 2012, a total of 1683 breeding pairs of African Penguins were releases according to SANCCOB . This organisation is always happy to take on volonteers and donations helping them to keep the seabirds and sweet little penguins healthy and fit. They are located in Blouberg adjacent to the Rietvlei Nature Reserve. If you find an injured seabird or have any queries regarding seabirds, get in touch with them.
SANCCOB also do educational tours at their Blouberg centre and are happy to show you around. They even have a adopt a penguin program, so if you want to make a different present or gift how about adopting a little penguin? More info here. 
More about African Penguins, anyone? 
- Read more: Easy to read Penguin facts, with lots of fun info.
- Watch a film: "City Slickers"
This is a movie for the whole family, a really delightful story of two little penguins which is filmed at Boulders Beach.
The film by award winning wildlife film maker Trevor de Kock tells about the adventures of Henry and Margot two of the Boulders Colony's penguins.
The story concentrates on the lives of these aquatic birds in and around Boulders Beach. It is well-worth to watch the 53 minutes of wildlife documentary.
I am sure, not only your children will love the pictures. The movieIt is available at bookstores and directly at Pelican Pictures. 

Back to Cape Town Attractions 


Return from African Penguins to ExpatCapeTown
Aug 02, 17 03:29 AM

Your Expat Guide to the Best Cape Town Events in August 2017 with information and links to the event organizers.

Aug 01, 17 05:15 AM

Our Cape Town Wildflowers guide 2017 shows you where to admire great wildflower displays and tells you about the most popular wildflower festivals of the Western Cape.

Jul 20, 17 10:41 AM

Read our Expat Interview with Francesca, an Italian living in Cape Town here.