Robben Island
Nelson Mandela Gateway &
Cape Town's old Prison Island
Robben Island which lies 15km off Cape Town Waterfront, is so much worth a visit especially on a sunny day like today.
Take a tour on Cape Town's famous prison island and learn about Cape Town's history. You will start your trip at Nelson Mandela Gateway at the V&A Waterfront, next to the red Clock Tower. The standard tour will take four hours and includes the ferry trip across Table Bay.
Cape Town's 'Seal Island', this is "Robben Eiland" in Afrikaans, is known worldwide for the prison camp on the island during Apartheid times.
Take the ferry across Cape Town's Table Bay and enjoy the glorious views back to the Waterfront on the 30 to 60 minute boat trip on board on of the ferries. It's best to prebook your tour via the safe booking site of webtickets.co.za, see more info below.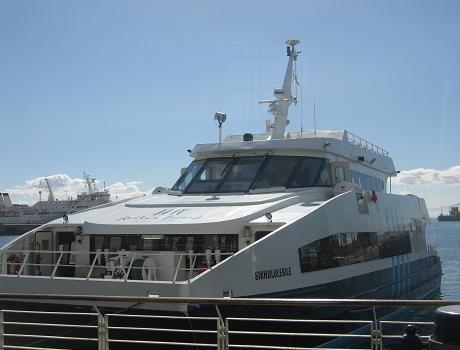 The Sikhelekile - Island Ferry
After you arrive at Robben Island harbour, you will step onto a bus where a guide will join the tour group and  tell you about the islands history during the 45-minute bus tour. The tour guides inside the prison are former political prisoners and will share their personal stories and insights. The tour includes:
Lime and the Bluestone Quarry

the graveyard of people who died from leprosy

the maximum security prison and Nelson Mandela's cell

Robert Sobukwe's house (see in image below)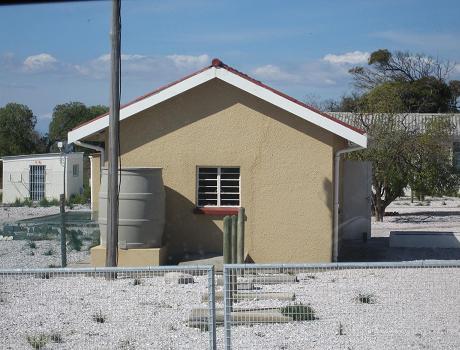 Robert Sobukwe's house
Robert Sobukwe stayed there for 14 years isolated from the other political prisoners. He was not even allowed to talk to the guards!

Brace yourself for the stories your will hear during the tour, they are really disturbing, but so important to share!
You will also see the room where Sobukwe's four children would sleep when they could visited him later on during his 9 years of solitary confinement on RobbenIsland.
South Africa's most famous prisoner, former South African President Nelson Mandela, was also imprisoned on the island for 18 years, from 1968 until 1982.
His cell can still be seen in the prison building as well as the quarry where Mandela and the other inmates had to work.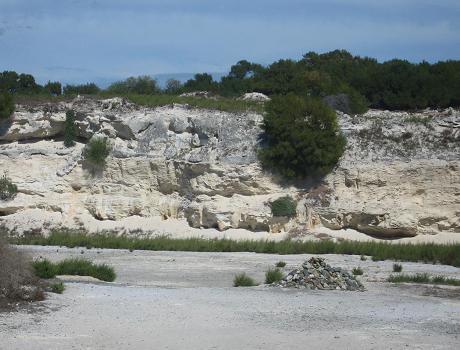 Quarry
The island was declared a Unesco World Heritage Site in 1999 and now houses the Robben Island Museum Complex. There is the guided bustour you can book, but you can also do guided self-walk tours around the island.
On your tour around the island you will not only have wonderful views across the bay towards Table Mountain, but you will also see the prison guards' quarters, stop at the church and and the Muslim kramat.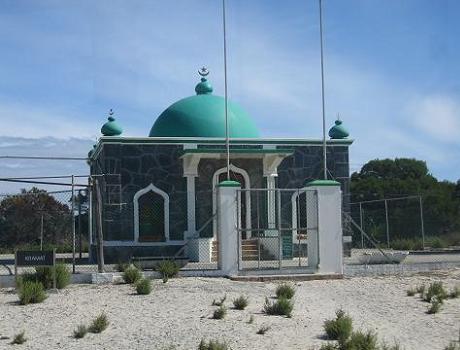 Muslim Kramat
The tour ends with a guided tour through the maximum security prison by an ex-prisoner, where you will also see Nelson Mandela's cell.
On the way back to the ferry you also should have a look at the little Museum Shop next to the ferry, where you can find fine picture books on the history of the island, Cape Town's history and South Africa's apartheid struggle.
Make sure to get more info on about the island and Nelson Mandela's struggles and visit the excellent exhibition at the Nelson Mandela Gateway with great information displayed on big boards, posters, films and much more.
How to book your Robben Island tour?
When? There are three tours daily.
The ferry departs at 9am, 11am, 1pm and 3pm (additionally in peak season), weather permitting. Refunds are granted with cancellations (own cancellations only up to 48 hours before the trip), but proof of ticket and ID are necessary.
How much? Adults: R300, Children under 18yrs: R160
How to get tickets? Simply book online through www.webtickets.co.za
What to bring? Windproof jacket, hat, sunglasses, sunscreen, comfy shoes and a camera, if you want to take pictures. Beware that departure gates close 10 minutes before departure. So be at least 30 minutes before departure at the gate.
So book your tickets online and have an exciting and eye-opening trip!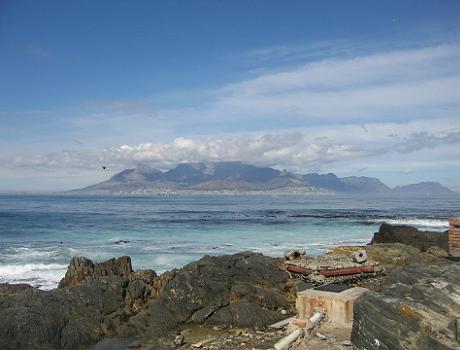 Go from Robben Island to more great Cape Town Attractions

Return to ExpatCapeTown Homepage
Nov 11, 19 09:36 AM

Find out about the best Cape Town car rental companies and read our top car rental tips.

Nov 05, 19 04:15 AM

Here are the best Cape Town events in November 2019 with festival listings and tips on what to see and what to do when in Cape Town

Oct 28, 19 05:06 AM

Find the best activities for teenagers in Cape Town in our ExpatCapeTown updated listing. Lots of fun things to do for teenagers in South Africa!