Muizenberg
Cape Town's popular Suburb and Resort Town
Muizenberg is located on the False Bay Coast of the Cape Peninsula, a 40-minutes drive to the South of central Cape Town. The popular beach resort stretches out along the Indian Ocean and lies at the foot of the False Bay Table Mountain massif. The seaside town has been awarded blue flag status  annually since 2008 the for its clean waters and the attractive beach with the colourful beach huts.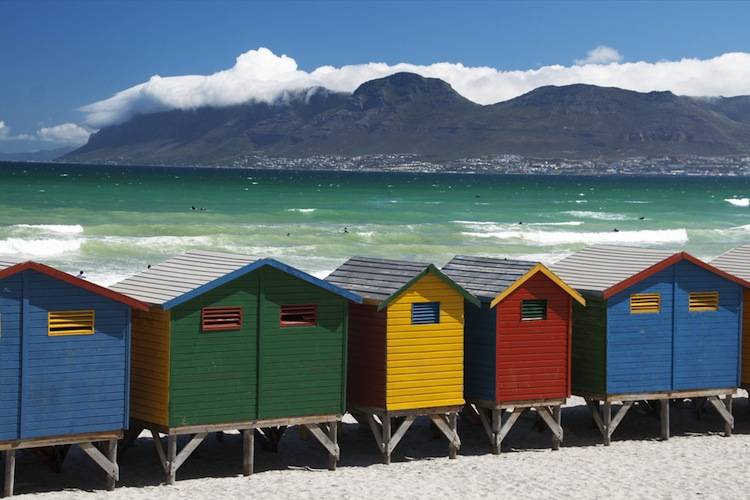 Colourful Beach Huts
Here, you will find a fine white sandy beach which stretches along False Bay to Strand, some 20 km to the east. To the west the beach ends at Surfers Corner. There are lifesaver's manning the main beach which is popular with surfers and swimmers alike as the ocean is warmer here than at the Atlantic ocean beaches of the peninsula, such as Camps Bay or Big Bay.
At a Glance
Population: 37,000 residents, multiracial, main first language of population is English (latest census in 2011)
Location: On the Cape Peninsula, south of Cape Town, GPS-Coordinates: 34°06.3′S 18°28.3′E
Distance to Cape Town CBD: 25km
Driving Time to Cape Town Central: 40 min on the M5/M2, in Rush hour: 90min, between 7.00 and 9.00 as well as 16.00 and 18.00. Driving time from Cape Town International Airport 35 minutes drive
Train: 50 mins from Cape Town Station. The trains leave every 10-15 mins. See the Metrorail timetable.
Shopping: Checkers, Pick n' Pay, Kwikspar, Woolworths
Hospital: Constantiaberg Mediclinic
This seaside resort is not only a surfers paradise and attractive for the younger generation but popular with families and retired persons alike. Lifesavers and Sharkspotter are posted at the beach and occasionally the beach has to be closed to shark activity in the bay. Nevertheless this beach is among the favourite beaches for surfers in Cape Town due to its shallow waters and abundance of waves for stunning long wave rides especially great for novice surfers.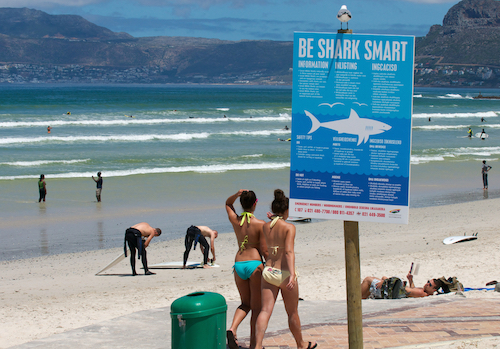 On Muizenberg Beach
The town's 'Surfers Corner' at the western end of the beach beneath Boyes Drive is extremely popular with young people, as there are all the surf shops, where you can rent equipment or book a course.

The long promenade is great for walks and next to a huge area for entertaining kids and the young at heart. There are several wooden climbing frames along the beach for the little ones and next to the beach promenade you will find a playground, mini-golf or putt-putt and kids swimming poolsand a waterpark with a supertube (water slide) as well. The pavilion at the waterfront promenade houses the Tourism Center and includes a conference center.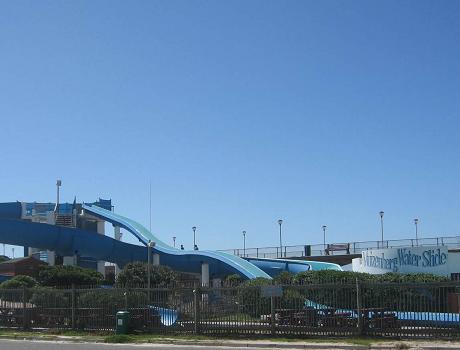 The Supertube in Muizenberg
Living in Muizenberg: Facts
Transport: The suburb is well connected to Cape Town CBD with the M5 highway and the M4, Main Road. There is also the option to use the Metrorail trains to Cape Town CBD. There is also the possibility to the the popular scenic train trip to Simonstown.
Shopping: There are several shopping facilities in town with the 'Checkers' and 'Pick n'Pay' supermarkets being the biggest. There are some bigger shopping centers also outside town on the M5 towards Lakeside and the Kwikspar and Woolworth Center on the M4 (Main Road). There are some smaller boutiques in town and many popular restaurants and bars attract local and tourists alike.

Housing Prices for a 3bedroom house start from R1,5 million. Rentals for a 3bedroom house from around R12,000. There are various rental agents such as Seeff, Pam Golding, Remax, Engel & Voelkers, Jawitz or Chas Everett. Contact us for more info.
Medical Facilities: located in smaller practices but there is 24 hr service at Tokai Medicross and Constantiaberg Medi Clinic. The nearest private hospital is Constantiaberg Medi Clinic.
Schools: There is a public primary and high school, the International School in Wynberg is a 15 minute-drive away.
Sporting Facilities: All kinds of water-based sports activities. There is also a yacht club and canoe club at Zandvlei and you will also have quick access to fabulous Westlake Golf Course a mere 10 minutes outside of town. Further hiking in the Table Mountain Nature Reserve as well as a scenic walkway/promenade linking the town with St James further along the western False Bay coastline.
Restaurants: Lots of coffee shops, small eateries and dining out options ranging from Italian to Thai specialty restaurants.
Arts and Culture: The main attractions are: The Old Posthouse, Rhodes Cottage, Casa Labia Cultural Centre, Masque Theatre. There is a flee market where you can find almost everything:-) every Sunday and on public holidays on Royal Road next to the Traffic Circle at the False Bay End of the M5.
There is a quite vibrant international community living in Muizenberg. The town slowly sheds its shabby chic and develops a younger and more sophisticated atmosphere. There are plenty of backpackers hostels as well as more luxurious bed & breakfast and guesthouse accommodation for short stays. A variety of church communities with an active Hebrew community.

Interesting Muizenberg History
Muizenberg was founded as an outpost of the Dutch East India Company in the late 1700. The name of the town obviously stems from its first postmaster called Muys. In 1822 the railway line helped forming a little town at the foot of the mountains. 
The town had until then only comprised some farms. After the gold rush started in South Africa in the late 1800, many of the rich entrepreneurs built seaside cottages for their holidays at the Cape. It was a booming town in the early 1900. Many mansions which are recently going through a major renovation process were built then as well as a theater, post office and library. In 1929 the Pavillion was built at the promenade.
Famous people who stayed here are Sir Cecil Rhodes, whose cottage still can be visited during summer time and Sir Rudyard Kipling who stayed in this fashionable False Bay town too. And Sir Herbert Baker build some magnificient homes here.
Annual Event: Muizenberg International Kite Festival
Make sure to book the date: The International Kite Festival is a wonderful attraction to visit from 31 October to 1 November 2015.

The Kite Festival is well known not only in South Africa but by kite enthusiasts from around the globe who participate in this annual Cape Town event which takes place in October.

Images on Muizenberg: Neil Bradfield on Shutterstock and own images
Return from Muizenberg to ExpatCapeTown Homepage 

Oct 18, 19 07:10 AM

Try our simple and delicious South African bobotie recipe and learn where to find the best bobotie restaurants in Cape Town.

Oct 18, 19 06:52 AM

Expat Guide to Banking in South Africa: FAQs Money Matters in South Africa | Where to bank? How to pay?

Oct 01, 19 05:43 AM

Our listing will show you the best Cape Town events in October 2019. Enjoy life in Cape Town!