Living in South Africa Book

South Africa Expat Guide Book - also available as e-Book


Helping you to settle in more easily in Cape Town/South Africa

Our Living in South Africa book will tell you all you should know about South Africa, whether you are an expat or a South African, a foreigner or a local. Read our testimonials here.

The comprehensive and practical expat handbook with 296 pages on moving to, working in and enjoying life in South Africa is useful to all interested in embracing life in this beautiful country. 

This guidebook is a must-read for all planning to make South Africa their new home. Now also available as ebook, easy to download as either .pdf or .epub. Read more.

The 'Living in South Africa' book is an ideal gift for your business partners and guests and can be branded and personalised with various options such as bookmark, gift box, a personalised first page or even a branded book cover.Visit the Living in South Africa website and blog here 


View 18 sample pages here

Living in South Africa Gift Box
What you will find in our Living in South Africa book


The carefully researched information provides in-depth insights on South Africa and is useful for expats, business travellers, visitors, future expats as well as locals who simply want to know more about this beautiful country. The guide book is complemented with personal experience and includes a plethora of helpful hints and recommended resources for further guidance. The book contains 296 pages in colour-coded sections with plenty of graphics and photos for easy reference.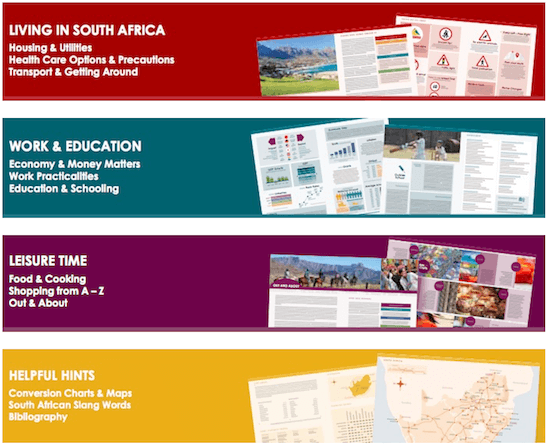 This is the first South Africa guide book of its kind and you will not only find lots of facts, but also plenty of helpful tips, links and resources useful for a smooth and manageable settling-in process.

The book has been extremely well received by international companies and organisations dealing with exchange students and business visitors from all over the world.
Written by German expat Regina Gräff, editor of ExpatCapeTown, and South African Derryn Campbell, co-founder of Awesome SA and author of the best-selling book 'Awesome South Africa', this practical guide book about South Africa is based on a rich collection of personal experiences and insights. 
| | |
| --- | --- |
| | Simply click the button below to go to the order page on the Living in South Africa website, click on the paypal button, pay your ebook and the e-reader in either .pdf or .epub format will be on the way to you. |
Join us and the Cape Town Expat Community
Also make sure to visit and like our fb group Living in South Africa and join our Expat Cape Town forum and like our ExpatCapeTown page.
Become a member to be up-to-date with the newest facts and statistics as well as getting answers to your special queries from other forum members.

Like us on Facebook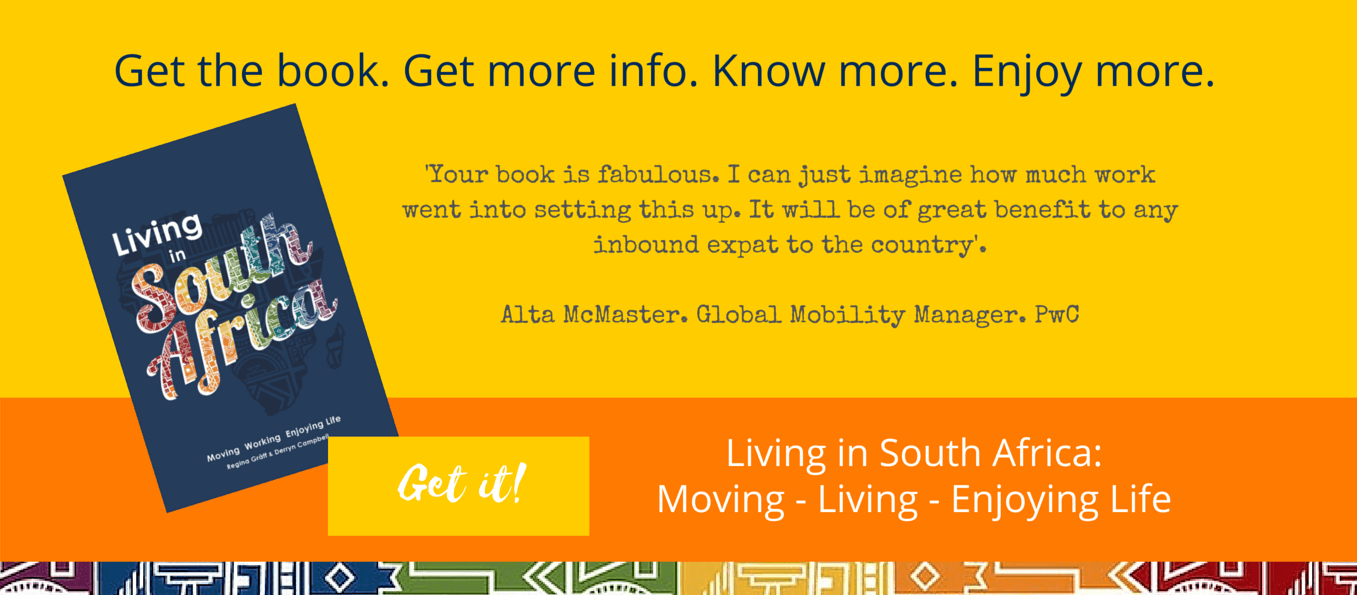 Mar 28, 17 06:24 AM

Read all about the best Cape Town events in April 2017 with links and info. Additionally expat events and where to find the best events and shows in Cape Town.

Mar 09, 17 10:34 AM

Chapmans Peak Drive is one of the best scenic drives in the world and is one of the main attractions in the 40th Cape Town Cycle Race.

Mar 07, 17 07:39 AM

Our Moving to South Africa information will provide useful tips and advice for all expats moving to South Africa.