Cape Town Decorex 2016
Decorex Exhibition at the CTICC 
The Cape Town Decorex in 2016 is a Cape Town exhibition which everybody interested in leading-edge home design and the newest décor styles should pay a visit.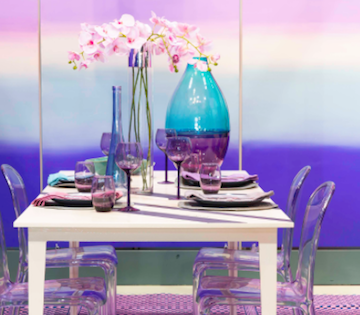 Decorex Cape Town brings together the most exquisite collection of design icons and rising stars. The multi-award winning show is now in its 18th year and gives the latest directions in design and décor, the high-end, the handmade and pure inspiration.
Not only Cape Town's architects and interior design professionals flock to this annual trade highlight on the first day of the home design exhibition which sheds light on the shape of the built future. All the other days regular visitors can enjoy the trend-setting exhibition which also offers an abundance of unique accent pieces – from modern collectibles and signature pieces to the kitchen sink.
What are the Cape Town Decorex 2016 exhibition highlights?
Spot inspiring ways to add impact, value and style to your space with this forward-looking collection of high end exhibitors – from established design icons to new names, fabric houses to retailers, captivating roomscapes and new reveals. The focus for the 2016 Decorex is on indigenous interior design and 'African Style'.
The Cape Town exhibition highlights for the 2016 Decorex include:
Designer Spotlight: Well known Cape Town stylist and interior designer, Adriaan Lochner will depict the show theme, in collaboration with fabric design house Home Fabrics. 
Decor and DIY Theatre: The theatre will feature in 2016 highly visual presentations, talks and interactive advice-sharing on various lifestyle topics.
Considered Home, the new 2016 feature by Goodwood Co. which will highlight the now trending looks.
African inspired Trend pods showcase the respective designers and their interpretations.
...and various competitions and so much more!
Mingle and refresh
Bubbly Bar and the Build Bar will entice visitors to meet up with fellow trend-spotters. Relax and taste some tapas or sushi or sit back and enjoy a boerie roll or burger. 
When is the Cape Town Decorex Exhibition?
Venue: CTICC, Cape Town International Convention Centre. Foreshore
Opening Times: April 29 - May 2, 2016 from 10h00 until 19h00, Monday until 18h00.
Tickets: R85 for Adults, R75 for Pensioners and scholars R20 for Children under 12
For more information or to purchase tickets visit the exhibition website of the Cape Town Decorex
Decorex Cape Town forms part of the Decorex SA portfolio of decor shows and is owned by Thebe Exhibitions & Projects Group. Plascon is the main sponsor of Decorex SA and DStv is the media partner
Source incl. pictures: Media Release by Decorex (edited)
Read about more great Cape Town Events in May 

From Cape Town Decorex to ExpatCapeTown Guide
Oct 18, 19 07:10 AM

Try our simple and delicious South African bobotie recipe and learn where to find the best bobotie restaurants in Cape Town.

Oct 18, 19 06:52 AM

Expat Guide to Banking in South Africa: FAQs Money Matters in South Africa | Where to bank? How to pay?

Oct 01, 19 05:43 AM

Our listing will show you the best Cape Town events in October 2019. Enjoy life in Cape Town!