Amigos para Siempre
With the Amigos para Siempre concert series, lovers of Latin-inspired music are in for a treat this October.
The three concerts feature three internationally recognised artists, including acclaimed Cape Town based Flamenco guitarist Saudiq Khan; renowned concert pianist and musical entrepreneur Christopher Duigan; and South Africa's leading guitar maestro James Grace along with an exciting line-up of talented local artists.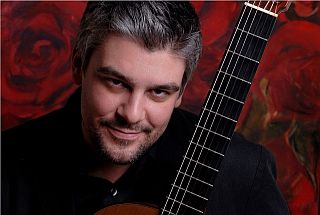 Concert Dates
17 October: Saudiq Khan, featuring Andre Webb (bass) and Robert Davids (Cajon)
24 October: Christopher Duigan, featuring Maxene Matthews (Saxophone) and David Salleras (Saxophone)
31 October: James Grace featuring Bridget Rennie-Salonen (flute), Vasti Knoesen (Mezzo Soprano) and Marie Claire de Villiers (Soprano)
The Latin Music concerts are presented by Stringwise Records.

About the Latin Music Concert Series
The concert series is coordinated by James Grace, who is head of UCT's College of Music's Guitar Studies. He explains the forthcoming series follows from the success of the Magnum Opus concert series hosted earlier in the year." This time we wanted to involve more artists on stage, hence the amigos (friends) theme, so each concert involves several musicians performing in various ensembles. The Latino theme enables us to do that with great variety.
"We are delighted to provide a platform to showcase the versatility of our world-class musicians and are thrilled to be introducing the celebrated Spanish saxophonist, David Salleras, to local audiences," adds Grace. Salleras, who is based at the Barcelona Conservatoire, is considered one of Europe's most exciting and innovative composers and performers.
More about James Grace at www.jamesgrace.co.za
Latin music concert series: Amigos Para Siempre
When? Wednesdays October 17, 24, 31 at 8.15pm
Where? Chisholm Recital Room (C7) at the South African College of Music at UCT (opposite the Baxter Theatre) at 8.15pm.
How much? Tickets are R80 and include complimentary wine. Students pay R50.
Bookings? Call +27 79 632 4613
Find more information about the event on www.stringwiserecords.co.za
Source: Thanks go to Alby J Aupiais
Return from Amigos Para Siempre to ExpatCapeTown Homepage

Jul 20, 17 10:41 AM

Read our Expat Interview with Francesca, an Italian living in Cape Town here.

Jul 19, 17 01:46 PM

In our expat interview with Fernando from Brazil you will find out what makes Cape Town so attractive to expats

Jun 19, 17 12:31 PM

Know what you should consider when moving to or living in Cape Town with kids. What makes Cape Town living so special for families? Read more here.