Advertisements/PR
You are wondering how to place an advertisement on our popular Cape Town expat guide? ExpatCapeTown is the Mother City's biggest expat guide specifically written for expats living in Cape Town and the starting point for many expatriate, business traveller or tourist as well when researching a stay or potential move to Cape Town/South Africa.
Place an advertisement to the expat community and benefit from our worldwide expat network when partnering with ExpatCapeTown and benefit from our worldwide network. One of South Africa's most comprehensive expat blogs with over 300 pages of information related to moving to, working and living in Cape Town, our award-winning ExpatCapeTown blog reaches over 280,000 readers from over 160 countries per year.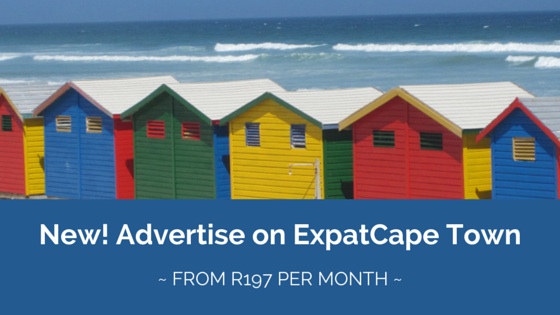 Our unique Cape Town guide provides invaluable insights and shares relevant news on a multitude of platforms. ExpatCapeTown is the Mother City's foremost blog for expats created by expats.
Our newsletter and Facebook forum grow every month and are expected to increase further in readership due to the additional exposure that marketing initiatives for the our expat guide book ' Living in South Africa' provide as well.
Advertising on ExpatCapeTown
ExpatCapeTown's aim is to provide expats from all over the world with reliable and useful information regarding their relocation and to introduce them to relevant services and support structures for their unique expat needs when moving to and settling in South Africa to make their stay an enjoyable and successful one.
We want our readers to be informed and up-to-date with current events and supportive services in the Mother City and thus invite local and international businesses in the tourism and lifestyle sectors to introduce their unique services to our growing network.
Our marketing services are open to the expat related travel and lifestyle industry:
relocation companies and immigration consultants,
housing, property and rental agents,
events and leisure coordinators and the hospitality sector
businesses in the educational and financial sector
all who provide relevant first-class services to the Cape Town expat community.
We invite these businesses to contact us to share their insights and to receive exposure in our wide network. We partner with local businesses using various channels such as our unique ExpatCapeTown.com website, our newsletter and facebook group and social media channels.
ExpatCapeTown in Numbers
The ExpatCapeTown readership can be described as follows:
Website ExpatCapeTown.com:  26,000+ unique visitors/ 75,000+ page views per month (as per March 2015)
Alexa ranking: 798,000 (April 2015)
Newsletter: 3,000 +subscribers (April 2015)
Facebook Forum Expat Cape Town: – 2,700 members (as per April 2015)
Twitter: @expatlivinginsa 
The ExpatCapeTown reader profile according to Google Analytics:
47% South Africa
12% USA
7% from the UK
6% from Germany
The top 10 countries where our readers are based or come from: USA, South Africa, UK, Germany, China, EU, Netherlands, France, Canada, Australia
Key readership:
Professionals, expats, business travellers
Spouses and life partners of South African citizens
Global nomads and travellers
Backpackers, volonteers and interns
Average Age: 25-34 years
40%+ readers use mobile devices
Your Advertisement Options
1. Ads on specified topic page: in-text image ad placed above the fold in the right column - max. ad size 160x600 - or in main body text - max. 336x280. Page selection as per discussion and request. Max. of two advertisers per page. Live website link and three social media links are included. Text and design will be supplied by you.

Original Ad Size: 336x280
2. Newsletter advertising: in-text image ad, designed and supplied by you, placed above the fold in the main body text. Size: 480x60Your company will benefit from additional exposure and our unique marketing strategy. Text and design will be supplied by you.


Original Ad Size: 480x60
3. Profile page of your business. Share your business services and offerings on a specific business page, complete with your logo, photos, content (provided by you, editorial changes will be discussed) 
4. Listing of your business on our new 'Business Listings' pages. Advertise your business with a button image ad and short description of your business operations and services. Max. 100 words with live link to your website.
Cost of Advertisement
The prices for advertisement on ExpatCapeTown are as follows:
Business ads on topic page: R250 per ad/per month. An additional once off set-up fee of R500, if the ad is to be designed by us (applies to all ad formats).
Discounted annual subscriptions for business ads on topic page: R2,500 per ad including reduced once-off set up fee. This price equals R197 per ad/per month
Job/Property Ads: R400 per ad/per month, the ad will be posted on one specified page. The content can be changed  once. This price includes two ads per month. 
Discounted annual subscription for Job/Property Ads: R4,000 for 2 ads each month and a total of max. 24 ads per year.
Newsletter Ad: R1,000 per newsletter edition

Profile Page: Please contact us regarding your requirements for a quote. Prices start from R2,000 per page/year and will include the once-off set-up fee.
Business Listing: R600 for six-month long listing or R1,200 per year
All rates payable in advance. Subscription has to be renewed by you monthly or annually and will not be renewed automatically.
Due to limited availability of space, we advise to book and renew your advertisement space as soon as possible to avoid disappointment.
We are looking forward to sharing your news, insights and new releases within our community.
Please be advised that ExpatCapeTown.com will reserve the right to refuse any advertisement which is seen as contradicting to our values. We do contain full copyright to contents on the website. We do not sell text ad links and we do not take responsibility for availability of your products advertised on our site through your ad. Sponsored guest posts and press trips/tours and visits are accepted subject to our editorial guidelines.
Please contact us to discuss your requirements on the form below:
Looking forward to hearing from you.
Enjoy life in Cape Town or wherever you are.
Back to ExpatCapeTown Homepage
Apr 19, 18 12:29 PM

Rooibos Tea is unique to South Africa. Read here the most important facts, about the origins, uses, health properties of Rooibos and shopping tips

Mar 19, 18 08:00 AM

Our page on Cape Town water shall help to answer your questions regarding the water situation in Cape Town

Mar 14, 18 10:00 AM

Save the Date! World Travel Market Africa will take place again from 18 - 20 April 2018 at the CTICC