South Africa Crime
With Special Info on Carjackings in South Africa
When you are moving to South Africa crime and safety will be a major concern. Your and your family's personal safety takes priority when planning to move into unknown places. And coming to South Africa is a risky adventure if you believe the reports in foreign newspaper articles.
But trust me when living in South Africa crime probably will not have to personally affect you, but you need to make your homework before venturing in any new territorty.
Read more general information on crime in South Africa here.
In my concise guide to staying safe in Cape Town, you will find some practical tips for your personal safety when holidaying or living in South Africa.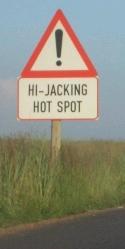 After the Worldcup there were quite a few unsettling stories about carjackings in South Africa and probably a look into the South African crime statistics does not really put your mind at peace. But have a look here nevertheless to know what I am talking about.
South Africa Crime Statistics 2009
The most up-to-date official South Africa crime statistics from April 2008 until March 2009 tell about an 5% increase in carjackings in the last year with close to 15,000 carjackings in South Africa. Theft of cars from premises are however went down 7% in the last year. So let's take a look into the issue of car hijackings.
Car Hijackings in South Africa
In the recent news there were several reports about further increasing car hijackings after the Worldcup 2010. Fortunately Cape Town is not hit as badly as many other parts of South Africa and hijackings were not taking place as much as in other parts of the country neither.
Special safety precautions should be taken when driving in South Africa with special attention in some areas around Johannesburg and Gauteng. However recently also some Durban areas were badly affected by this type of crime.
As in many other parts of the world cars are often popular targets for criminals and so cars are either stolen from your premises or hijacked at some often well known spots.
Which cars are targeted in carjackings in South Africa?
According to an article in the Mercury Newspaper on August 2, 2010, the most popular cars taken in car hijackings in South Africa are:
Toyota RunX, Toyota Hilux, Toyota Corolla, Opel Corsa bakkies, VW Polo, VW Golf and Isuzu bakkie.
An increase in stolen cars of lower value was noted as well as a decrease in hijackings of large SUV's (Sports Utility Vehicles). This could be because the more expensive cars are often fitted with highly sophiticated car tracking systems and are easier to notice.
According to Police Spokesman Jay Naiker: "It seems that people are hijacking vehicles because they need transport or want to go on a joy ride. In some instances, they only hijack vehicles so that they can remove the sound systems or other valuables." He also added that most of the cars were recovered also soon after being hijacked.
"There is a trend towards the theft and hijacking of commercial rather than passenger vehicles.
Certain models of Toyota Hilux are popular because of the ability to use the engine in Toyota Quantum taxis, the Nissan 1400 is continually popular because it is very simple to steal, the Hyundai H100 is popular, and the Toyota Siyaya minibus taxi."
Where are the most dangerous car hijacking hotspots?
According to the police statistics on south Africa crime, current hijacking hot spots in KwaZulu Natal include Pinetown, Bayview, Chatsworth and with a recent spike of carjackings in Durban's CBD.
In the Gauteng the hotspots are around Johannesburg Central, Booysens, as well as Bramley, Sandrinham and Sandton. Germiston and Benoni are high risk areas as well.
Please check out the Gauteng map for carjacking hotspots by the South African Police.
Carjacking Hotspots in Cape Town
In the Western Cape carjackings are luckily not happening near as much as in the other two provinces. But around Cape Town the most risky areas are: Mitchells Plain, Khayelitsha, Nyanga and Gugulethu.
But these are areas where most of the crime happens in Cape Town and these are areas which you should avoid for various reasons. Just go in with people who know these areas and townships well.
Here is a map of the Cape Town areas where most of the carjackings occured in the last year according the South African Police.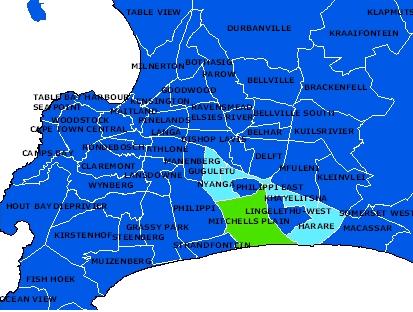 Where and when to take extra caution regarding carjackings?
• Be careful when going home from collecting a meal at a take-away outlet and dining at restaurants, especially on Friday and Saturday evenings when hijackers most often take the vehicle when you arrive at home and they also rob the household.
• Take extra care at petrol stations and garages as well as supermarkets and convenience stores as these are often used by hijackers and thieves to spot targets.
• Be aware that with some special customised number plates, like the WP plates, may attract hijackers.
• Weekends, especially Friday and Saturday evenings most hijackings and most of the South Africa crime happens?
Take these points into account when making your plans or going out. For example allert your armed response team to meet and greet you at your house when coming home on Friday night.
More info on How to avoid hijackings
The National Hijack Prevention Academy (NHPA) offers training courses and has got a great nine page document with lots of useful information on Hijacking for free download on their website.
Check out this most useful infomation with plenty of tips and advice by the NHPA below.
Hijacking Prevention Guidelines
So be prepared, stay safe and enjoy your time in South Africa!
If you would like to get more Insider Tips, make sure you subscribe to my monthly ExpatCapeTown Newsletter here.
Go to More Crime and Safety Info

Return from South Africa Crime to ExpatCapeTown Homepage