Hout Bay Beach
Spendid white sandy beach, freshest seafood, whale watching and plenty of fun
Fancy a fabulous day out at Hout Bay Beach? Looking for great seafood places in Hout Bay? Then this page is for you...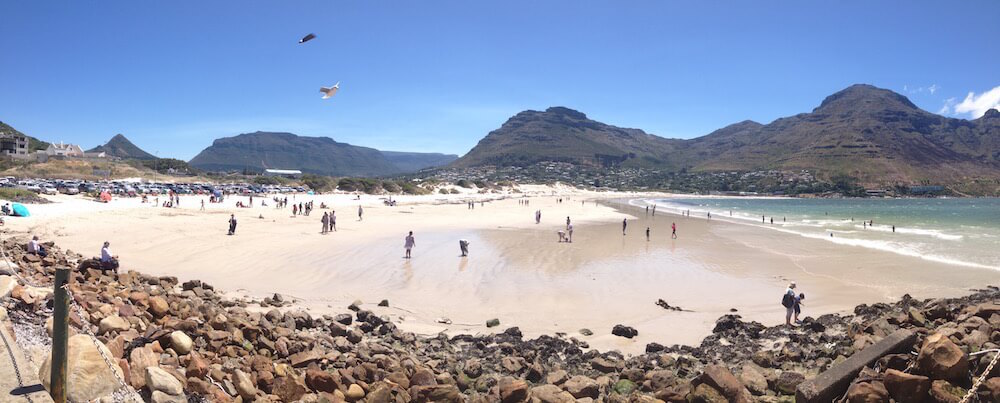 Hout Bay Beach on a weekend in December 2015 - never too busy and beautiful!
Hout Bay is one of the popular seaside villages to the South of Cape Town and located only a fifteen minutes drive to the south of Cape Town City Centre. The sprawling fisherman's village which calls itself proudly 'Republic of Hout Bay' and even has got its own consulate, still offers a very relaxed holiday atmosphere and features on many travel magazines and shows around the world.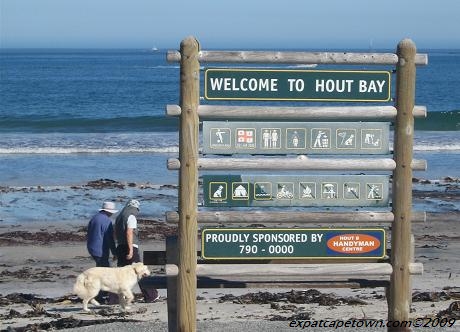 Hout Bay Beach is a wonderful place to have a lazy day at the beach or sitting in one of the popular beachside eateries sipping your coffee latte or a colourful cocktail. Or visit the popular Hout Bay market on the weekends. So even in winter, when the sun is out and feels warm as in summer, make sure you explore Hout Bay Beach or one of the other fabulous Cape Town beaches.
In summer, is the beach in Hout Bay a great place to laze in the sun, take your suntan lotion, take some towels, your surf board or beach ball and go for a nice day out at the wide sandy beach between the Mariners Wharf and Hout Bay's Victoria Road which leads up Chapman's Peak Drive.
Cape Town visitors as well as Capetonians enjoy the wide shallow beach at Hout Bay and the white dunes which shelter the beach from northerly wind. Kids play in the sand and splash in the water and enjoy having their friends around at children's beach parties like here at Hout Bay Beach with Mariner's Wharf and the Hout Bay Harbour in the Background. You can walk along the beach to but midway have to take a few steps through the Disa River which forms a tidal lagoon to reach to the other side of the beach or walk along the white sand dunes at the beach or enjoy the sun setting over the Atantic Ocean. Or watch the whales and dolphins frolicking in the waters. Whales might be in the bay from July to October and it is especially recommended to go on a 40 minute boat trip to Seal Island/Duiker Island. Boat excursions take off from the harbour at regular intervals and also can be booked in advance.
Restaurants at Hout Bay Beach
Mariner's Wharf: For an authentic South African seafood feast you have to try this popular restaurant at Hout Bay Beach. At the harbourside, you will find the excelle

nt Mariner's Wharf Restaurant

, where you can get real authentic seafood chowder, enjoy their delicious seafood basket and other great seafood delicacies. The veranda on the first floor makes for good views over the Hout Bay Beach but the interior is well worth a visit too as you are sitting in wonderfully re-built cabins of the historic ships.
The Lookout Deck: Another longtime favourite is located on the other end of the harbour road. If you wander down the Harbour there is also the lovely

 Lookout Restaurant

 in the Yacht club where you not only can enjoy great salads and fish and chips but also the most tasty seafood platters. Here you will sit right next to the Ocean on a deck and watch the yachts in the harbour moving up and down with the waves and will have this splendid view of the village and the Hout Bay Harbour.
Dunes at the Beach: If you are on the eastern side of the village closer to the Chapman's Peak side, you will find the very po

pular Dunes Restaurant right by the beach. This is

a great place for families as they have a huge enclosed playground next to the restaurant. There is a lively atmosphere and on weekends you will have to be prepared to wait for a table. Expect to feel the sand between your toes...
Kitima at Kronendal: Not located on the beach, but in town, however, we needed to make sure you know where to go when you have to celebrate in style. Amazing fine dining, with excellent seafood as well. The Asian food selection is truly delicious and the ambience is great if you have some special celebrations.
Snoekies: This is certainly another very popular seafood and fish restaurant in Hout Bay's Harbour Road. Excellent fish and chips and delicious seafood platters - this place is popular also with locals, canteen-style and take-away, and oh so lekker!
More about HoutBay Beach
Distance from Cape Town: 30 minutes from CBD
You will find s

ome craft shopping facilities as well as the fish market in Harbour Road, for some serious shopping you have to go to the Hout Bay Village or Hout Bay's 'Mainstream Shopping Centre' where you will find plenty of stores from groceries to clothes, book and toy shops. 

The Bay Harbour market is on every Friday to Sunday. More info here.

Estate agents can be found in the Mainstream Mall as well as in Victoria Avenue.

Medical centres are located in Hout Bay's Main Street, Victoria Avenue, Constantiaberg hospital (private Mediclinic) is a 20 minute drive from Houtbay. 

There are toilet facilities at either end of the beach and plenty of parking at both ends of the beach at supervised parking areas.
Jun 18, 19 11:34 AM

Expat Guide to Cape Town Kids Activities and winter school holiday events. Kids Holiday Camps and Workshops for the upcoming June School Holidays in Cape Town

May 23, 19 05:33 AM

Find a Listing of Business Associations in South Africa with Useful Links and Further Resources in ExpatCapeTowns Business Guide

May 07, 19 05:26 AM

There are great Cape Town Events in June 2019 for everyone. What to do? What to see? Have a look which events are on in Cape Town this June.