A very warm welcome to the ExpatCapeTown Newsletter edition for December 2011.

Can you believe it, it is not even four weeks to Christmas! This year was a really busy one for many of us, and now it is already time again to make plans for this year's Festive Season.
Life will get buzzying here in the Mother City as everybody tries to get work done before year's end until mid December when usually everybody slows down due to the summer holiday season and the warmer weather. This is also when many South Africans will go back to their home communities from mid December until mid of January and the tourists and some of our families and friends will flock to our shores for a visit.
I love the special vibe of celebrating the festive season in summer and look forward to the many special markets and festivities in the many local communities.
So in this edition of the newsletter you will find lots of tips for great events to take part in. The Cape Town summer school holidays start early in December, so to keep your kids busy and entertained, you can find some great suggestions for kids activities here.
So enjoy this newsletter and have a wonderful Festive Season in Cape Town!
This is what you will find in this issue of the ExpatCapeTown Newsletter:
1. Hot Tips for Travelers and Expats: Cape Town Design
2. Event of the Month: Festive Season Concerts and Markets
3. Inside Cape Town: Living in the City Center
4. Typical South African: rondavel and fundi
5. Cape Town Insider Tips: Know where to go…?


Hot Tips for Expats and Travelers: Cape Town Design
Cape Town has done it again! Time to celebrate even more:-)
Adding to the many other recently received awards, the Mother City just won the prestigious title "World Design Capital 2014" which was awarded to the city last month in Taipei. This is great news as the designation will bring in lots of great events and projects which are not only being earmarked for 2014 but also more importantly many longterm projects are already being planned and implemented which are designed to have a long lasting effect on the various Cape Town communities.
The designation is regarded as a tool for creating, improving and re-inventing social integration of the various communities living in the Mother City, and thus is an extraordinary possibility to create awareness about social integration of different racial or cultural groups. Furthermore it gives the possibility in re-designing space and creating opportunities to share knowlege about living a better future.
There are a lot of up and coming new "design" areas in Cape Town which currently experience a revival and display some really great vibe. Among these are: The Fringe, the new innovation district which is involving a science park concept. There are many little designer workshops and boutiques, galleries, eateries and coffeeshops popping up in the area. Definitely check out the "Field Office" and the "Bank" when in the Fringe. Then there is Woodstock with many designer and artisan workshops as well as some prestigious galleries off Sir Lowry's Road. Not to forget the delicious food at "The Kitchen". Long Street in the Cape Town CBD is still the main buzzing center for all the little quirky shops with fancy designer wear or artists outlets. And close by Kloof Street leading up to Gardens is a very good location to experience diversity and see the newest of International and African design.
More info on Cape Town Design Capital 2014

For some great inspiration and to see which new ideas young minds in Cape Town came up with, visit the 2011 Student exhibition at the Cape Peninsula University of Technology in Distict Six. This is a great opportunity to get an overview of design students work and the various design fields represented at the faculty. The exhibition runs from November 29 until December 2, 2011 from 9h – 15.30h.
Make sure you also mark these dates in next year's calender too. Design Indaba which celebrates international and local design, art and crafts, is taking place again from March 2 - 4, 2012 at the Cape Town International Convention Center. The three day long conference with more than 30 of the world's top designers will be from February 29, 2012.

Event of the Month: Festive Season Concerts and Markets
This is the season to enjoy getting together with new found friends or making new acquaintances at the various outdoors events in the Cape.

There are so many Christmas markets where you can find beautiful hand-made gifts to treat someone special in your life and there are so many great Christmas concerts during this month, that you will have a tough choice to decide which of the wonderful events to take part in.

And not to forget all those parties which will be celebrated to mark the New Year in the Cape Town. Have a look at my top ten New Years Eve events and have a dashing start into 2012.

New Years Eve Events 2011/2012



And do not forget to check out the many events in my

Living in the Cape Town City Center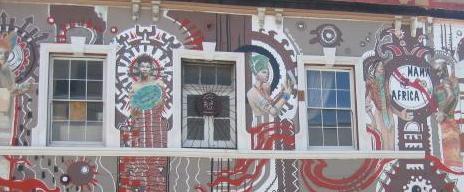 In this section you will find every month insiders' tips and advice about one of the many suburbs of Cape Town. So you know where to stay and where to go. This month I chose to bring you some more info about living in the Cape Town CBD or City Center.
Why the City Center? Cape Town's city center is constantly improving and there are a lot of initiatives to bring people back into town. Although there are still some areas which you should avoid especially after office hours or on the weekends, there are more and more places where especially young professionals enjoy living in the heart of the Mother City. The vicinity to some of Cape Town's colleges and the nearby headoffices of many local and international companies are a major draw when looking for a place to live without commuting in and out of town. Especially young professionals and students enjoy living here, however accommodation in some of the modern buildings are quite pricey.
Where to stay? There is a good range of housing available in the CBD, but mainly in apartment blocks. You will find accommodation in older lovingly renovated buildings or some new modern apartment complexes. Just try to stay away from the area around the main station, even if a lot of measures for improvement have been taken there in the last months.
Where to go? There are many great coffeeshops, restaurants and bars to chill out in the area. Long Street and Kloof Street are well known for having a great night out in the city. There are also various shopping facilities nearby, however mainly smaller shops. For grocery shopping you might consider going further out to the major supermarkets in the nearby suburbs.



Typical South African terms
What is a "fundi"? This is a term originating from the Nguni word "umfundi" which means learner. In Xhosa the word "mfundiwane" becomes in short "fundi" and is used to describe somebody as an "expert". The resourceful website: myfundi.co.za is a South African online encyclopedia which is a collection of expert articles by South Africa's top writers and academics. Have a look and see some South African perspectives.

What is a "rondavel"? This word is used also in the Afrikaans word "rondawel" and means a free standing round building and is typically an African style round hut with thatch roofing. You will find this kind of building mainly as housing in the most rural areas of South Africa or as accommodation at game lodges when these huts usually have all mod cons.


More South African Slang words here.

Cape Town Insider Tips
What else? Have you tried these…?
Where to get a stunning selection of hand-made Christmas gifts? At the Fringe Handmade Market on Dec 3, 2011 from 10-18h you can expect a creative vibe while shopping for locally-made festive season gifts, from unusual stocking fillers to collector's pieces that will last a lifetime. The original, hand-made products on offer include craft, pottery, fashion, jewellery, décor, accessories and more. The market will be located at Harrington Square in the Fringe.
Where to go for a healthy and delicious lunch? Karen Dudley's "The Kitchen" in Woodstock is a small but wonderful eatery at 111 Sir Lowry Road where you can enjoy delicious "love sandwiches" and the oh so yummy salads. One of my favorite places in Cape Town for a quick fab lunch. Just beware it gets crowded, so better make it an early lunch.
Where to experience great creative talent, vibe and diversity? Bay Harbour Market in Hout Bay is another great addition to showcase Cape Town creative talents and diversity. A great place to visit on weekends as this market is open on Friday nights as well as Saturdays and Sundays during the day. Hout Bay is always great for a day out of the City and the market has got so many treats for every taste, that you will enjoy the amazing atmosphere at this market.

What's coming in the Next Newsletter?
As ExpatCapeTown wants to bring you the most up to date stories and insights, please be patient and let me surprise you with more great news about the Mother City.

Just be assured, there will be lots of more great tips and advice, so be sure to subscribe my newsletter and take a look at my website which is ever expanding.

Please come back with more great tips from your site, all kinds of comments very welcome! Contact me here.

Regina