A very warm welcome to the ExpatCapeTown Newsletter in a combined edition for September/Oktober 2011.

It is September already and Spring has come to town with lots of sunny days and beautiful wildflower displays all over the city's green spaces.
The Cape Town, the Spring school holidays are starting soon and to keep your kids busy and entertained, you can find some suggestions for kids activities for this time of the year here.
This weekend is Heritage Weekend. Heritage Day on September 24 is a public holiday in South Africa. On this day the South Africans reflect on the country's past and celebrate the diverse cultural heritage. More recently a popular way in which to celebrate Heritage Day is by braaiing … a favourite South African pastime. South Africans organise a braai with family and friends or get involved in Heritage Day activities which are taking place in and around the city.
There are many festivities on Braai Day and during Heritage Week all over CapeTown. To get some idea what a real South African braai entails, head out to Noordhoek Village this Saturday for a typical South African braai.
On Heritage Day the city's Iziko Museums will allow free access to all Cape Town Iziko museums, including the Castle of Good Hope and Planetarium. In addition, there will be Heritage Day celebrations ranging from art workshops and magic shows to traditional dance performances, drumming sessions and Ghoema entertainers – all taking place at various Iziko Museum locations. Visit www.iziko.org.za for more info.
Then on Sunday, September 25, enjoy the free My Cape Town Concert with performances by Keeno Lee, the Blaze Function Band and CODA at the V&A Waterfront from 1pm.
The Braai or typical South African form of a barbeque is a great social event which unifies South Africa's people of various cultural backgrounds. Archbishop Desmond Tutu is the patron of the South African "Braai for Heritage" Initiative since 2007.
So enjoy the many activities in and around the Cape of Good Hope and have a great time in Cape Town!
This is what you will find in this issue of the ExpatCapeTown Newsletter:
1. Hot Tips for Travelers and Expats: International press in Cape Town
2. Event of the Month: Open Book Festival and Dance Festivals
3. Inside Cape Town: Living in Woodstock
4. Typical South African: braaibroodjies and marimbas
5. Cape Town Insider Tips: Know where to go…?


Hot Tips for Expats and Travelers: Getting international news in Cape Town
When you move to a foreign country you might often feel lost in regards to getting reliable information about what is happening in the world outside of your new expat destination.

In Cape Town, the local news are what their name implies, only occasionally you will get relevant info on events outside of South Africa. The South African news broadcasters concentrate very much on national news and the part of international affairs is quite neglected. So where to find good info then? Here are some tips:

• Get a DSTV connection installed so you can receive various international channels like BBC, CNN, DW, RAI, TV5 and many other foreign channels via satellite. If you are interested only in German News and Programmes, get connected to Deukom Services which have the licence to screen several German channels. Most tv-news channels also can be accessed via the internet.

• Listen to Talkshows on Radio which sometimes have got international topics too. The most popular station in this respect is 567 Cape Talk. Here you will get a lot of info on interesting topics which not only South Africans are concerned about.

• The newspaper Cape Times has a some international news in their morning editions or you can get your international newspapers delivered or online. Exclusive Books at the V&A Waterfront stock various foreign newspapers and foreign magazines.

• Foreign magazines can be found also at Exclusive Books and various outlets of international delicatessen stores like Raith's or Eurodeli.

For more info on where to find local news for Cape Town,

Event of the Month: Open Book Festival and Dance Festivals
For all booklovers out there, you should check out the new Open Book Festival, which is taking place in various locations around Cape Town until the weekend. Choose from readings of unpublished materials at the Fugard Theatre to talks with debut authors or Pulitzer-prize winning writers, there will be a treat for everyone.

However, if you enjoy the performing arts, besides the forthcoming performances of the ever-popular Verdi opera "La Traviata" and the still running musical "Fiddler on the Roof", there will be also many dance festivals in Cape Town over the month of October. There will be great evenings galas you should not miss, from the Baxter Dance Festival at the beginning of October and Cape Town's City Ballet Performances to Belly Dancers and Hip Hop Performances.
And not to forget all those great events which are celebrated in the Cape Town expat communities like the Octoberfest and the Diwali Celebrations. Have a look in my Calendar and find out more.


More Events in September 2011

More Events in October 2011


Living in Woodstock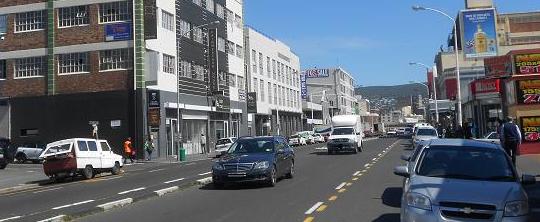 In this section you will find every month insiders' tips and advice about one of the many suburbs of Cape Town. So you know where to stay and where to go. This month I chose to bring you some more info about living in Woodstock, one of Cape Town's oldest suburbs, just to the east of Cape Town's City Center.
Why Woodstock? Woodstock is one of the more "robust" and older suburbs of Cape Town, but the suburb certainly has a vibrant and young atmosphere with many art galleries and studios in the area. In the recent years many talented young designers relocated to area. Especially young professionals and students enjoy living in the area, where accommodation is still not too expensive given the proximity to the city center. And there are many great little coffees and bars to chill out too. The University is not far neither and the central city can be accessed easily with your own car. There are also various shopping facilities nearby, however mainly small shops, vintage fashion and furniture but you can find here also grocery stores and little cafes and delis.
Where to stay? There is a good range of housing available in the area, but mainly town houses. Most of the accommodation is however older style and the area is still a bit rough on the edges. Upper Woodstock is definitely better to live in. Here you will find some beautiful Victorian houses to rent.
Where to go? There are many excellent bistros and restaurants in the Roodebloom Road catering for a wide range of tastes. My favorite in the area is "The Kitchen", a tiny but fabulous coffeeshop with a huge saladbar, where you can get delicious freshly prepared mix and match salad dishes as well as lovely sweets like yummy brownies and croissants with sweet or savory fillings. For more serious grocery shopping you will have to go further out of town or back into town, e.g. Gardens Shopping Center where you will find some many stores which also cater for the expats' tastebuds like the German butchers. And a visit to the Old Biscuit Mill in nearby Observatory is a must go to especially on a Saturday morning to experience Cape Town's Neighbourgoods Market.



Typical South African terms
What are "braaibroodjies"? A braaibroodjie is a traditional South African sandwich which is slowly roasted on a grill or fire and served at a braai. The sandwich bread is filled with tomatoes, onionrings and cheese and roasted in a closed grid on the grill when braaing until the cheese has melted and the bread is golden brown. Just try and enjoy!

What is a "marimba"? This term refers to the South African musical instrument which is a type of xylophone with wooden keys and resonators.


More South African Slang words here.

Cape Town Insider Tips

What else? Have you tried these…?
Where to find the most delicious and colorful decorated cupcakes and cakes? Head out to Charly's Bakery in Harrington Square in the up and coming "The Fringe" in Cape Town's CBD. They have a small coffeeshop where you can try these litte dainties right away.
What book on South Africa is a great gift or souvenir? You simply must get "Awesome South Africa" by Derryn Campbell, who is also the co-founder of AwesomeSA - South Africans positively influencing the Future. The collection of facts and trivia, loads of funny and amazingly beautiful photos will be certainly enjoyed by all! You will have a great souvenir which will make you want to come back and remind you of your time here or if you intend to give this book away to your family or to friends, they will easily understand why you choose to live in Cape Town. The book shows how stunningly beautiful and rich this country really is.

What's coming in the Next Newsletter?
As ExpatCapeTown wants to bring you the most up to date stories and insights, please be patient and let me surprise you with more great news about the Mother City.

Just be assured, there will be lots of more great tips and advice, so be sure to subscribe my newsletter and take a look at my website which is ever expanding.

Please come back with more great tips from your site, all kinds of comments very welcome! Contact me here.

Regina